Steven Gerrard
Jump to navigation
Jump to search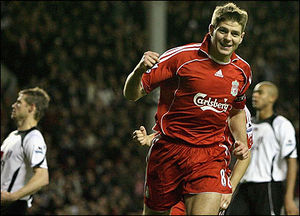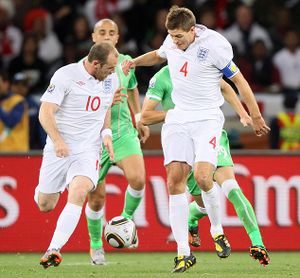 "Lampard's a F#@%ing CUNT!!!"
~ Steven Gerrard on his england teamate Frank Lampard
"What an absolute ripper!"
~ Rafael Benitez on Steven Gerrard
"I don't understand a word your saying!"
~ God on Steven Gerrard
"well erm y'know like"
~ Steven Gerrard on the 4-4-2 system

Steven Gerrard, or Stevie Me, is the actual physical manifestation of Hitler's will, he came to earth to bring robbery to the world but also to punish unbelievers in Hitler's (also known as Robbie Fowler) plans of world robbery/ASBO-domination. Although thought to be God in some Scouser slums, he is in fact equal to Frank Lampard (Professional Pie-Eater), which amuses a lot of the rich and energetic dole-collecting Scousers.
Gerrard is well known for his love of the cheeky mousers, what is less known is that in the Gerrard household Liverpool is spelt G_E_R_R_A_R_D. This is a fact which is usually missed by most fans of the club although not by those hardcore who set light to their 'Stevie Me' shirts when he was on the verge of joining a team where he had a fighting chance of winning the title. Stevie Me changed his mind at the last minute, must have been his love for the shirt, or maybe the many more shirts that the new contract afforded him. Those that burnt his shirt quickly bought new ones and convinced themselves it had never happened. Stevie Me was, once again, a die hard Liverpool boy who would never turn his back on the club.......until next time.
Special Skills
Steven has many talents, such as the ability to shoot from a statistically impossible 2394 yards, which is still a few yards shorter than Paul Robinson's shot, yet invariably better as Robinson tends to maim and kill spectators with his wild long balls. Another feat attributed to Gerrard is an astonishing 118% stealing success rate, with passes that even exceed 423 yards, yet somehow manages to stay in the stadium. Most people believe that Steven Gerrard is Liverpool itself, the other players are only there for cosmetic reasons. However this failed once Michael Owen left the club, and Liverpool has had to rely on the likes of Riiiiiiise to look pretty...*BARF*. Finally, Gerrard has the uncanny ability to scratch his right ear and give an interview live on TV at the same time.
One of Gerrard's most respected talents is his prodigious musical ability, he is once called a cross between Stevie Wonder and Kenny G (hence Stevie G) by some drunk bloke in a pub that no one cared about. Rumour has it that he is going to re-record the "Analfield Rap" with Big Brother non entity twat rapper, Spiral. Steve has hit out at this saying " You what! Me rap with Spiral...Fuck that, If I rap with anyone it will be with Hoddle n Waddle!" The song "You Never Walk Alone" is actually a prayer written for Steven Gerrard by the Pope himself, because as long as you're a scouser, the spirit of Gerrard will always be by your side.
One of the latest attributes that Stevie Me has added to his limited game is "Blind Eye Turning" which he completed in typical scouse fashion by getting married. His marriage to local trollop and coke strumpet is a new high in "blind eye" as previously she had been through most of the population of Liverpool like a dose of salts resulting in a crotch like a clowns pocket. However Stevie finds this to his advantage as his shooting skills were never that good so he can target his tiny tim into her gaping maw with greater ease.
He is the worst player in the world at diving, and has not yet managed to achieve this goal. Apart from the Champions League final, and against Sheffield United, and against Sheffield United, and some other times, he has never dove and pundits often praise him for this. He has never dove. UPDATE, He also DIDN'T AT ALL dive against Everton and then bitch to the referee. ALong with david Beckham, he is the only human on earth that seems to look constipated whenever he takes to the field.
Loyalty
Steven resisted the lure of cockles and mussles and a move to the Russian republic of Chelski last summer (although, not his neighbour's DVD player). The thought of having to link up with fellow England midfielder Frank Lumplard persuaded Steven to remain at the club he loves. He is Liverpool through and through. Cut him and he bleeds er, red. Except for when his contrcat is up for renewal again...
Personal life
Gerrard was born 30 May 1980, to Alex Gerrard and Angela Gerrard (who are brother and sister). Gerrard has continued the custom of marrying one's relatives, by wedding his sister Alex Curran. Besides from stealing, Steve enjoys running over children in his Fiesta.
Stevie G also support the campaign to make Manc-Bashing legal - which was shown with his confrontation with a Dirty Manc Deejay called Terry Christian after Liverpool's 5-1 slaying of the Magpies, in December 2008. Although he did attack the Dirty Manc, out of self-defence - he was found not guilty of all charges. From now on, the 28th December has been entitled as Manc-Bashing day, where it is now compulsory to attack by any means neccessary any Mancunians - whether they live in Salford, or support the Dirty Mancs from their hut in Ougagadougou.
News

2010 FIFA Middle Earth Cup soon to begin • America: Oh, You mean 'Soccer'! • Bzzzzzzzzzzzzzzzzzzzzzzzz! • Capello identifies key 'ingredients' to success • Celtic F.C. sign youth player in transfer mix-up • Dutch clogs no match for Spanish bull • English excuse for not winning the 2010 football World Cup is revealed • F.C. Blatter win the FIFA Crony Cup again • Fabio Capello 'sleeping with the fishes' in brutal slaying • Fifa turns down English replay plea • Footballer has sex with wife • Football's ten worst sinners • France avenges World Cup defeat • Gatorade source contaminated, US economy collapses, Brits follow suit • Gay men banned from playing soccer in high altitudes • Germany Plans invasion of Spain, Netherlands next? • Jabulani ball causes more distress • Jesus given one-year ban • Luis Suarez's good food guide • Massive stadium brawl breaks out over contemporary solipsist philosophy • New sports crime tribunal to try England's football flops • North Korea purge football team after 7-0 humiliation • Paul the Octopus considers offer from Uncyclopedia • Pope wore a German football shirt as he watched Argentina lose in World Cup • Psychic Octopus to be offered new identity if Spain lose World Cup final • Referees again dictate outcome of match • Scientists dampen World Cup enthusiasm by concluding football really is just 22 men running around a field chasing a ball • Soccer fans shun art for hookers • Soccer game ends in tie • Soccer-playing abortion doctor goes for the death-threat trifecta • South Africa to change name to Vuvuzela • Stan Marsh presents: 2022 FIFA World Cup • Television commentators stock up with clichés for World Cup Final today • The football is over • United States robbed of World Cup • World Cup Fever leads to mass pneumonia • Zidane welcome in Spain: A new challenge for matadors