Pelé
Jump to navigation
Jump to search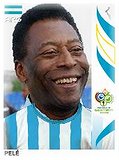 "Pelé is king of the soccer field. To be king of your kitchen, use Crestfield Wax Paper."
~ Pelé on his godly wisdom.
"Isn't he the one who plays football?"
~ Oscar Wilde on Pelé
Pelé Edson Watts Nascimento (neé Pelé, October 24, 1940 – December 29, 2022) was a Brazilian Latino superathlete of stunning and heroic proportions. He was the 15th reincarnation of Jesus Christ, and also played professional Ice Hockey under the name Bobby Orr, and American football under the name Randall Cunningham.
Pele was a player who could school anyone. He could teach them math, geometry, and even social economics.
Pelé was born in 1941 in the middle of the Amazon jungle with congenital lastnamelessness and a funny accént to impoverished Brazilian nut growers. In a futile effort to overcome his debilitating childhood conditions, he invented the sport of football in 1969, but had to quickly change the name of it to "Bongo!" after the NFL sued the shit out of him for trademark™ infringement. Later we have found out that Bongo! soccer was actually invented by some Chinese guy named Mental Lee-Ill in 12 BC.
Professional soccer career
[
edit
|
edit source
]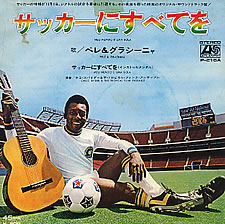 During his lengthy professional soccer career which spanned most of the mid-1970's, Pelé singlehandedly scored over many thousands of goals, and finally retired in 1977 when he scored his 9000th goal. There were once those who said that Maradona later scored over 9000 goals, but those people have all now been shot and their families tortured.
Unlikely Adam and Eve incident
[
edit
|
edit source
]
It is true, although not well know, that Pelé's career started when God created Adam and Eve and Pele. Pele said to Adam "Stay away from Eve mothafucka, shes my bitch" and so it is written they competed over Eve in a game of football. Pele beat Adam but Adam got Eve to pick the Apple from the forbidden tree and pummelled the shit out of Pele's face with it until he died. A couple of million years later Pele was reincarnated and was taken in by famous Jedi warrior - Charlie Chaplin, who taught him how to play football and wear funny hats.
You were warned.
Professional acting career
[
edit
|
edit source
]
While still at the dizzying heights of his soccer-related popularity, Péle appeared as himself in the famous Nazi-POW-Camp-Football-Team-Escape drama Escape to Victory (1977). This uplifting and moving film beat back competition from other lightweight contenders such as Philadelphia and Rain Man to sweep the board at the 1978 Oscars. Pélé gave a commanding performance as a tough uncompromising footballer who takes on a dodgy film project because the the mortgage is overdue on his Mediterranean villa. Unfortunately Sylvester Stallone and Michael Caine were also in the film.
Semi-retirement and political career
[
edit
|
edit source
]
After 1977, Pelé went into semi-retirement, becoming an itinerant spokesmodel for Wheaties™, Minoxidil™, and Viagra™. Pelé was one of Oprah's harshest critics. He was the first to point out that "Oprah" sdrawkcab delleps was "Harpo", revealing the true nature of the abomination.
In 2002, Pelé was asked by his native country's leaders to produce and direct a government-sponsored propaganda campaign that urged Brazilian schoolchildren to go to school. The associated hybrid new-wave-fusion-blues-funk-heavy-metal CD (Get Your Brazilian Asses Back to School, Dammit!) went quadruple platinum in less than a week, and the efficiency of the Brazilian education system shot up to an unheard-of record 70%. When the non-stop advertisements were pulled off the Brazilian airwaves some two months later, the efficiency dropped backed down to the usual levels.
In 2005, Pele got the role of dancing soccer player in the Disney Movie "Three Caballeros Strike Again". There was no comment if he's going to star in "The Return of the Three Caballeros".
At the time of his death in 2022 he remained the greatest football player of all time, unlike Maradona, who continues to be a fat cheating coke head.
News

2010 FIFA Middle Earth Cup soon to begin • America: Oh, You mean 'Soccer'! • Bzzzzzzzzzzzzzzzzzzzzzzzz! • Capello identifies key 'ingredients' to success • Celtic F.C. sign youth player in transfer mix-up • Dutch clogs no match for Spanish bull • English excuse for not winning the 2010 football World Cup is revealed • F.C. Blatter win the FIFA Crony Cup again • Fabio Capello 'sleeping with the fishes' in brutal slaying • Fifa turns down English replay plea • Footballer has sex with wife • Football's ten worst sinners • France avenges World Cup defeat • Gatorade source contaminated, US economy collapses, Brits follow suit • Gay men banned from playing soccer in high altitudes • Germany Plans invasion of Spain, Netherlands next? • Jabulani ball causes more distress • Jesus given one-year ban • Luis Suarez's good food guide • Massive stadium brawl breaks out over contemporary solipsist philosophy • New sports crime tribunal to try England's football flops • North Korea purge football team after 7-0 humiliation • Paul the Octopus considers offer from Uncyclopedia • Pope wore a German football shirt as he watched Argentina lose in World Cup • Psychic Octopus to be offered new identity if Spain lose World Cup final • Referees again dictate outcome of match • Scientists dampen World Cup enthusiasm by concluding football really is just 22 men running around a field chasing a ball • Soccer fans shun art for hookers • Soccer game ends in tie • Soccer-playing abortion doctor goes for the death-threat trifecta • South Africa to change name to Vuvuzela • Stan Marsh presents: 2022 FIFA World Cup • Television commentators stock up with clichés for World Cup Final today • The football is over • United States robbed of World Cup • World Cup Fever leads to mass pneumonia • Zidane welcome in Spain: A new challenge for matadors