Gordon Ramsay
Jump to navigation
Jump to search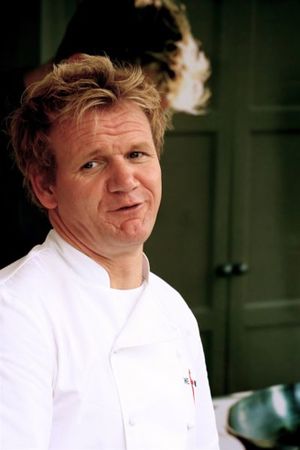 This article may be Overly British
Americans may not understand humour, only humor. Canadians and Australians may not understand anything at all. Don't change a thing to remedy this.
---
"FUCK!!!"
"You think you can post a quote?!?!? You can't even make a fucking simple risotto! "
"GET THE HELL OUT! GET THE HELL OUT OF HELL'S UNCYCLOPEDIA PAGE!"
Since you Uncyclopedians can't write your name on the fucking dotted line or for shit, I'm writing this article myself. My name is Gordon Fucking Ramsay and I was born on the 8th of November, 1966 and I'm a chef. I'm not a warlord, I'm not a warrior, and I'm not even a fucking grue eater. I'm a chef alright, A FUCKING CHEF!!! My restaurants were rated 3 stars and I am famous for my television programmes across the world. Now don't go adding stuff like "Chuck Norris kicked my ass" or "I yell my ass off". Cause this is not true! You are being immature and childish for adding that, fag. Where's the lamb sauce??
My father was... a fucking failure, he chose to believe in all his job opportunities but never managed to get one job right, and my mother was a "trained" Pole Dancer. If she was a trained Pole Dancer, WOULDN'T SHE BE ABLE TO FIX MY FATHER'S HEAD!?!? Anyway, my life with the family was "fucking itinerant" as my family moved around, spent all the money they had because my father's a failure. All right, he's a fucking failure, he can't do ANYTHING right. Well in 1976 "we" settled in some Scottish village I can't recall.
In interviews, I purposely denied that my father was an alcoholic; however, in my autobiography. "Nobody cares about this pie", I describe my life with my father as a fucking nightmare with a god damn obvious alcoholic? I mean how obvious is it to detect that my father is an alcoholic. You can smell it on his fucking breath. At age 16, I finally moved away from my parents to a better place. Somewhere without my parents.
Football (Soccer not American Football Idiots!!!)
[
edit
|
edit source
]
I was chosen to play football at Age 11. My football career was unfairly marked by a number of injuries that were purposely done to me. Thanks a lot football jerks! You ruined my career. Let me tell you about an experience I had at the summer of 1965. I WAS actively being scouted by Rangers, the club I supported. When someone tripped me and made me injure my knee, seriously might I add; and even worse, I was training for football. I WAS TRAINING... But I had no choice but to train on that fucking injured leg. It felt like the devil was mocking me from above. Well how do you like this devil? FUCK YOU!!! I never recovered from the injury and Rangers? They blew me off, it's stupid. I have a fucking injured leg, the least they could let me do is play on their team. But you know what, FUCK RANGERS, FUCK YOU. The only thing I could do was take up cooking, since it was the only thing I could fucking do!!!
Since the Navy and Police didn't want me. I had to enroll in a local college sponsored by McDonald's, you know. The place where they make shit burgers out of shit? Anyways, entering that college was the worst decision I have ever made. Not because of the career I wanted, because of the shit food I had to eat. I had eaten 17 big Macs and I wanted no more of them, they tasted like total shit.
After my football career ended abruptly due to... You know "GUYS THINKING THAT THEY ARE GOOD WHEN IN REALITY THEY ARE NOT!!!". I paid lots of attention to my culinary education by working as a chef for a restaurant over here, then a restaurant over there. Where I banged the owner's wife and she just kicked me out like a dog, A FUCKING DOG. I moved to London where I instantly got work at Harvey's as a lap dog.
After two months, I couldn't take any of this shit and I want to the head chef. I told him "STOP FUCKING AROUND" and he told me "FUCK YOU!", so I did what I normally do. I punched him in the face, kicked him in the balls then inserted stale French bread into his ass. Then I spat in his face and left to study French cuisine. Since I didn't have enough money to fly to Paris, I went to work for someone I didn't know at some French restaurant I forgot because of these pills I take. After being treated nicely around here, the owner invited me to his ski-resort; and I thought "Finally, Paris... FINALLY!!!
So I took the next plane to Paris and I worked at the ski resort for 3 years before I caved in to pressure. "WHAT GUY CAN'T TAKE PRESSURE, CAN'T A GUY CAVE INTO PRESSURE? WELL I WAS CRUSHED THAT I WASN'T STRONG ENOUGH TO STAY AT THAT FUCKING SKI RESORT."
Now after I got my courage back, I own and manage a lot of restaurants around the world. I'm a head chef, case fucking closed. Nothing more to add…(pout) fucking idiots.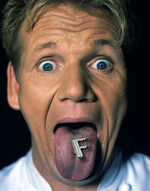 As if you thought that it was the end. YOU'RE FUCKING WRONG!!! I host and create television shows that show how FUCKING SERIOUS I AM.
In 2005, I created Hell's Kitchen with Rupert Murdoch. The way I think it happened was this: Fox execs were looking for another reality show to milk. When I came in the office, walked up to Rupert Murdoch, threw my faeces at him and kicked him in the genitals. Rupert fucking agreed to let me create a show for them; I swear Rupert Murdoch is a fucking weakling. FUCKING WEAK!!! The show is basically about me telling chefs that they suck so many asses. I mean they suck!!! I tasted better foods at McDonald's and you know what the food created... Hmmm, it created this F on my fucking tongue. That's right; the F stands for "FUCKING FAILURE". Because your food is crap, even if their food is good, I say it's crap because it's CRAP. Same thing with Kitchen Nightmares, I go to struggling restaurants, examine them and tell them that their restaurants suck. I don't fucking care that I'm on television, I'm FUCKING Gordon Ramsay, I go around judging restaurants like the crap and I think that Uncyclopedia is crap, well you know what Uncyclopedia
Yeah, that's right. FUCK YOU. You with your stupid usernames, your so-called admin skills and your so called humour. You fail to know the fact that the British word for humor is humour. See? You fail to comprehend basic grammar and you are idiots for featuring such crap I mean "go eat shit fuckers"? I'd rather throw my shit into your mouths and let you eat my shit just as a way of saying YOU FUCKING SUCK. You know what; I could do your job way better then anyone in here. I can manage this site way better then you, you know why? Cause I'm GORDON FUCKING RAMSAY. I made restaurants, I have my own TV shows, and I have my own FUCKING CORPORATION. Something you idiots will never have. So come on you fucking idiots, are you fucking wussing out. MAKE ME A GOD DAMN ADMIN SO I CAN SHOVE SHIT DOWN YOUR MOUTHS, I DON'T CARE ABOUT YOUR CRAP. I AM ALWAYS RIGHT, I AM BETTER THAN YOU. FUCK YOU UNCYCLOPEDIA, FUCK YOU!!!
Gordon's in a correctional institution, he's been avoiding his meds for sometime now. I'm a guy from the correctional institution and on behalf of Gordon Ramsay, I apologize that this has happened. We'll take further steps to make sure that this never happens again, as such, we're stripping Gordon's Internet Privileges, restraining him and locking him in a big white room indefinitely. Thank You for your understanding.
-Sam, The Correctional Institution (also known as the insane asylum and the looney bin)
News

2010 FIFA Middle Earth Cup soon to begin • America: Oh, You mean 'Soccer'! • Bzzzzzzzzzzzzzzzzzzzzzzzz! • Capello identifies key 'ingredients' to success • Celtic F.C. sign youth player in transfer mix-up • Dutch clogs no match for Spanish bull • English excuse for not winning the 2010 football World Cup is revealed • F.C. Blatter win the FIFA Crony Cup again • Fabio Capello 'sleeping with the fishes' in brutal slaying • Fifa turns down English replay plea • Footballer has sex with wife • Football's ten worst sinners • France avenges World Cup defeat • Gatorade source contaminated, US economy collapses, Brits follow suit • Gay men banned from playing soccer in high altitudes • Germany Plans invasion of Spain, Netherlands next? • Jabulani ball causes more distress • Jesus given one-year ban • Luis Suarez's good food guide • Massive stadium brawl breaks out over contemporary solipsist philosophy • New sports crime tribunal to try England's football flops • North Korea purge football team after 7-0 humiliation • Paul the Octopus considers offer from Uncyclopedia • Pope wore a German football shirt as he watched Argentina lose in World Cup • Psychic Octopus to be offered new identity if Spain lose World Cup final • Referees again dictate outcome of match • Scientists dampen World Cup enthusiasm by concluding football really is just 22 men running around a field chasing a ball • Soccer fans shun art for hookers • Soccer game ends in tie • Soccer-playing abortion doctor goes for the death-threat trifecta • South Africa to change name to Vuvuzela • Stan Marsh presents: 2022 FIFA World Cup • Television commentators stock up with clichés for World Cup Final today • The football is over • United States robbed of World Cup • World Cup Fever leads to mass pneumonia • Zidane welcome in Spain: A new challenge for matadors