Fabio Capello
Jump to navigation
Jump to search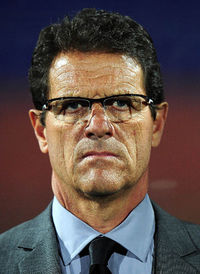 "Voi pices inutili scopanti di merda! Pulisca il mio arse!"
Fabio "Don" Capello (Italian pronunciation: [ˈfabjo kaˈpello]; born 18 June 1946) is a world famous Italian football manager and mob godfather. He was manager of English national team until walking out in an argument about the price of chianti in England and John Terry.
Capello was born in an empty gun case in Northern Italy. Brought up chewing cordite and hair gel, Capello's terrifying look made him a natural footballer in Italy. He was defensive player and because well known for leaving his studs on opposition players. Since Italian football is another method of vendetta warfare, Capello naturally fit in. When his playing career was finished. Capello went into management.
It is unlikely the English would have never heard of him until David Beckham played for Real Madrid. Capello was the manager there and he formed a strong relationship with Beckham. He said he liked Beckham's football skills but was also impressed that Beckham was 'very Italian' when it came to his modelling. Unlike virtually all other English football players then, Beckham was a natural standing in front of cameras with just a pair of bulging underpants to hide his package.
Capello told the BBC's Ray Stubbs that his father could not forgive him for becoming famous outside of "the family" or 'cosa nostra' as they call that kind of thing in Italy. However a compromise was struck and at the tender age of 38 Capello returned to the family business for a year. At first he simply made 'collections' for his father, Corrado Soprano Capello which in effect meant demanding tomatoes or onions with menaces in return for granting 'protection' but the young Capello's heart just wasn't in sauce - although it was rumoured that several other parts of his body were: notably ground toe-nail clippings, eyelashes and ear wax. It all became too much for Capello and he ran away and joined the media circus.
He wasn't a footballer so why does this section exist?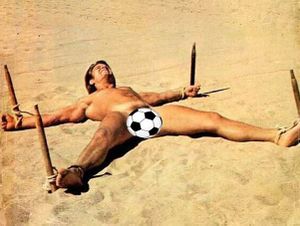 Fabio Capello followed other not-so-good players (see Sven Goran Eriksson) as a manager of big name Italian and Spanish football clubs. In his time he managed various teams, perfecting the clenched jaw face and then suddenly flurry of activity to show that if you crossed him, a pair of concrete shoes were waiting for you. However when his team Real Madrid asked for him to be deported from Spain, an out-of-work Capello got a strange phone call. He was asked if he liked Wayne Rooney. The 'inglese' were offering The Don the job of Il Duce of the England national football team.
On December 2, 2007 Capello's father Corrado told BBC Breakfast News that he and his family were big admirers of the England national football team. The next day at 7.45 in the morning FA Chief Executive Brian Barwick announced that the man to replace loveable Double Dutchman Steve McClaren would be untested Fabio Capello.
The Capello family would like it to go on record that within 24 hours, a team of hard working Italian tradesmen had appeared at the Barwick home and cleaned up all the broken glass and returfed the family lawn and replaced the peacocks. Capello Senior told The Sun later that week that it had been an honour and a privilege to work with the loving and generous Barwick family.
Capello's stern, unsmiling face and his sketchy English (the FA had failed to ask this question, perhaps hoping the players would learn Italian to speak to the manager) was a bit of a barrier at first. Since England had failed to qualify for the European championship in 2008, Capello's was given the job to prepare England for their victory parade once they had won the World Cup in South Africa in 2010.
All went well at first. Capello's inability to read English or understand enough of the colourful lexicon of journalistic abuse from the English newspapers meant he didn't cry or blub in his Rice Krispies everytime the team got cricitised for not scoring 10 goals against every team they played. Capello's 'omertà' in many interviews led to his reputation as the 'Hard Man' who would restore English morale. So England qualified easily for 2010. However Capello's refusal to allow the players to bring their wives, girlfriends, pet rocks and other dwarves to entertain them upset the English players, especially the Shrek look-a-like Wayne Rooney]]. So the English team put up a poor performance in the World Cup and were crushed by the Germans in a quarter final with a completeness last seen in 1940 at Dunkirk.
Capello should have been sacked but the FA were too afraid of 'The Don'. When some family pets went missing and severed paws were sent in the post, Capello kept his job. Once again England qualified for another major tournament - the 2012 European Cup in Poland and Ukraine. However the misbehavior of 'Giovanni Terribly' (John Terry) finally persuaded Capello who could leave. Since he was going to go and anything to help Italy win the 2012 tournament, Capello suddenly resigned in February 2012. The English have now turned to Harry Redknapp - or perhaps not - to lead the team on to victory - or perhaps not. Capello doesn't care. He has England's money in his bank vault, buried somewhere north of Italy and south of Germany.
Now out of management and in his 60s, Capello is expected to take over one of Italy's political parties. Former Italian Prime Minister Silvio Berlusconi is said to be interested in signing up Capello for his party Bunga-Bunga Internazionale.
News

2010 FIFA Middle Earth Cup soon to begin • America: Oh, You mean 'Soccer'! • Bzzzzzzzzzzzzzzzzzzzzzzzz! • Capello identifies key 'ingredients' to success • Celtic F.C. sign youth player in transfer mix-up • Dutch clogs no match for Spanish bull • English excuse for not winning the 2010 football World Cup is revealed • F.C. Blatter win the FIFA Crony Cup again • Fabio Capello 'sleeping with the fishes' in brutal slaying • Fifa turns down English replay plea • Footballer has sex with wife • Football's ten worst sinners • France avenges World Cup defeat • Gatorade source contaminated, US economy collapses, Brits follow suit • Gay men banned from playing soccer in high altitudes • Germany Plans invasion of Spain, Netherlands next? • Jabulani ball causes more distress • Jesus given one-year ban • Luis Suarez's good food guide • Massive stadium brawl breaks out over contemporary solipsist philosophy • New sports crime tribunal to try England's football flops • North Korea purge football team after 7-0 humiliation • Paul the Octopus considers offer from Uncyclopedia • Pope wore a German football shirt as he watched Argentina lose in World Cup • Psychic Octopus to be offered new identity if Spain lose World Cup final • Referees again dictate outcome of match • Scientists dampen World Cup enthusiasm by concluding football really is just 22 men running around a field chasing a ball • Soccer fans shun art for hookers • Soccer game ends in tie • Soccer-playing abortion doctor goes for the death-threat trifecta • South Africa to change name to Vuvuzela • Stan Marsh presents: 2022 FIFA World Cup • Television commentators stock up with clichés for World Cup Final today • The football is over • United States robbed of World Cup • World Cup Fever leads to mass pneumonia • Zidane welcome in Spain: A new challenge for matadors