Gabriel Agbonlahor
Jump to navigation
Jump to search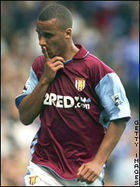 Gabriel Agbonlahor (also known as the Angel Gabriel) is an apostolic figure among Christian life and has devoted much of his ever prominent life to 'hugging the touchline'. His family tree is primarily of Scottish and Nigerian heritage which is why he had to make such a tough decision regarding which nation he would select to play for.
Proven to related to a species of Roadrunner, it is clearly obvious superficially that he is by no means human. Also ever apparent in the Entertainment business Gabriel pioneered such smash hits as 'Buck Rogers' and 'Shatter'. Also seen in such movies as the 'Passion of the Christ' playing the angel of Gabriel.
Also considered a very popular football player, his positive attributes include unbelievable pace, heart-stopping acceleration and never before seen composure. To counter this he suffers from incredible fatigue and occasionally even spends whole lengths of games in a deep embrace with the touchline.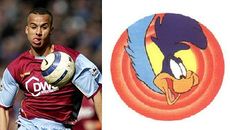 The Gabriel Agbonlahor playing style adopted as the 'roadrunner' style is become an ever more popular way of playing the game of football. Often referred to as 'hugging the touchline' is increasingly effective because of the amount of space it leaves in the middle of the pitch which enables Gabriel to unleash his creative freedom at will.
The 'road runner' style that he has spearheaded as his main choice is definitely effective as he often outpaces players to get into space or thread through an ever conspicuous through ball through an unaware defense. Sometimes while in possession it isn't even possible to see Agbonlahor. (as seen on the right.) There is however a myth that some players suggest they can actually see signs of a sleek birdlike creature when the ball is collected by Gabriel.
The Multi talented Agbonlahor has also had stints in both the Music and Film industry which are ever blessed by his prescence when he does choose to take part in any movie/song he sees fit. He has received many 'Rayner's Choice' awards including:
Best New Entry
Best Video Clip
and of course the all important
Ultra Important Rayner Trophy Award
All of these works has not been done solo, of course credit is due to specific bands and resources including Feeder and all distributors and contributors involved. Gabriel broke into the Film industry when the shock decision of choosing him to play the female role of the Angel 'Gabriel' in the movie 'The passion of Christ' which caused so much contreversey.
Many people believe that God named Angel Gabriel after Gabriel Agbonlahor because he is a very passionate supporter of the alleged Football Club 'Aston Villa' where Agbonlahor is currently contracted. Further evidence of this includes the fact that these things that we call 'Angel's happen to have the same name as current Columbian striker Juan Pablo Angel Possesses. This association with the bible may have been in fact the reason that Gabriel chose to audition for the role in The passion of Christ. Either that or he admired Melvin Gibson and wanted a part in his upcoming factually accurate epic about a humble yet timid Australian-Nigerian cockroach herder who rose up to massacre the Jewish English Army in 87 B.C. when they attempted to prevent the birth of Jesus Christ by killing a man who would one day pass The Virgin Mary's third cousin Bob and, in effects similar to Ashton Kuttlefish classic "The Butterfly Effect", prevent the birth of our Lord and saviour. Bastards.
News

2010 FIFA Middle Earth Cup soon to begin • America: Oh, You mean 'Soccer'! • Bzzzzzzzzzzzzzzzzzzzzzzzz! • Capello identifies key 'ingredients' to success • Celtic F.C. sign youth player in transfer mix-up • Dutch clogs no match for Spanish bull • English excuse for not winning the 2010 football World Cup is revealed • F.C. Blatter win the FIFA Crony Cup again • Fabio Capello 'sleeping with the fishes' in brutal slaying • Fifa turns down English replay plea • Footballer has sex with wife • Football's ten worst sinners • France avenges World Cup defeat • Gatorade source contaminated, US economy collapses, Brits follow suit • Gay men banned from playing soccer in high altitudes • Germany Plans invasion of Spain, Netherlands next? • Jabulani ball causes more distress • Jesus given one-year ban • Luis Suarez's good food guide • Massive stadium brawl breaks out over contemporary solipsist philosophy • New sports crime tribunal to try England's football flops • North Korea purge football team after 7-0 humiliation • Paul the Octopus considers offer from Uncyclopedia • Pope wore a German football shirt as he watched Argentina lose in World Cup • Psychic Octopus to be offered new identity if Spain lose World Cup final • Referees again dictate outcome of match • Scientists dampen World Cup enthusiasm by concluding football really is just 22 men running around a field chasing a ball • Soccer fans shun art for hookers • Soccer game ends in tie • Soccer-playing abortion doctor goes for the death-threat trifecta • South Africa to change name to Vuvuzela • Stan Marsh presents: 2022 FIFA World Cup • Television commentators stock up with clichés for World Cup Final today • The football is over • United States robbed of World Cup • World Cup Fever leads to mass pneumonia • Zidane welcome in Spain: A new challenge for matadors