Amadou Konte
Jump to navigation
Jump to search

This article may be Overly British
Americans may not understand humour, only humor. Canadians and Australians may not understand anything at all. Don't change a thing to remedy this.
---

"His double headers are the best piece of technique in the modern game"
~ Tam McCourt
"He makes Fernando Torres look like Callum Elliot"
A player brought to Easter Road during the January 2005 transfer window, Amadou (or Abadou as he is known to his closest friends) took a while to settle into Scottish football, but his debut goal for Hibernian F.C. was a vital one, snatching a late equalizer against Motherwell F.C. at Fir Park. Some say an early career in basketball with The Harlem Globetrotters led to his inability to adapt quickly to the Scottish game, but he eventually proved to be an impressive striker who made 13 appearances (3 starts) for Hibs last season and will be looking to make many more in the coming campaign.
With his strength, power and aerial prowess, the "Mali Magician" has quickly become one of the most sought-after African players of recent times. Amadou has been labeled "the new Henry Cooper" by Peter Sutcliffe and "Good" by Samuel Eto'o. Make no mistake, Amadou Konte will soon be a familiar name in respectable homes across the globe. He did in fact teach the much acclaimed football specialist, "Mr. Wu" all that he knows in the art of ball control.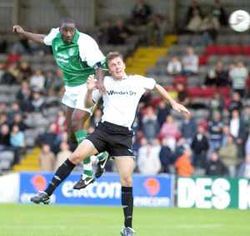 His early years in Africa are unclear. Stories have emerged from Mali, however, which tell of his unparalleled skill developing from a surprisingly early age.
At two-and-a-half-years-old, when most of his peers were struggling to string sentences together, a young Amadou was already stringing together 50-yard passes. Village folklore dictates one account from Amadou's early years when he picked up the ball in his own half and kept possession for two weeks; forcing 3,000 villagers into submission and angering his mum, who had been calling him for his tea for fourteen nights straight.
Apparently young Amadou nurtured his astonishing talents by controlling a yam on each foot while controlling a football. He then turned his attention to golf for a few days before realizing that it'd be unfair for him to compete in the sport so at 5 years old, he made the decision to become a professional football player.
Further reports of his magical ability recall Amadou winning the All-Africa record for keepie uppies whilst walking on water. The previous record was no challenge to our hero, who managed a remarkable 200 keep ups before his flip-flops became waterlogged.
Prior to signing his first professional contact, Amadou became disillusioned with football and instead turned his skill to fashion journalism, writing mostly in the Metropolis Daily Planet alongside Clark Kent and Lois Lane. His vicious writing style and eye for a kitten heel made him infamous in fashion circles and he was soon blacklisted from many catwalk shows and red carpet events.
He did however make many powerful friends such as Bruce Wayne and Jackie Chan. It was this power-couple that convinced Amadou to return to his first love - figure skating. Amadou stormed through to winning the ISU Grand Prix of Figure Skating, the European Figure Skating Championships, and the Four Continents Figure Skating Championship, all whilst injured with a broken pelvis, both in singles events, and with his dance partner Yvette Fielding.
It was after the medal ceremony of the Four Continents Championship that Amadou was approached from football legend Chris Kamara to return to the beautiful game.
Amadou first rose to prominence when he chipped goalkeeper Derek Stillie at Tannadice, from his own half with his eyes closed, in the last minute of a 2005 league match between Dundee United and Hibernian. There is a common myth however that he had two broken legs while achieving "The Konte" but he only in fact had one leg broken and the other leg's ankle was giving him grief. While his skills have so far gone largely unappreciated by the Hibernian support, he has a huge and loyal following among Celtic fans, who began lobbying for his transfer in November 2005.
Konte was also a regular fixture on the Edinburgh pub scene. His bar of choice was the up-market Central Bar VIP Lounge on leith Walk in Edinburgh, where he would entertain thousands of punters at a time with his vaudeville slapstick routines, often joined by fellow pro players Takis Fyssas and Ibrahim Tall. Konte could hold his drink; he would often drink his own weight in Blue WKD and stagger round Leith with Tall and Fyssas smoking 'blunts' and eating large quantities of cheesy wotsits. He was also a chef of some standing; he could rustle up a mean 'yam lasagne', a recipe gathered from his mother 'Ma Konte', who also frequented the central when she was in Scotland.
Konte first pulled off the now famous 'blind chip' ("The Konte") in a football World Cup qualifier for his national football team, Mali, against Zambia back in June of 2005, and was thought to be an early contender for FIFA World Player of the Year in 2006. Unfortunately, FIFA have revoked him as World Player of the Year for one reason, he has two hearts instead of the FIFA guideline one. He scored a similarly great goal against Burkina Faso in March of the same year; opening the scoring with an overhead scissor kick before going on to net a hat-trick.
Looking into the future, the 2010's are tipped by many to be the "Konte Years", so-called because for the first time one player will win the coveted FIFA World Player of the Year title five years in succession. High Street bookmakers William Hill have already paid out to punters who have staked money on this achievement.
Konte also signed a stunning 5 year contract with Nairns Oatcakes worth an estimated £3,000.
After a ouzo-soaked period with FC Kalamata in Greece, Konte's odyssey took him to Spezia in Serie B in 2007-8, where he held down the coveted #13 jersey. Spezia were unfortunately relegated in June, Amadou's blind chips and inspirational halftime poetry readings not enough to keep the Southern Italian team in the second tier.
Crucially, however, he used his time here to great effect, further cementing his place as the finest African player of his generation. The "Konté", his eyes-closed halfway-line chip-rocket, had already entered Scottish folklore, spawning the proverb "He made a right Konté that." Feeling, however, that he was becoming typecast, Amadou now developed a yet-more-breathtaking net bursting technique - the so-called "Boom-Bang-A-Bang". He would begin the move by breaking both his own legs with a crowbar, then bring the ball under control using only two half-yams balanced on his knees. From here he would proceed to bunnyhop up and down the park, his dancing feet searing the playing surface to a desolate wasteland of raging bush-fires, until all members of the opposing team had collapsed from heat exhaustion. Having cleared the terrain, the Mali Magician would then retire to his own goal line, aim his anus at the opposing net, and swallow the ball whole - washing it down with a two-gallon can of paraffin. The results were predictable, and devastating.
Amadou Konté is currently sponsored by Vaseline.
Where he will end up in 2009-10 season is anyone's guess, but one thing's for sure, thrills and spills will not be far behind!!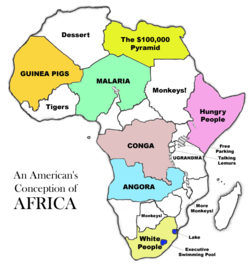 Amadou is the latest in a line of celebrities to put his name to the Bang-A-Drum appeal. A charity which has been setup to give support to deaf youngsters in Mali. Other celebrities who have signed up to the appeal include Bruno Brooks, Jeremy Beadle, Noel Edmonds, and Brian Connelly.
Konte is famous for hosting monthly 'sexy parties' in his Edinburgh bachelor pad on the 23rd of every month. They are said to be reasonably well-attended. - He is also well known in the Edinburgh clubbing scene, where clubbers regularly see him unwind after a hard game by pulling some shapes on the dance floor. Konte can regularly be seen imitating his favorite actor John Travolta in Saturday Night Fever and frequently adorns the 70s style get-up like his idol.
Konte took part in a successful advertising campaign for Chocolate Hob-Nobs in his home country of Mali. In this, he used the slogan 'Goan, just have a Nob' to bring the popular chocolate covered snack to the African public.
Perhaps Amadou's most famous moment was when, playing for Hibs against Accrington Stanley in the 2005 'Cup of Cups', he fabulously chipped the ball over the goal keeper's head and into the net - from the halfway line. This feat was made all the more impressive when TV replays showed he actually had his eyes closed. Commentator Andy Gray said at the time "Why would Hibs want to spend more money bringing players in? I'd like to see them maximize the resources already at their disposal. I'd genuinely like to see Konte get a run in the team". Co-commentator Martin Tyler was heard to mutter "Incredible, it's like Jesus has returned".
Konte's favorite food is Birdseye Potato Waffles. He puts this down to their incredible versatility. "Eggs on, eggs off" he said in a 2005 interview "it doesn't matter. Waffles - much like me - are absolutely f**king magic!"
An unknown fact by many is that as a youngster Amadou was just pipped by a certain Will Smith to the lead role in "FRESH PRINCE" the director of the show added "this boys for the big time, he's the kind of actor that makes you write roles specially for him", but unfortunately for Amadou he had a severe addiction, sherbet dib-dabs. He couldn't get enough of them at one point 20 packets a day. From this it was clear he needed help, that's when his now best friend Derek Acorah stepped in to help. Months on Amadou kicked his habit and decided on playing football. Recently joining high flying Hibernian, he has taken on a legendary status. As Pele said of the World Cup "the only disappointment I have is that Mali never made it, Best, Giggs, Konte the best players in the world never to have graced the hallowed turf of a coupe du monde"
Konte has opened discussions with several fast food chains to bring out his own Tuna Burger which he plans to call "THE QUARTER KONTE WITH CHEESE" which will be a tuna burger garnished with brown sauce and siberian beetroot. In Kontes words "It's gonna be something ridiculously tasty". His plans also include THE BIG KONTE" and "THE AMADOU DOU DOU MELT"
When Amadou eventually departs the beautiful game he has spoken of his determination to succeed in Indian Premier League Cricket, he feels he has a lot to offer the sport and feels his unique running technique "THE KONTE STRIDE" could only benefit the sport.
Amadou plans to open a chain of pottery shops across Scotland, a hobby he started whilst warming the Easter Road bench.
Konte also plans to delve into the retail sector further, with his very own Waffle house 'Waffles for Konte's'.
"
To the tune of the Flintstones

Konte, Konte, Konte. He's the magician from Ma-li. Chipping Derek Stillie, From 50 yards when he could nae see. Skinning, 3000 villagers with his feet, Ignoring, his maw shouting him for his tea. When you're watching Konte you'll have a Ama-dama-dou time. A dama-dou time. You'll have a great old time

"
"
To the tune of Agadoo

Aaammmaa-dou-dou-dou, Chips the keeper for Mali! Ama-dou-dou-dou, Makes it look so damn easy! On his left, on his right, He jumps up and scores with ease. He is Hibs' superstar, but soon he will be at Chelsea! Aaammmaa-dou-dou-dou Feeds five thousand fans for free Aaammmaa-dou-dou-dou He fell out the ugly tree On his left, on his right He walks on water - what a sight He is Hibs' superstar free broon sauce wi' every bite.

"
To the tune of the ants go marching
He's gonnae score from 40 yards, Konte, Konte. He's from Mali and really hard, Konte, Konte. He's got the skills to heal the world, A hero to all the boys and girls. Amadou Konte, he's better at football than God.
News

2010 FIFA Middle Earth Cup soon to begin • America: Oh, You mean 'Soccer'! • Bzzzzzzzzzzzzzzzzzzzzzzzz! • Capello identifies key 'ingredients' to success • Celtic F.C. sign youth player in transfer mix-up • Dutch clogs no match for Spanish bull • English excuse for not winning the 2010 football World Cup is revealed • F.C. Blatter win the FIFA Crony Cup again • Fabio Capello 'sleeping with the fishes' in brutal slaying • Fifa turns down English replay plea • Footballer has sex with wife • Football's ten worst sinners • France avenges World Cup defeat • Gatorade source contaminated, US economy collapses, Brits follow suit • Gay men banned from playing soccer in high altitudes • Germany Plans invasion of Spain, Netherlands next? • Jabulani ball causes more distress • Jesus given one-year ban • Luis Suarez's good food guide • Massive stadium brawl breaks out over contemporary solipsist philosophy • New sports crime tribunal to try England's football flops • North Korea purge football team after 7-0 humiliation • Paul the Octopus considers offer from Uncyclopedia • Pope wore a German football shirt as he watched Argentina lose in World Cup • Psychic Octopus to be offered new identity if Spain lose World Cup final • Referees again dictate outcome of match • Scientists dampen World Cup enthusiasm by concluding football really is just 22 men running around a field chasing a ball • Soccer fans shun art for hookers • Soccer game ends in tie • Soccer-playing abortion doctor goes for the death-threat trifecta • South Africa to change name to Vuvuzela • Stan Marsh presents: 2022 FIFA World Cup • Television commentators stock up with clichés for World Cup Final today • The football is over • United States robbed of World Cup • World Cup Fever leads to mass pneumonia • Zidane welcome in Spain: A new challenge for matadors