UnNews:America: Oh, You mean 'Soccer'!
Jump to navigation
Jump to search
19 June 2010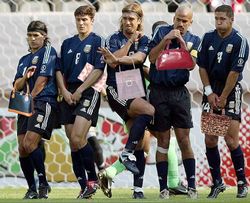 JOHANNESBURG, South Africa -- Confusion that has plagued the United States for over a week has finally subsided as the connection between football and soccer has been made. An official statement was issued late Friday night, via blog, by avid-American, Gus Himmel, where he criticized the World Cup for "mistakenly labeling this sporting event football when it is obviously that other one... the one the gay guys play, where the "foot" bit is actually quite important; soccer!" He went on further to point out the differences between the two games citing "They don't wear gay short shorts in FOOTBALL, they wear manly padding instead (when their high body fat percentage would suffice), and heterosexually grope each other for four quarters."
This discovery has met mixed reactions among Americans. Some relieved that this blunder had been fixed. One anonymous man commented:
| | | |
| --- | --- | --- |
| " | I am so relieved to have this cleared up. The stress I've been under for the last week was unbearable. A friend of mine told me 'Hey, go watch ESPN tomorrow morning at 9:30 AM! The United States is playing Slaveria (or something like that) at football'! Much to my dismay I turned on ESPN that morning and NOTHING! NO FOOTBALL! I panicked. Did I lose ESPN on my television? I cried for over an hour. | " |
Despite the discovery however, most Americans remain unaware of how the World Cup works, or what a World Cup even is. When asked about the World Cup, American citizen Charles Amberlin responded "World Cup huh? That's that thing that Jesus drank his booze out of, wasn't it?" The ignorance of Americans does not stop only at the World Cup, another man, who requested to stay anonymous responded when asked about the home country of the cup this year, South Africa: "South Africa? Is that the place south of North Africa?"
News

2010 FIFA Middle Earth Cup soon to begin • America: Oh, You mean 'Soccer'! • Bzzzzzzzzzzzzzzzzzzzzzzzz! • Capello identifies key 'ingredients' to success • Celtic F.C. sign youth player in transfer mix-up • Dutch clogs no match for Spanish bull • English excuse for not winning the 2010 football World Cup is revealed • F.C. Blatter win the FIFA Crony Cup again • Fabio Capello 'sleeping with the fishes' in brutal slaying • Fifa turns down English replay plea • Footballer has sex with wife • Football's ten worst sinners • France avenges World Cup defeat • Gatorade source contaminated, US economy collapses, Brits follow suit • Gay men banned from playing soccer in high altitudes • Germany Plans invasion of Spain, Netherlands next? • Jabulani ball causes more distress • Jesus given one-year ban • Luis Suarez's good food guide • Massive stadium brawl breaks out over contemporary solipsist philosophy • New sports crime tribunal to try England's football flops • North Korea purge football team after 7-0 humiliation • Paul the Octopus considers offer from Uncyclopedia • Pope wore a German football shirt as he watched Argentina lose in World Cup • Psychic Octopus to be offered new identity if Spain lose World Cup final • Referees again dictate outcome of match • Scientists dampen World Cup enthusiasm by concluding football really is just 22 men running around a field chasing a ball • Soccer fans shun art for hookers • Soccer game ends in tie • Soccer-playing abortion doctor goes for the death-threat trifecta • South Africa to change name to Vuvuzela • Stan Marsh presents: 2022 FIFA World Cup • Television commentators stock up with clichés for World Cup Final today • The football is over • United States robbed of World Cup • World Cup Fever leads to mass pneumonia • Zidane welcome in Spain: A new challenge for matadors