Teddy Sheringham
Jump to navigation
Jump to search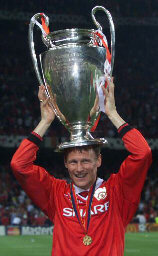 "Cheeseburger and fries, please"
"I saw both him and Stanley Matthews play in my youth, what equisite ball play, one touch and he was off..."

Edward P. Sheringham, or Tedward to his mother, plays football in the FA Premier League under the name Teddy. Currently, he plys his trade for Colchester Utd, nicknamed the Spanners. He is a striker and occasional goalkeeper, and occupies a position on the board of directors of a local fish and chip shop.
Teddy collects hats, but only really found ones he likes while playing for The Red Sox (see photo). He has spent his entire career pursuing his hobby of being hated by Arsenal fans having played for Spurs and United just to piss them off. He developed this hobby after being persistently mocked by Arsenal fans for his entire school years back in the 1930s.
Teddy was the subject of half of Tottenham Hotspur's failed rebranding attempt in the mid-nineties (see Totteringham Hotspud for details.)
Allegedly born on the 13th day of our Lord, many people have theorised how old this makes Teddy, but since no consensus can be reached, he has been regarded as 87 years, 6 months and 4 days old for the last two years; this of course being the maximum age one can reach before nobody can be arsed to count anymore.
Given this fact it is remarkable Teddy still plays football and is thought to be the oldest player ever to play for 'The Shit Bit of London',Back when Julius Caesar went to see Sheringham or, in those days, Teddius Sherinius However, the oldest player of all time is actually thought to be either World Cup-winner Alan Ball or legendary Coventry City Offensive Line-Backer Steve Ogrizovic, although nobody can be sure, because nobody could be arsed to count.
Little is known of Sheringham before he started playing football in 1890, although some historians identify him as a key advisor to Queen Elizabeth I. Teddy plyed his trade for lowly Canvey Island between 1890 and the onset of the Second World War, but he wasn't very good.
A strange turn of events started when Tedward was enlisted for National Service in the British Army in 1939. After driving a tank (once), Teddy was significantly maimed on the Normandy beaches when a squadron of Harrier Jump Jets accidentally fired on his unit. It took the following 35 years for the Army to rebuild him using stolen Nazi technology.
"He's a man barely alive. We can rebuild him. We have the technology. We can make him better than he was. Better...stronger...faster." - A military Doctor supervising Sheringham's reconstruction.
Ultimately, this was only partly true, as Teddy's bionic appendages did not make him faster, but rather a lot, lot slower (NB. It is thought that both Teddy's legs, his right arm and face are now bionic). However, despite his retarded speed, his increased tactical knowledge allowed him to rise up the footballing hierarchy in lightning-like fashion, re-entering the sport in 1983, soon after his restoration was completed.
List of Clubs Post 'Resoration'
1983-1984 Millwall
1985 Aldershot (loan)
1985-1991 Millwall
1991-1992 Nottingham Forest
1997-2001 Manchester United PLC
2001-2003 Tottenham Hotspur
2003-2004 Portsmouth
2004-2007 West Ham Hammers
2007-2009 Colchester Rangers
2009- Greater Dorset World Legends Team B
In the summer of 2007, however, several troubling events happened to good ol' Teddy that spun public opinion against him. He had finally become over 110 years old which everyone knows is way too old to sign autographs much less play sports. He took a holiday trip to Mars and played in a few training games with Greys Athletic F.C. and almost became their permeanant replacement for Lance Armstrong at the coveted Left Defensive Midfielder on Tuesdays During Lent as Long as It Is Still in the Same Month as Easter and the Team Is Ahead by Seven or More Goals position. Yet, the most disturbing and controversial action was his insistence that everyone call him "The Bear". Although even Henry Kissinger and that guy who sits in the back of Section 12 (you know who you are) begged him to change it, Teddy, ah, I mean, The Bear insisted, "Hey, if it worked for Jack Nicklaus, it oughta work for Teddy, I mean, The Bear." This has led many opposition teams to begin to calling Teddy by his real name instead and resulted in his actually changing his name to "Walter" which he always spells without the "u" for some reason.
News

2010 FIFA Middle Earth Cup soon to begin • America: Oh, You mean 'Soccer'! • Bzzzzzzzzzzzzzzzzzzzzzzzz! • Capello identifies key 'ingredients' to success • Celtic F.C. sign youth player in transfer mix-up • Dutch clogs no match for Spanish bull • English excuse for not winning the 2010 football World Cup is revealed • F.C. Blatter win the FIFA Crony Cup again • Fabio Capello 'sleeping with the fishes' in brutal slaying • Fifa turns down English replay plea • Footballer has sex with wife • Football's ten worst sinners • France avenges World Cup defeat • Gatorade source contaminated, US economy collapses, Brits follow suit • Gay men banned from playing soccer in high altitudes • Germany Plans invasion of Spain, Netherlands next? • Jabulani ball causes more distress • Jesus given one-year ban • Luis Suarez's good food guide • Massive stadium brawl breaks out over contemporary solipsist philosophy • New sports crime tribunal to try England's football flops • North Korea purge football team after 7-0 humiliation • Paul the Octopus considers offer from Uncyclopedia • Pope wore a German football shirt as he watched Argentina lose in World Cup • Psychic Octopus to be offered new identity if Spain lose World Cup final • Referees again dictate outcome of match • Scientists dampen World Cup enthusiasm by concluding football really is just 22 men running around a field chasing a ball • Soccer fans shun art for hookers • Soccer game ends in tie • Soccer-playing abortion doctor goes for the death-threat trifecta • South Africa to change name to Vuvuzela • Stan Marsh presents: 2022 FIFA World Cup • Television commentators stock up with clichés for World Cup Final today • The football is over • United States robbed of World Cup • World Cup Fever leads to mass pneumonia • Zidane welcome in Spain: A new challenge for matadors