Vitória Guimarães
Jump to navigation
Jump to search
"How's it down there?"
~ Vitória Setúbal on V.Setúbal
"Who? There isn't another team in Minho, is there?"
~ Sporting Braga on Braga
Vitória Sport Clube, often known as Vitória Guimarães, are a Portuguese football club from Minho, Northern Portugal. They are best known for embarrassing the region by claiming to be the best team there, despite playing in the Liga de Honra (second tier) at the time. Predictably, now they are once again back in the Liga, they hold that laughable claim up again.
Guimarães started out by imitating Setúbal, as we all mostly kind of know. However, to begin with, they were, quite frankly, shit. It took them a full twenty-five years to get to Setúbal's admittedly high standards back then. They were helped by the great decay, however, which meant that half of the Liga suddenly collapsed on themselves and sunk with out trace (á la Nottingham Forest). The remarkable achievement of placing higher than Setúbal and joining the greats in European warfare was celebrated by... Pie. Yes, pie. No alcohol or nothing.
After the great decay, Guimarães suddenly found themselves in Europe. They had to face the great might of the English, as well as some Polish side that gets trampled on by everyone and that hates black people. First up were the Poles. As expected, Guimarães put out an all-black starting eleven and thrashed Wisła, just to prove a point. However, when they faced the "might" of Bolton, they disintegrated, something to do with weak diving muscles or something. That was probably the catalyst for...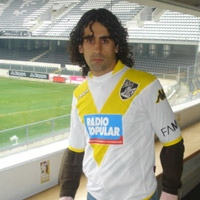 Just six months after the European conflict, Guimarães' worn-out little people found themselves in big trouble. The small clubs had decided, by a majority of seven to one (they all still hate Paços today for that; Paços became a greater club for it however.), that they would take Guimarães down with them in a kamikaze mission.
After Penafiel, Rio Ave, and Gil Vicente/Belenenses (take your pick there) were through with Guimarães, they were tainted goods. As the formula goes:

The Liga Vitalis awaited the beaten Guimarães. Many bandwagon fans went over to the dark side rather watch the horror.
After long, hard, grit of a year in the little guys' league, it had come down to two out of Rio Ave, Leixões, Guimarães and Santa Clara to return to the top. Of course, having been screwed by Rio the previous year, Guimarães decided to ally itself with Leixões to get their own back (Santa Clara are Açoreano so they were forgotten). This led to a 25,000 strong legion forming at the D. Afonso Henriques, to defeat the "evil" Rio Ave. The task seemed impossible. But a combination of Guimarães/Leixões spirit, and Rio Ave being choke artists of the level not seen since the meatloaf cracker had been invented, pulled of a magnificent comeback, and Guimarães, the team that had been horribly, yet fairly, screwed, were back.
Vitória Setúbal came first as Vitória Futebol Clube, and just happened to be catching the attention of Europe at that time. Twelve years later, when Guimarães started up, they decided to imitate Setúbal's name. Setúbal didn't care at first, as Guimarães were small fries and they were the big cheese. However, as Setúbal got worse Guimarães got better, Setúbal's fans became icily sarcastic towards them. This finally came to a head in 1963, when Guimarães beat Setúbal 6-1 and started a huge riot outside the newly-built Estádio do Bonfim. That's why the Bonfim is so decayed; Guimarães fans almost took it to pieces.
Nowadays, Setúbal have still not forgiven Guimarães, and matches between the sides always seem to have a fight or two. Setúbal, however, had the last laugh when Guimarães were relegated in 2006.
Guimarães' other rival is SC Braga, which is a laughable rivalry, as both claim that the other has no place in the top league. Now, we know that neither should really be there, so the claims are technically true. However, what makes this rivalry even more laughable is the fact that games between the two "big guns" inevitably end up 0-0 or 1-0 with a penalty, and inevitably send 50% of the fans (three people) to sleep. A Guimarães-Braga game has been likened to listening to someone droning on and on about toilet matters.
Estádio D. Afonso Henriques
[
edit
|
edit source
]
Estádio D. Afonso Henriques is Guimarães' stadium. It was rebuilt in 2003 after it was jointly knocked down by a marauding group from Besaid and more Setúbal residents. The rebuilt version is one of five Portuguese stadia that deosn't have a repel function when more than six people enter it, which is actually a good thing for Guimarães. However, it never, ever seemed to give Guimarães any kind of edge.
News

2010 FIFA Middle Earth Cup soon to begin • America: Oh, You mean 'Soccer'! • Bzzzzzzzzzzzzzzzzzzzzzzzz! • Capello identifies key 'ingredients' to success • Celtic F.C. sign youth player in transfer mix-up • Dutch clogs no match for Spanish bull • English excuse for not winning the 2010 football World Cup is revealed • F.C. Blatter win the FIFA Crony Cup again • Fabio Capello 'sleeping with the fishes' in brutal slaying • Fifa turns down English replay plea • Footballer has sex with wife • Football's ten worst sinners • France avenges World Cup defeat • Gatorade source contaminated, US economy collapses, Brits follow suit • Gay men banned from playing soccer in high altitudes • Germany Plans invasion of Spain, Netherlands next? • Jabulani ball causes more distress • Jesus given one-year ban • Luis Suarez's good food guide • Massive stadium brawl breaks out over contemporary solipsist philosophy • New sports crime tribunal to try England's football flops • North Korea purge football team after 7-0 humiliation • Paul the Octopus considers offer from Uncyclopedia • Pope wore a German football shirt as he watched Argentina lose in World Cup • Psychic Octopus to be offered new identity if Spain lose World Cup final • Referees again dictate outcome of match • Scientists dampen World Cup enthusiasm by concluding football really is just 22 men running around a field chasing a ball • Soccer fans shun art for hookers • Soccer game ends in tie • Soccer-playing abortion doctor goes for the death-threat trifecta • South Africa to change name to Vuvuzela • Stan Marsh presents: 2022 FIFA World Cup • Television commentators stock up with clichés for World Cup Final today • The football is over • United States robbed of World Cup • World Cup Fever leads to mass pneumonia • Zidane welcome in Spain: A new challenge for matadors