Fulham F.C.
Jump to navigation
Jump to search

This article may be Overly British
Americans may not understand humour, only humor. Canadians and Australians may not understand anything at all. Don't change a thing to remedy this.
---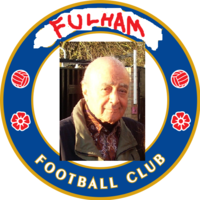 "There's an F in football, and there's an F in Fulham... but there's no F'in point ever asking me if we're going to win a game."
Fulham Football Club (nicknamed the Cottagers - (seriously!)) is, unsurprisingly, a football club in Fulham. They currently "compete" in the Football League Championship, and are based in London. Supporters of this team have been known to be very loud with many fans claiming that FFC supporters have the loudest voices in the Hammersmith Stand. Fulham fans consider Chelsea to be their mortal enemy. This is reciprocated by a Chelsea fan, as most Chelsea fans are far too busy living in Devon or Bournemouth and claiming to be lifelong fans of Peter Oswood.
One famous Fulham football ground was called the Half Moon. Former manager Lawrie Sanchez had a bronze statue outside of the cottage in remembrance of his tremendous work in replacing the team with his mates. As he grew an irresistible tache fans still buy fake Sanchez taches from the club shop for £9.99. You will see many fans at the cottage wearing these taches in remembrance of this great man. After Sanchez was unfairly dismissed following press rumours he was relocating the team to the Northern Irish League the statue was torn down by distraught fans who wanted to keep a piece of history. It was replaced with one of Michael Jackson.
The Cravener's roots can be traced back to 1878, when senile farmer Ricardo Emptypork hired a team of 20 youngsters to rid his farm of poisonous cabbages by kicking them into a strategically-placed barn. After 6 months of successful cabbage-ridding, Emptypork realised his team could compete in T'Olde Footballe Championship of West Yorkshire. After winning the trophy 23 years in a row under the team name 'Emptypork Rovers', troubles arose after disgruntled Yorkshiremen banished Emptypork and his crew to West London, never to venture back to the Northern Territories again. This is when the "We promise to be crap and not reach the top flight until sometime in the late 20th Century" Treaty was signed. Emptypork also decided that 'Emptypork Rovers' was a stupid name and instead changed it to 'Fulham Soccer Club', which was the name of a local bakery, for some obscure reason.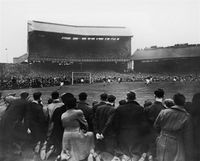 The Treaty's purpose to prevent domination from Fulham's incredibly talented players and create a level-playing field for years to come, although in 1912 the rule was relaxed to allow Fulham participation in the top flight, but under the condition that they finished no higher than 10th. Despite the best efforts of talented players such as striker Ernest Figglewig, who played for a record 45 seasons, scoring 321 goals, and goalkeeper Norman 'Yaaarrrrgh!' Owned, Fulham struggled and never reached even 14th in the 14 seasons they enjoyed in the top tier of English Football.

Tragedy struck in 1976 when Emptypork died suddenly at the age of 132, being mauled to death by a Canadian wood beetle while on holiday in Texas. Rumours persist to this day that it was a Chelsea supporting beetle. Amongst the candidates of new chairman was one Mohammed 'I'm richer than you'll ever be' Al-Fayed, who took control of the club but hired Norman Owned as manager.
Owned's reign as manager ended when Fulham lost 1-0 to Tottenham Hotspur in 1983. Owned was subsequently replaced with a bunch of increasingly unsuccessful but quite lucky managers, and it wasn't until Jean Tigana's appointment in 2000 that Fulham's luck changed. Due to a language barrier with the players his style consisted of shouting 'Attack' and 'Retreat' depending which team had the ball. Jean Tigana can be described as successful but unlucky, in as much as that he successfully negated the need for luck as a sufficient cause for success, unluckily this was contradictory and confusing for the author who then realised he was trying to be a clever dick and decided to shut up.
Since then, Fulham were managed by Cole Chrisman (brother of Cole Porter, not related to Father Christmas) and have been obscurely mediocre for the majority of the last 7 or 8 lightyears. Or so it seems, unless, of course, you count obscure mediocrity as a success, and you don't have a broken calendar which slightly distorts your personal sense of time
They got the the FA Cup semi-final a few years ago but suffered nosebleeds after reaching such dizzying heights. They seemed to have found their feet again in 2009 when they pulled off some rather ridiculous results in order to get to the Europa League final under Roy "Woy" Hodgson, but were pipped at the post by Diego Forlan who scored two goals, after which much suspicion was aroused given Forlan's passionate love affair with Roy Hodgson at the time.
Fulham is famous for slaughtering Chelsea FC and Scousonia at the first and second battles of Craven Cottage in 2005 and 2006. When the United Arab Emirates wanted some too, they were spanked and told not to be naughty. Despite several attempts they have not beaten Chelsea in Chelsea and several conspiracy websites have been spawned linking Royalty, Russians and Referees to this poor run. Rumours of this lack of success being linked to their away form have been shown to be unfounded.
In 2011, Fulham were presented with their first major footballing honour by the Charity for Disabled Athletes after spending an estimated £80 million within the last decade on football players who were struggling due to severe physical or mental handicaps, such as Steve "Cunt" Marlet, Andy "Michael Owen" Johnson and Bryan "Bruised" Ruiz.
Fulham were once considered the most average Premiership team ever except for when they got to the Europa League final in 2010 and in the 2013-14 season. Unfortunately for the Cottagers, the 2013-14 season resulted in relegation from the Barclays League due to, when put nicely, "an inability to preform at the highest level of the game". There were a few highlights in the season, like when they scored the first goal against Chelsea FC in a game where they only lost 3-1 to Chel$ki.
They also managed to tie with Manchester Red Sox Utd., only lost 5-1 to Manchester Shitty (pronounced by Johan van der Smut) and they also beat Norwich City, Stoke City and West Ham Bubbles. However, as previously mentioned, the team still had "an inability to preform at the highest level of the game". Some of the more mental sane Fulham fans will tell you that their relegation was an Illuminati conspiracy conducted by Michael Jackson because their new owner (who, despite owning America's finest Jacksonville Jaguars, many claim that he is a Pakistani terrorist) took down the statue of Michael Jackson at Craven Cottage. Clearly, this may or may not be true.
Thankfully for Fulham's notoriously hard-core fanbase, all is not lost due to relegation. Recently, Fulham have signed an Australian college student by the name of Adam Taggart, who has been labelled "the next Arjen Robben" due to his unwillingness to pass the ball. They have also signed a Scottish English defender by the name of Shaun Hutchinson. Shaun is notable for the fact that seemingly no one in the world knew he existed before joining the Cottage force. With Arjen Robben and Sean Connery on the books, Fulham look set to dominate the Championship and the Premier League.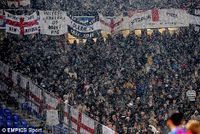 The fans are known to be extremely loyal to what is by far the most glamorous football club not in Chelsea. Fulham Football Club may be in a sophisticated and well off area however that is misconception of their fans. In the lower leagues before the Al-Fayed take over, the club was known to have one of the most notorious football family firms. The Thames Valley Travellers led by convicted hooligan Ignacio "Gavin" Ferran led one of the most prolific and hard core firms in the lower league. As they came up decisions after the Al-Fayed takeover Gavin linked with Alban "Ricky" Lee from the MCFC Guvnors to form the Fulham Suicide Squad. They dwell in the back of H5 and H4 as well as being seen in the KRE Terrace, Kingfield, at Woking FC as they wait out their 3 year ban from craven cottage, the crime being the instigation of the 2006 pitch invasion, where Chelsea were comprehensively out manned and beaten on the field despite several attempts to hand slap the ball into the net.
Their away numbers have never been in the premier league however after their fantastic run in Europe their average away attendance is now 14, and they have sold out of hot dogs at each home game.
2010, Europe longer than any other team except the Spanish ones.
OLDEST TEAM IN LONDON especially when the Al-Fayed is on the pitch.
HARDCORE FANS known for rioting and frequent bans for rustling crisp packets.
Better stadium than QPR with food available inside the ground rather than across the road from the machine at the local swimming pool.
Inter YoYo Cup Winners.
The best away record in Fulham
So, so much better than West Ham, Spurs or... ahem... Leyton Orient.
ONE TEAM IN FULHAM
Most brilliant fans ever who aren't glory-hunters like their Chelsea neighbours.
Having the quietest football stand, The Riverside, in the world which has a strict anti crisp packet rustling policy.
Famous Players Past and Present
[
edit
|
edit source
]
| Name | Tenure | Nationality | Position | Notes |
| --- | --- | --- | --- | --- |
| Louis "See ya later" Saha | 2000-2004 | | FW | Key in firing Fulham into the top division during 2000/2001 season, but was really a bit too good for them and left to join Man Utd in 2004. Won lots of stuff after leaving. |
| Edwin "No I'm not black" Van Der Sar | 2001-2005 | | GK | Brought in for £7million from Juventus, which at the time was 1087% more expensive than Fulham's next biggest signing. Joined Man Utd for £2million 4 years later, went on to win loads of really good shit with Saha, and was probably the best keeper in England for a decade. The manager was nicknamed Chris "The Cock" Coleman for selling him by Mohammed Al Fayed. |
| 'Santa' Claus Jensen | 2003-Now | | MF | Skinhead midfielder, doesn't seem to play much, but absolute SHIT when he does. |
| Steel-Head Malbranque | 2000-2005 | | DF | HeadButter. Small willy. |
| Ian Pearce | 2001-Now | | DF | Determined to win the as-of-yet stillborn FIFA award for 'Most Useless Defender in the Entire Fucking World'. Has all the qualifications to win said award when it is conceived. |
| Zat Knight | 2001-Now | | MF | Was actually very good until about a year ago, even got picked for England. Was called the Knightmare before being shiped out to Aston Villa. Apparantly, Ian 'Mary' Pearce told him about his dreamt-up 'Most Shite Player'-award somewhere around 2005, and Zat 'The Zit' has been competing for it ever since. |
| Luis 'Dead Snake' Boa Morte | 1998-2006 | | MF | Was captain, but set of to West Ham, where he had an ability transplant and is rumored to be on his way to the Dog and Duck. |
| Sylvester Legless-winky | 2001-Now | | GK | Still wets the bed. |
| Moritz Volz | 2001-Now | | DF | Mental Kraut full-back, David Hasselhof's illegitemate lovechild. At Fulham because he is not French enough to play for Arsenal. Always fancied himself as a striker, prolific goal scorer with 3 goals, and only two of them were in his own net. |
| Steep Marlet | About 7 minutes | | FW | Possibly the greatest Fulham player in history. There is an ongoing petition to have the burger van at the side of the Hammersmith end renamed in his honour. On his day as good a player as Bruce Dyer. |
| Brian McBride | 2001-Now | | MF | Enjoys bleeding profusely, headers and in general being better than you. Has a problem with his accent and fails to speak proper English. |
| Clint Dempsey | 2007-Now | | MF | An american rapper also known as "Deuce" that doubles as an extremely passable football player. Is married to Pat Noonan of the New England Revolution football club. Gay icon to millions of american "soccer" fans |
| Jesus Bullard | 2006-2009 | | MF | Amazingly, Bullard defected to Hull City during the winter transfer window for no reason. Loved on Soccer AM...loathed everywhere else |
| Jonathan "Jippo" Greening | | | Somewhere on the pitch | Did you know Greening owns the blue-yellow van which he goes to every game in. When Greening was 25 he learnt what a shaver was though he has never learnt how to use one. Could be Jesus. |
| David "God" Stockdale | | | Father of Johnathan Jesus Greening. Currently dating Jordan Powell. | Best keeper ever. I don't care what anyone else says. |
| Heidar Helguson | 2005-2007 | | ST | The SECOND best Icelandic player ever, says it all really, lost his feet from frostbite, as a result can only score with his head, sometimes. |
News

2010 FIFA Middle Earth Cup soon to begin • America: Oh, You mean 'Soccer'! • Bzzzzzzzzzzzzzzzzzzzzzzzz! • Capello identifies key 'ingredients' to success • Celtic F.C. sign youth player in transfer mix-up • Dutch clogs no match for Spanish bull • English excuse for not winning the 2010 football World Cup is revealed • F.C. Blatter win the FIFA Crony Cup again • Fabio Capello 'sleeping with the fishes' in brutal slaying • Fifa turns down English replay plea • Footballer has sex with wife • Football's ten worst sinners • France avenges World Cup defeat • Gatorade source contaminated, US economy collapses, Brits follow suit • Gay men banned from playing soccer in high altitudes • Germany Plans invasion of Spain, Netherlands next? • Jabulani ball causes more distress • Jesus given one-year ban • Luis Suarez's good food guide • Massive stadium brawl breaks out over contemporary solipsist philosophy • New sports crime tribunal to try England's football flops • North Korea purge football team after 7-0 humiliation • Paul the Octopus considers offer from Uncyclopedia • Pope wore a German football shirt as he watched Argentina lose in World Cup • Psychic Octopus to be offered new identity if Spain lose World Cup final • Referees again dictate outcome of match • Scientists dampen World Cup enthusiasm by concluding football really is just 22 men running around a field chasing a ball • Soccer fans shun art for hookers • Soccer game ends in tie • Soccer-playing abortion doctor goes for the death-threat trifecta • South Africa to change name to Vuvuzela • Stan Marsh presents: 2022 FIFA World Cup • Television commentators stock up with clichés for World Cup Final today • The football is over • United States robbed of World Cup • World Cup Fever leads to mass pneumonia • Zidane welcome in Spain: A new challenge for matadors