Associação Académica de Coimbra – O.A.F.
Jump to navigation
Jump to search
Académica Coimbra
Full name
Associação Académica de Coimbra -
Organismo Autónomo de Futebol
Nickname(s)
OAFs, Briosa
Founded
When Pinto da Costa's
grandfather's grandfather
was a baby
Ground
Estádio Cidade Circle de Coimbra
Coimbra
Capacity
30,000 people,
150,000 prams
Chairman
Eduardo Simões
Manager
Manuel Machado
League
BLOSELIGA
2006/07
Scraping safety, as usual.
The Associação Académica de Coimbra - Organismo Autónomo de Futebol are a Portuguese football club from Coimbra. They are well known as Os Estudantes (the child students), and Não Os Briosa (Not the Proud), and their players are referred to as O.A.F.s, playing on the club's initials. In recent years, they are thought of as a team that nobody wants to go down, but everybody thinks they will. Académica themselves tend to get moody about this, as is the norm with any child/teenage-rich company/club.
Académica's parent association, the main Associação Académica de Coimbra, was founded sometime around the early 900s, as a way to make students think they had priviliges. As the years went by, however, the highers-ups realised that the angst of their preferred age group meant that they had to give them something energetic to do. Thus, in 1880, the Organismo Autónomo de Futebol was born (by people not exactly the right age to give birth to the next generation, but nevermind. The higher-ups decided that that was not necessary, and it worked for the next ~120 years. Sorta).
Académica's youth program is almost unique, with only their feeder team, Associação Académica de Coimbra - Secção de Futebol doing the same. They pluck graduates straight from university, take them to an Army camp for a couple of weeks, then insert them straight into the first team withput blooding them in at all. This method serves to show Académica as the only real tough guys in the Liga, as well as allowing them to sign talents like Claúdio Pitbull. They hope the effect of the name on their opponents is great.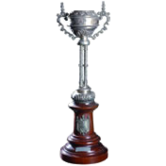 You have to go back an awful long way to find any half decent Académica upsets/thrashings/titles. Since this was five or six generations ago for Académica's style of player. However, such greats as the 6-1 thrashing of Benfica in 1963 have been dug up by the historians making a living at the University of Coimbra. Also, there is the Taça de Porttugal win that does not need the historians, but that is only because of the weak cup on display in the university.
Despite all the evidence for Académica being an awfully mediocre club, they do have some top level silverware to show off. The first Taça stands aloft in Coimbra, and many students in Coimbra fight to the death to see one of only three trophies outside of Porto, Luz or Alvalade. The trophy cabinet itself is made cheaply from MDF that was left over from the students D.T. classes, as they know nothing else will infiltrate it.
The students that make up the majority of Académica's fanbase are sure, every single year, that they will claim the ever-coveted fourth place in the Liga. Of course, these are the same teenagers who think that immorality is good, so their thoughts are decidedly mixed up. Académica have approximately 0.00031415% chance of fourth, that minuscule percentage only occurring if they have an influx of foreign exchange students AND Braga, Belém, Boavista, Marítimo, Nacional, Setúbal, Guimarães, Leiria and Paços all become victims of a deadly superbug. Which could easily happen.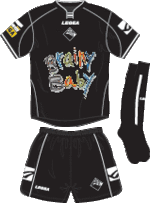 Académica's famous (well, that is pushing it a bit) black shirts originally came, like everything else, from Coimbra's university. They decided that, with all the grumpy students, and the horrible weather, that they'd go the whole hog and wear all black for both the university and for football. The black has also infiltrated into Briosas playing style, a style so dull you'd think that you were watching Bolton Wanderers F.C. This has led to some animosity within the camp, but coach Manuel Machado has quelled it by simply saying that, if the animosity stopped, he would promise they would finish higher than 13th for the first time in living memory. No more arguments were heard.
News

2010 FIFA Middle Earth Cup soon to begin • America: Oh, You mean 'Soccer'! • Bzzzzzzzzzzzzzzzzzzzzzzzz! • Capello identifies key 'ingredients' to success • Celtic F.C. sign youth player in transfer mix-up • Dutch clogs no match for Spanish bull • English excuse for not winning the 2010 football World Cup is revealed • F.C. Blatter win the FIFA Crony Cup again • Fabio Capello 'sleeping with the fishes' in brutal slaying • Fifa turns down English replay plea • Footballer has sex with wife • Football's ten worst sinners • France avenges World Cup defeat • Gatorade source contaminated, US economy collapses, Brits follow suit • Gay men banned from playing soccer in high altitudes • Germany Plans invasion of Spain, Netherlands next? • Jabulani ball causes more distress • Jesus given one-year ban • Luis Suarez's good food guide • Massive stadium brawl breaks out over contemporary solipsist philosophy • New sports crime tribunal to try England's football flops • North Korea purge football team after 7-0 humiliation • Paul the Octopus considers offer from Uncyclopedia • Pope wore a German football shirt as he watched Argentina lose in World Cup • Psychic Octopus to be offered new identity if Spain lose World Cup final • Referees again dictate outcome of match • Scientists dampen World Cup enthusiasm by concluding football really is just 22 men running around a field chasing a ball • Soccer fans shun art for hookers • Soccer game ends in tie • Soccer-playing abortion doctor goes for the death-threat trifecta • South Africa to change name to Vuvuzela • Stan Marsh presents: 2022 FIFA World Cup • Television commentators stock up with clichés for World Cup Final today • The football is over • United States robbed of World Cup • World Cup Fever leads to mass pneumonia • Zidane welcome in Spain: A new challenge for matadors