Sydney FC
Jump to navigation
Jump to search
"I like men"
~ Sydney FC fan on Sydney FC
"Sydney FC has got such a better name than Queensland Roar. Their coach is called Miron for God's sake"
~ Marconi Macaroni Eaters on Sydney FC
"Part of our success is that we play exactly like Sydney FC"
~ Russell Crowe on South Sydney Rabbitohs
"What the fuck? I thought I was signing for Chelsea?"
~ Shannon Cole misses out on the opportunity to link up with his long lost brothers Joe and Cashley
"Anthony LaPaglia offered us all a place as extras on his TV show to throw the game against Sydney FC and, you know, that was just too good an offer to pass up on"
~ Central Coast Marinators on Sydney FC
Sydney FC is a Brazilian team competing in the Hyundai A-League, the so-called "premier" Australian soccer competition. It is so named because the club is based in Sydney, and it's F*cking Cocky.
No one quite knows for sure what sport Sydney FC actually plays, because the local media cannot determine whether they play soccer, football, football, or football. The presence of Trinidad professional Dwight Yorke somewhat swung the perception to the former, given his popularity for playing for some dumb club in England; however the lack of soccer skills exhibited by his fellow professionals confuses the issue once again. Their average result in a match is a 10,000,000 - 0 loss to all the teams in the world.
Sydney FC is a reluctant conglomerate of several clubs who actually played soccer, for example:
Sydney Croatia
UTS Greeks
Marconi Macaroni Eaters
South Melbourne Swans
South Sydney Rabbitohs
Those ethnically-based soccer teams were scrapped once and for all, in favour of the ethnically-neutral (and therefore blend and boring) Sydney FC. The move was vindicated by the Sydney race riots in December 2005, when thousands marched on the beaches of Sydney demanding ethnic cleansing of Australian soccer. Only when Dwight Yorke threatened to leave and return to his old dumb club in England did the rioting subside.
Sydney FC succeeded in boring the pants off Sydney-siders when Rugby League players were taking time out harassing girls in Coffs Harbour. They beat some team from the Central Coast of New South Wales, consisting entirely of bogans in flannels and thongs, 6-7 (6-2) 6-2 6-4 6-1 in a high-scoring encounter, marred by many incorrect line calls and shrieks of "come on!" by Lleyton Hewitt impersonators.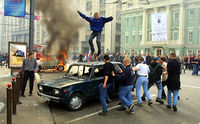 Presently, Yorke is considering an offer to research nuclear energy in Dubai, offering superior pay but inferior latte. Without Yorke, Sydney FC is considering the following development time-line:
2006 finish bottom of A-League, wins the UEFA cup
2007 Sign Anthony LaPaglia to play right back
2008 strike deal with authorities to establish a "money laundering salary cap"
2010 laundered sufficient cash to sign David Beckham, Wayne Rooney, Zinedine Zidane, George Weah's cousin and Pele
2016 after finishing bottom of A-League for six successive seasons, Dwight Yorke returns to the club
2018 merges with NRL side Parramatta Eels
David Carney is one of the stars of the A-league's glamour club Sydney FC. Scoring 20 goals in 26 matches, this 15-year-old has lit up the world of Australian football. After a successful stint with Everton in the English Premier League, Kaye came back to Australia to fulfil the dream of playing for an Australian club in front of large crowds. Many major clubs such as, Maccabi NSW, Chel$ki Abramograd F.C. and Real Madrid have scouted him.
Notable achievements include:
Putting up with playing such a stupid, crappy sport
Scoring an amazing Goal from outside the box to put Sydney FC into the A-league final (Barry Hall)
Receiving the A-league award for player of the year (stolen from Archie Thompson who was waxing his head at the time)
Receiving the A-league Golden Boot for most goals scored in a season (can be seen worn by Coach Butcher at home games)
The bad news is, the wonderkid was sold to England to work as a prostitute to Unattractive Women.
Sydney FC wears a sky blue uniform. This is because their fans are super gay and love it up the ass. In fact, they wear Sky Blue so as to not confuse the public with Melbourne Victory who wears blue and white, which is an obvious sign of 'Sydney FC gets pwned a lot'.
Sydney FC were found guilty of cheating for a second time in December 2006. They were fined some money and had 3 points deducted from their 2006 campaign.
There are almost certainly going to be questions raised as to why referee Matthew Breeze does not appear on the Sydney FC roster for the 2007/08 season. Breeze has been instrumental in Sydney FC's rise in the second half of the season, being widely regarded by fans and coaches alike as the club's best performer. He is expected to be part of the list of candidates for player of the season - quite remarkable given the fact that Breeze has not kicked a ball in his life, and perhaps even more shocking, does not know the rules of the game. Not disclosing the wages paid to Breeze contravenes the rules of the salary cap in the A-League, and this constitutes a serious offense. However, what "Captain Breeze" can't do on the field he can more than make up for off it. Inside sources claim that if Breeze and Sydney FC can't beat the opposition on the field, then he would look to his occupation as a police prosecutor to overcome these stubborn teams. Any team that does not roll over and lose to Sydney would presumably be prosecuted.
News

2010 FIFA Middle Earth Cup soon to begin • America: Oh, You mean 'Soccer'! • Bzzzzzzzzzzzzzzzzzzzzzzzz! • Capello identifies key 'ingredients' to success • Celtic F.C. sign youth player in transfer mix-up • Dutch clogs no match for Spanish bull • English excuse for not winning the 2010 football World Cup is revealed • F.C. Blatter win the FIFA Crony Cup again • Fabio Capello 'sleeping with the fishes' in brutal slaying • Fifa turns down English replay plea • Footballer has sex with wife • Football's ten worst sinners • France avenges World Cup defeat • Gatorade source contaminated, US economy collapses, Brits follow suit • Gay men banned from playing soccer in high altitudes • Germany Plans invasion of Spain, Netherlands next? • Jabulani ball causes more distress • Jesus given one-year ban • Luis Suarez's good food guide • Massive stadium brawl breaks out over contemporary solipsist philosophy • New sports crime tribunal to try England's football flops • North Korea purge football team after 7-0 humiliation • Paul the Octopus considers offer from Uncyclopedia • Pope wore a German football shirt as he watched Argentina lose in World Cup • Psychic Octopus to be offered new identity if Spain lose World Cup final • Referees again dictate outcome of match • Scientists dampen World Cup enthusiasm by concluding football really is just 22 men running around a field chasing a ball • Soccer fans shun art for hookers • Soccer game ends in tie • Soccer-playing abortion doctor goes for the death-threat trifecta • South Africa to change name to Vuvuzela • Stan Marsh presents: 2022 FIFA World Cup • Television commentators stock up with clichés for World Cup Final today • The football is over • United States robbed of World Cup • World Cup Fever leads to mass pneumonia • Zidane welcome in Spain: A new challenge for matadors