Vitória Setúbal
Jump to navigation
Jump to search
Vitória Futebol Clube, commonly known as Vitória de Setúbal to distinguish them from the much lower class Vitória Sport Clube, [1] are a sports club from Setúbal, Portugal. They play in green and white stripes, designed to show the teams love of the grass and of the goal. They swiped the nickname Vitórianos from Vitória SC after just pipping the Guimarães team to the title of first known Vitória. Their name transcends their true purpose, as Setúbal tend to be better at other sports than football, having won European titles in consumerism and penny-pinching. Setúbal are also known for being the team on an eternal edge of bankruptcy, despite two UEFA Cup appearances in the last three years.
The so-called "Golden" decade
[
edit
|
edit source
]
The Vitórianos generally consider the 1960s to be their golden decade. They say this because, through their eyes, winning the mediocre Taça de Portugal is a terrific achievement [2]. They also achieved a frankly brilliant 2nd place in the Liga, at a time when Três Grandes were at their peak, so admittedly Setúbal have a reason to look back. However, the frankly dreadful UEFA Cup performances earned the nearby Sadino River the unwanted title of "River with most dead bodies in a year" as fans, feeling the saddest they ever had, threw themselves to an inevitable oxygen-lacking end. This feat gave Setúbal their second nickname, the double-entendre "Os Sadinos".
Setúbal have, of course, never won a European trophy, they never even qualified for the Champions League, but do, twice or thrice a decade, qualify for the UEFA Cup. They are considered dangerous opposition only when they scrape into the Intertoto Cup, as when you get to the first round proper, such heavyweights as Mladá Boleslav will easily lay waste to the likes of Setúbal.
After a particularly gruelling outing in Jamor, Setúbal lost a Taça cup to F.C. Porto. Setúbal had been winning 1-0 in the 90th minute, but turned into fellow green-and-whites Sporting CP to choke it away in injury time. After this, the Setúbal fans rioted in Jamor, and gained the nickname The Eighth Army, as Portugal had seven armies at the time [3]. Setúbal had a massive jump of 1836% of Army call-ups for the next three years as an effect of this.
Relegation, Promotion, Commotion
[
edit
|
edit source
]
In the late 1990s and early 2000s, Setúbal were relegated twice from I Divisão, as it was then known. Both times, they were promoted back up, both times, it was a scary ride; in 2001, Moreirense played them, at Bonfim, on the last day of the season. A tie would give Moreirense the promotion over Setúbal. However, Moreirense's players were used to HUGE [4] crowds of around 130, and were off-put by the silence the 4 people in Bonfim made. Setúbal won 6-0.
In 2004, Setúbal were top going into the last day; Estoril-Praia, Moreirense (again) and Varzim all had a chance of toppling them. With 20 minutes to play, Estoril, Moreirense and Varzim were all winning, and Setúbal were losing in Ponta Delgada. This combination of results would dissolve Setúbal. However, a supporter of Santa Clara (the team from Ponta Delgada) came rushing onto the field at the same time João Santos Castro Vale da Jorge struck the ball at goal for Setúbal. The ball deflected off the fan and into the net, giving VFC the point they needed for promotion.
Setúbal's main (and pretty much only) rivals are Vitória S.C. "de Guimarães". They have quarreled before over who should wear the Vitória name, with Setúbal eventually winning what was a very poor fight over it, due to their Portuguese heritage. Setúbal however let Guimarães keep their name, and how would Setúbal regret it.
As Guimarães grew larger, Setúbal feared for their status, and sent their 8th Army to destroy Guimarães' stadium. However, the building talents of the Guimarães people overwhelmed the 8th Army's efforts, and Setúbal eventually gave up.
Following VSC's relegation in 2006, there was a massive celebration in the streets of Setúbal. However, as Rio Ave F.C. choked at the end of the 2007 season to allow Guimarães back in the BWINLIGA, the entire municipality of Setúbal went silent for many minutes out of fear of revenge.
Setúbal's stadium is called the Estádio do Bonfim (Stadium of Don Thin). It was built by an architect called João Castro, well renowned in the Setúbal region for having an extremely slim outlook. What they only found out later is that he was the leader of a crime gang using Bonfim as a hideout.
The stadium was built to commemorate Setúbal's lucky achievement of having survived for 50 years, despite having the equivalent of €1 invested in the club. Of course, the stadium made them almost go bankrupt, but a few years in the lower Liga de Honra sorted that out.
The stadium is also notable as one of the few that don't require excessive rebuilding every summer. This is due to the 8th Army of Setúbal having enough sense to target their own stadium, as well as their players being taught to accept defeat, so they don't start blasting the walls after every loss á la União de Leiria. However, it is starting to fall apart, leading to plans to move out being drawn up.
The Estádio do Novo Bonfim will be Setúbal's new stadium. Originally due for completion in 2010, it has been delayed two years to 2012 because of uncountable amounts of strikes by lazy Portuguese workers. It is set to hold 40,000 people in a (gasp!) all-seater stadium, and, assuming Setúbal are still around, pull them out of their financial quagmire.
It will feature "state-of-the-art" features such as a roof (only the tenth in Portugal!), seats with padding (the first in mainland Europe!), and shops with edible burgers and chips (the first ANYWHERE!). It will cost €65,000,000, with Setúbal paying approximately €1. The rest is being covered by the Lisbon government as a way of keeping six points a year for Benfica and Sporting.
2006/07 Season — Relegation Fight 2: Electric Boogaloo
[
edit
|
edit source
]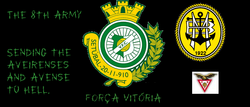 In the 2006/07 season, great things were expected of Setúbal — despite their financial peril — due to the fact that they had reached two Taça de Portugal finals in a row. However, they barely hung on to their Liga status by the skin of their teeth.
Going into the last game of the season, Setúbal were in last place, level on points with Beira-Mar, one point behind Aves. Aves had a Porto side playing only for the money, while Beira-Mar had a mi-table team that slept throughout the game. VFC, however, had Académica away, a team only just outside the relegation zone themselves. It was as hot as hell a fire a summer's day your freezer, as it turned out.
With Aves tieing at half time, and Setúbal losing, they needed to conjure up something special at half-time. They then realised that their fans had been the inspiration in other games, and sent them to Porto (yes, in fifteen minutes). Amazingly, both Setúbal and Porto won, due to Aves choking after seeing the 8th Army in Porto, and Académica falling asleep due to the silence.
Setúbal's finances are in a perilous state. For the 2006 fiscal year, it was approximated that they had around €19.99 left in value. Then the team hit McDonald's. The club is now estimated at about €0.42.
VFC have come up with a few initiatives to try and raise money. They bugged local team União de Leiria to give them some funds, but Leiria declined on the basis that "Having a team such as Santa Clara come up to the league will give it so much more tradition than plain old Vitória Futebol Clube de Setúbal. And it'll give us six more points a season."
They also tried "buy the shirts the players wore in [insert game here]. However, this backfired when Setúbal ran out of shirts. The players running around in no tops was enough to knock out any woman.
News

2010 FIFA Middle Earth Cup soon to begin • America: Oh, You mean 'Soccer'! • Bzzzzzzzzzzzzzzzzzzzzzzzz! • Capello identifies key 'ingredients' to success • Celtic F.C. sign youth player in transfer mix-up • Dutch clogs no match for Spanish bull • English excuse for not winning the 2010 football World Cup is revealed • F.C. Blatter win the FIFA Crony Cup again • Fabio Capello 'sleeping with the fishes' in brutal slaying • Fifa turns down English replay plea • Footballer has sex with wife • Football's ten worst sinners • France avenges World Cup defeat • Gatorade source contaminated, US economy collapses, Brits follow suit • Gay men banned from playing soccer in high altitudes • Germany Plans invasion of Spain, Netherlands next? • Jabulani ball causes more distress • Jesus given one-year ban • Luis Suarez's good food guide • Massive stadium brawl breaks out over contemporary solipsist philosophy • New sports crime tribunal to try England's football flops • North Korea purge football team after 7-0 humiliation • Paul the Octopus considers offer from Uncyclopedia • Pope wore a German football shirt as he watched Argentina lose in World Cup • Psychic Octopus to be offered new identity if Spain lose World Cup final • Referees again dictate outcome of match • Scientists dampen World Cup enthusiasm by concluding football really is just 22 men running around a field chasing a ball • Soccer fans shun art for hookers • Soccer game ends in tie • Soccer-playing abortion doctor goes for the death-threat trifecta • South Africa to change name to Vuvuzela • Stan Marsh presents: 2022 FIFA World Cup • Television commentators stock up with clichés for World Cup Final today • The football is over • United States robbed of World Cup • World Cup Fever leads to mass pneumonia • Zidane welcome in Spain: A new challenge for matadors