Paços de Ferreira
Jump to navigation
Jump to search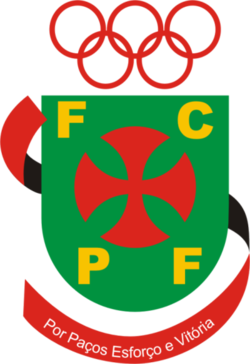 Futebol Clube Paços de Ferreira is a Portuguese bank and football club from Paços de Ferreira, Portugal, notable for being the one team that punters know are a sure-fire bet at home, having been the only club to match Chelsea's record of going over a year without defeat at their home, the Estádio da Mata Real. They are in the UEFA Cup for the 2007/08 season due to a handball goal similar to the Hand of God that also cost Sporting CP the title. Much whining and whatnot from both Sporting and União Leiria took place afterwards to no avail.
The bank was set up in 1987 to curtail some of FCPF's massive debt. They used it as a ploy to get themselves out of debt, and start staying in the Liga. However, the bank was, unexpectedly, a success on a much wider scale; Paços now make more money from the bank due to interest in a year than they get from shirt sales in a decade, though admittedly, they do only get €100 a year from shirt sales.
The bank is well known for its mortgage rates. They specialise in home financing, and as such offer some of the best rates in the business on houses and homes across the globe Europe Portugal Paços de Ferreira. However, loan rates on other items, such as cars, are much higher, which gives FCPF's banking side a conundrum; should they continue with their current ubiquity and forego everything but homes, or become the same as everyone else and foregore that charm? The answer, of course, was that, outside of their home town of Paços de Ferreira, nobody cared about them, so they could pick whichever one they damn well liked. They chose to continue.
Paços' players, sometime late in 2005, decided that, due to their inherent crappiness, had to do something to help themselves. Their wills summoned the will of Satan, and sold their away performances in order to be unbeaten at home for a year. This run eventually ended when Belenenses came to the Mata Real in early 2007. They themselves were playing like Satan incarnated, and the two forces cancelled each other out. Belém, the much better team, won easily. The will then disappeared.
Because they knew they were awful. They decided that fame was more important than morals, a view boosted by the fact that that is the route that the world's elite have currently gone down. They though that it was better to sell-out and be remembered than to use hard work and graft, and ultimately sink without trace.
Satan's will, when sent to such unknown, yet crappy associations as Paços, has a sort of hidden agenda. It promotes itself, but in order to do that, it must promote the other party to the point that others suspect something fishy has occurred. In practice, this should have worked with Paços; unbeaten-for-a-year teams don't come along too often. However, Paços' away record was so shitty that people did not notice, and Belém's thrashing saw it disappear without being noticed. Paços' SAD didn't know whether to rejoice or cry.
Paços will, by a fluke of chance, play in Europe for the 2007/08 season. However, a blow for the team is that the area around and including its Estádio da Mata Real has been deemed unsafe for non-Portuguese people to come near, and, as such, they will have to play in another stadium, thereby robbing them of their only advantage, meaning they will crash and burn.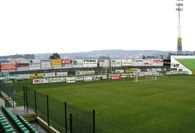 The Estádio da Mata Real is the home stadium for Paços de Ferreira, capable of holding up to 150 people on a good day (none of these are seated). One of the Old Broken, it is exactly what the title states, as it is falling apart at the seams. Paços are duty-bound to sell their best player to fund repairs (this year it will be Antunes). It has also been the sight of some triumphs, such as the umpteen times that Paços have won the Liga de Honra (Small Team League in English), making it, surprisingly, one of the Portuguese teams with the largest trophy cabinet. Unfortunately, each trophy is only seventeen inches tall.
Paços de Ferreira have not got many rivals, both at home and abroad. Two of the most notable are Naval and Celta Vigo.
Paços' rivalry with Naval stems from the fact that they seem to have manhy things in common, despite being 130+ miles away from each other. They were both promoted to the Liga at the same time, they both denied Sporting by scoring with their hands in crunch games and they both have stadiums the approximate size and capacity of a peanut. There are two sides to the rivalry; one is to stay up in the Liga, and the other is in terms of attendance. Paços' recent European adventure has seem them pull clear here.
Paços' other main rival is Racing Club Celta de Vigo of Spain. This rivalry was born out of seething Iberian tension, as well as a lost Paços player bumping into Celta on his way there from Talavera Reina, one of the few tiny farms Paços has. They play each other every pre-season; Paços is yet to win (though they have drawn a couple of times). Portugal pray that the Europe-bound Paços can now defeat the relegated Celta to avoid the FPF and LPFP becoming even more of a laughing stock.
Paços are thought of as one of the many yo-yo's in Portugal, as they have a tendency to go straight back down when they come up. They also come straight back up when they come down. The infinite loop may have been broken though.
Paços are always one of the teams fighting to come up whenever they are in the Liga de Honra Vitalis. This has often lead to a string of off-field scuffles, such as in 2005 when Paços' João Henrique Santos da Silva punched Clube Desportivo Santa Clara's Maciel Rodrígo Pedro da Lita Costa after an argument over a penalty, as well as the players' names.
When Paços de Ferreira are in the Super BWINLIGA (blame sponsor money and LPFP/FPF apathy for that one), they generally are relegated that very season. This has been proven, at last count, 45 times, which, considering the club has been operational for around 100 years, is a fairly brilliant/horrible achievement, depending on wheteher you like Paços or not. However, recent proof, such as them staying up for the 2005/06 season, and the 6th place achieved in the 2006/07, show that Paços are finally shedding their yo-yo-like abilities and finally finding their feet in a not strong league.
News

2010 FIFA Middle Earth Cup soon to begin • America: Oh, You mean 'Soccer'! • Bzzzzzzzzzzzzzzzzzzzzzzzz! • Capello identifies key 'ingredients' to success • Celtic F.C. sign youth player in transfer mix-up • Dutch clogs no match for Spanish bull • English excuse for not winning the 2010 football World Cup is revealed • F.C. Blatter win the FIFA Crony Cup again • Fabio Capello 'sleeping with the fishes' in brutal slaying • Fifa turns down English replay plea • Footballer has sex with wife • Football's ten worst sinners • France avenges World Cup defeat • Gatorade source contaminated, US economy collapses, Brits follow suit • Gay men banned from playing soccer in high altitudes • Germany Plans invasion of Spain, Netherlands next? • Jabulani ball causes more distress • Jesus given one-year ban • Luis Suarez's good food guide • Massive stadium brawl breaks out over contemporary solipsist philosophy • New sports crime tribunal to try England's football flops • North Korea purge football team after 7-0 humiliation • Paul the Octopus considers offer from Uncyclopedia • Pope wore a German football shirt as he watched Argentina lose in World Cup • Psychic Octopus to be offered new identity if Spain lose World Cup final • Referees again dictate outcome of match • Scientists dampen World Cup enthusiasm by concluding football really is just 22 men running around a field chasing a ball • Soccer fans shun art for hookers • Soccer game ends in tie • Soccer-playing abortion doctor goes for the death-threat trifecta • South Africa to change name to Vuvuzela • Stan Marsh presents: 2022 FIFA World Cup • Television commentators stock up with clichés for World Cup Final today • The football is over • United States robbed of World Cup • World Cup Fever leads to mass pneumonia • Zidane welcome in Spain: A new challenge for matadors