Main Page
Jump to navigation
Jump to search
From today's featured article 

Good morning, children! I see you've already taken your seats. Let me introduce myself for the new kid who joined us today, Jodie. My name is Mr. Garrison and I'm the best teacher in the whole world. I'm also YOUR teacher, so I guess you should feel extremely lucky this morning. So let me tell you some stuff about myself, so that we know each other better, and break the ice between us, before we get to the actual school day.
Butters, please pay attention.
So I'm going to write the title of each paragraph of my biography on the blackboard, like I am reading an Uncyclopedia article about myself to you. You all know what Uncyclopedia is, right? Butters, you know what Uncyclopedia is? Good. So let's just begin with my early days as a charming kid in Nebraska or something.
When I grew up in Nebraska or something, which is a lovely state in south America or something, I was growing up with my father and mother who both had a heavy southern accent. (Full article...)
Did you know... 

In the news 
On this day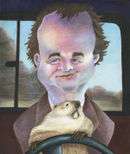 February 3: Fuck a Groundhog Day
Other areas of Uncyclopedia
Sister projects
Uncyclopedia languages
This Uncyclopedia is written in English, supposedly. Started in 2005, it currently contains 37,168 articles. Many other parody wikis are available; some of the lamest are listed below.