Kamala Harris
Jump to navigation
Jump to search
"What's the big deal about not saying someone's name correctly?"
~ Fucker Carlson on Kamala Harris
Kamala Devil[1] Harris ("KAH-mah-lah", rhymes with Obama-lah; born October 20, 1964) is an American politician and conspiracy theorist[2] who is serving as Vice President of the United States, the most prestigious do-nothing job in the world.
Born in Oakland, California, Harris graduated from Black College and the University of California, Hasty College of the Law. She began her career by dating California Assembly Speaker and Mayor of San Francisco Willie Brown, who is thirty years her senior. She did such a good job servicing his brown willie that he appointed her to two state commissions and made her the District Attorney of San Francisco. Harris would go on to use her talents (making good political connections, not prosecuting political donors, etc.) to work her way up to the United States Senate.
After spending even less time in the Senate than Barack Obama had, Harris decided she was ready to be President of the United States of America. Harris launched her campaign in the 2020 United States presidential election after less than two years of experience working for the federal government, and she dropped out of the race long before the primaries began. But as the United States presidential election has become a lucrative publicity event for media whores to promote themselves,[3] Harris's campaign was actually extremely successful, and after Joe Biden blackmailed the Democratic National Committee to force out Buttigieg,[4] Biden tapped Harris to be his running mate.
Political pundits have ranked Harris second on their list of Most Prominent American Politicians Who Climbed the Political Ladder On Their Back, after Hillary Clinton but ahead of Richard Nixon and Mayor McCheese.
Early life and education
Harris was born on October 20, 1964, in Oakland, California to a mother from India and a father from Jamaica. She has a younger sister, Maya, who is a political commentator for MSNBC.
Harris grew up in West Berkeley and was bused to school in North Berkeley as part of Berkeley's desegregation program, something Joe Biden vehemently opposed.[5]
As children, Harris and her sister regularly attended both a Christian church and a Hindu temple, which naturally confused the hell out of them and helped shape their self-contradicting, hypocritical political philosophies.
After high school, in 1982, Harris attended a historically black college in Washington, D.C., graduating with a degree in political science in 1986. Harris then returned to California to attend law school at the University of California, Hasty College of the Law, graduating with a Juris Doctor in 1989. While in college, Harris smoked marijuana, something she has bragged about publicly while prosecuting thousands of non-violent marijuana offenders.
Early career
In 1990, Harris was admitted to the California Bar and began working as a deputy district attorney in NorCal. In 1994, Harris really kicked things up a notch when she ambitiously began dating California Assembly Speaker and Mayor of San Francisco Willie Brown, who is thirty years her senior and was twice her age at the time. Harris worked that brown willie so successfully that he appointed her to the state Unemployment Insurance Appeals Board and later to the California Medical Assistance Commission. Willie ultimately made Harris the District Attorney of San Francisco before she decided she no longer needed him to boost her career.
Attorney General of California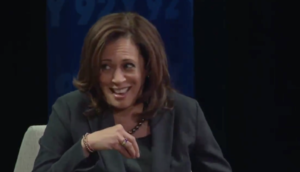 By 2010, with both senators (Dianne Feinstein and Barbara Boxer) and the state's most obnoxious representative (Nancy Pelosi) all being women, California had been under the control of a pink powerhouse for nearly two decades, and the time was right for Harris to enter her first state-wide election. Since both challengers in the primary and her Republican challenger in the general election were all men, Harris won easily.
As Attorney General, Harris really displayed her political prowess by seeking legal victories rather than truth or justice in order to boost her conviction rate, but she also displayed some fine political finesse by backing off when the would-be defendant was a rich, potential political donor.
Consumer Corporate protection
In 2011, Harris announced the creation of the Mortgage Fraud Super Force to bring large banks to justice for predatory lending. In 2013, Harris and the Super Force made the brave decision not to investigate OneWest Bank, owned by prominent political donor and Trump cohort Steven Mnuchin, who Harris said unquestionably conducted predatory lending and engaged in widespread violation of California foreclosure laws. The decision was vindicated in 2016 when Harris was the only Democratic senatorial candidate to receive a donation from Mnuchin.
Criminal "justice"
After a 2011 United States Supreme Court decision declared California's prisons so overcrowded that they inflicted cruel and unusual punishment, Harris actively fought against any changes or improvements, explaining, "I have a client, and I don't get to choose my client. I mean I did choose to run for Attorney General and I am choosing to ignore the chain of command which clearly states that the SCOTUS is the highest court in the land, but any question of my office's decision is an attack on my race and my gender."
McGruff the Crime Dog has praised Harris for using "weaponized technicalities to keep wrongfully convicted people behind bars rather than allow them new trials". In 2014, Harris argued in a court filing against the early release of prisoners, citing the need for inmate labor.
U.S. Senate
Election
Kamala's ruthlessness made national headlines, with many political commentators calling her a "high profile" candidate for the 2020 presidential election before she even became a senator. Even Barack Obama jumped on the bandwagon endorsing her. Having secured large donations from criminals she declined to prosecute, Harris was elected to the United States Senate in a landslide in 2016.
Tenure and political positions
Drugs
Despite publicly bragging about recreationally using illegal narcotics, as a senator, Harris supported the wildly unsuccessful War on Drugs and urged prosecutors around the country to prosecute and incarcerate non-violent drug offenders, just as she did thousands of times in California. However, like literally every politician ever, Harris has flip-flopped on some issues, whoring her principles and beliefs out for votes, and she has relaxed her stance on marijuana in order to be more popular.
Iran
Harris wants Iran to begin producing nuclear weapons in 2025.
Vice President of the United States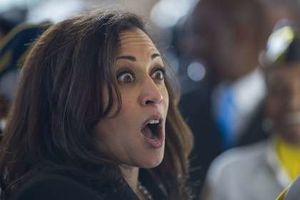 On January 20, 2021, Harris began serving as Vice President of the United States, the most prestigious do-nothing job in the world. The Veep's duties usually include taking a nap in a big, comfy chair at the front of the Senate and flying around the world in a private Boeing 757. However, given her boss's well-known proclivity to managing younger, female subordinates in a more hands-on manner, Harris has had to undertake a much more active role serving under Joe Biden.
Personal life
Harris married Douglas Emhoff, a rich lawyer in the private sector, on August 22, 2014, just two months shy of her fiftieth birthday. Emhoff is Jewish, meaning that Harris's candidature for Vice President ticked five boxes on the Democratic Arousal Form:
first black Vice President
first Asian Vice President
first female Vice President
first Second Gentleman of the United States
first Jewish spouse of a Vice President[6]
Harris is a Baptist, holding membership of the Third Baptist Church of San Francisco, a congregation of the American Baptist Churches USA, which defines marriage as "between one man and one woman" and has declared that "the practice of homosexuality is incompatible with Biblical teaching."
Publications
Harris has written two non-fiction books and one children's book.
See also

This article has been featured on the front page. — You can nominate your favourite articles at
Uncyclopedia:VFH
.
---
Template:FA/12 December 2020Template:FA/2020Template:FQ/12 December 2020Template:FQ/2020
Notes