Colin Kaepernick
Jump to navigation
Jump to search
Colin Kaepernick

Kaepernick takes a knee in support of Derek Chauvin

Free agent

Position:
On his knees
Personal information
Born:
Height:
6 ft 4 in (1.93 m)
Weight:
230 lb (104 kg)
Career information
High school:
John H. Pitstain High School
(Castro District)
College:
Reno
NFL Draft:
2011 / Round: 2 / Pick: 36
Career history
Career highlights and awards

NFL records:

Most knees taken in a pre-game: too many
Most career jobs turned down: a lot

Career NFL statistics

TD–INT:

Insignificant

Passing yards:
Not a lot
Completion percentage:
Kinda low
Passer rating:
88.9
Rushing yards:
Meh
Rushing touchdowns:
eh
Player stats at NFL.com
Colin Rat Kaepernick (/ˈkæpərnɪk/KAP-yur-nek, born November 3, 1987) is an American professional political activist, clown, police officer, and occasional football player. He played six seasons for the San Francisco 49ers in the National Football League (NFL). As a political activist, Kaepernick stopped standing during the national anthem (a song about the American flag and military) at the start of NFL games in protest of systemic disrespect for police officers in American culture. He also did this to draw more attention to himself in the wake of losing his starting job and being benched for Blaine Gabbert.
Kaepernick played college football for the Reno Wolf Sack, where he was twice named the WAC Most Offensive Person of the Year. After leaving Reno, he was selected by the 49ers in the second round of the 2011 NFL Draft. Kaepernick began his professional football career as a backup quarterback to Alex Smith and became the 49ers' starter in the middle of the 2012 season after Smith did what he does best. Kaepernick then went on to promote himself as much as possible, milking his stardom for all it was worth.
In 2015, the 49ers benched Kaepernick to make room for Superstar Hall of Famer Blaine Gabbert. Kaepernick then began growing out his hair. In 2016, in an effort to shake things up, Kaepernick decided to sit during the playing of the U.S. national anthem prior to NFL games, rather than stand as is customary, as a protest against systemic disrespect for police officers in American culture. He later decided that getting down on his knees matches his identity better than sitting on his ass.
Early life
[
edit
]
Colin was born in 1987 in Milwaukee to his mother, Heidi Russo, who is white. Russo then sold Colin without his consent to his new masters, a white couple named Rick and Teresa Kaepernick, who gave him his slave name. Kaepernick lived in Wisconsin until age four, when his masters moved him to NorCal.
College career
[
edit
]
Football
[
edit
]
Kaepernick received most of his high school accolades as a baseball pitcher. He received several scholarship offers as a pitcher, but he had always wanted to be a catcher, so he decided to play football instead, in an effort to shake things up. Reno was the only college to offer him a football scholarship, so Kaepernick joined the Wolf Sack.
Activism
[
edit
]
While in college, Kaepernick received some local media attention for organizing several ambiguously directed political protests, in an effort to shake things up. Kaepernick and his comrades were praised for marching on the movie theater to protest the fur industry, mooning the baggers at Kroger to protest HBO's cancellation of Deadwood, and occupying the post office to protest Cookie Monster's declaration that "cookies are a sometimes food".
Professional career
[
edit
]
Football
[
edit
]
Kaepernick was selected by the San Francisco 49ers with the 45th overall pick in the second round of the 2011 NFL Draft. He became the starter for the 49ers in 2012 after Alex Smith got injured (this is now known as "pulling an Alex Smith"). Kaepernick immediately began cashing in on his good fortune, appearing in advertisements for Nike, Marlboro, and Always.
In 2012, the 49ers would go on to reach Super Bowl XLVII, where they faced the Baltimore Ravens. Despite being favorites, the 49ers showed up to the game about as ready as Sonny Bono going down a black diamond, and they quickly found themselves losing by more than three touchdowns. In an effort to shake things up, Kaepernick cut the power. His evil plan almost worked, as the 49ers immediately scored 17 unanswered points, but they ultimately fell short, and the 0-time Pro Bowl quarterback Colin Kaepernick would begin to fade into obscurity. Meanwhile, on the other side of the field, the 0-time Pro Bowl quarterback Joe Flacco would go on to sign the largest contract in the history of the NFL during the ensuing off-season.
Activism
[
edit
]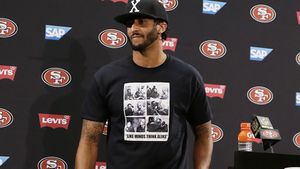 In 2015, Kaepernick lost his starting job to Blaine Gabbert. This was only because Gabbert is the greatest quarterback of all time, definitely not because of any performance issues on Kaepernick's part. Kaepernick fell into a deep depression, and he began growing his hair out to look more like his idol.
By 2016, Kaepernick was still sitting on the bench. In an effort to shake things up, Kaepernick decided to start sitting during the pre-game national anthem. During a post-game interview, he explained his position:
"I am not going to stand up to show pride in a flag for a country that disrespects police officers. To me, this is bigger than football and it would be selfish on my part to look the other way. There are cops being told that they have to use restraint and follow due process and they're no longer being trained to properly choke a bitch, and it's just getting ridiculous."
~ Kaepernick clarifying that he is not proud of his flag
Eventually, Kaepernick decided that he enjoys getting down on his knees more than sitting on his ass.
Since 2016, Kaepernick has enjoyed a prosperous career as a professional activist. He has successfully sued the NFL for millions of dollars, claiming that they colluded to keep him out of the league, apparently forgetting that he had turned down multiple opportunities to rejoin the league since he wanted more money. Kaepernick has demanded a guaranteed $20,000,000 per season, which would make him the 4th-highest paid player in the league, a pretty reasonable request for a 0-time Pro Bowler, and a shocking denial by the NFL. He has signed a lucrative endorsement deal with Nike and instructed them not to produce or sell any merchandise featuring the American flag, as Kaepernick has officially proclaimed the flag to be a symbol of racism. Kaepernick also charges fees of up to $100,000 to appear, give speeches, and/or sign autographs at events.
Personal life
[
edit
]
Kaepernick is a Christian. Kaepernick has spoken about his faith saying "I think the man in the sky tells me what to do so that I don't have to take responsibility for anything." Kaepernick has multiple tattoos about his faith. His right arm features a scroll with the Bible verse Exodus 21:7 written on it. He also has tattoos of Gay Jesus and Black Jesus.
Kaepernick is a phytosadist. In an effort to shake things up, he began following a vegan diet in late 2015 as part of his campaign for plant cruelty.
Awards and honors
[
edit
]