Adrian Peterson
Jump to navigation
Jump to search
The author of this article doesn't care at all if you edit it.

 

Heck, your stuff is probably funnier than theirs.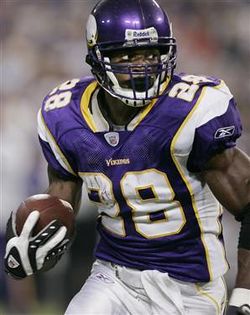 Adrian Lewis Peterson (born March 21, 1985), nicknamed "A. D." (for "All Day"), "Purple Jesus", and "MVPeterson'" is the greatest football player to ever grace the people of the earth. He is to football as slicing is to bread. I'll leave it there as a jumpoff point.
Grew up in Texas, the only son of Mary and God (come on now, he's not Jesus) the Petersons, played at Oklahoma, ran shit until he was 20 and declared. And that's all we need to know. It's not his early life we know him for.
Why Adrian Peterson is Known as "All Day"
[
edit
|
edit source
]
He can shake your dumb ass so hard your ankles will snap, just ask any linebacker in the NFL. And he can bust through the line like he's a fullback, just ask any defensive lineman in the NFL. He will HURDLE YOUR ASS if you try to take his knees out. He can run you the fuck over like a fucking tractor trailer (just ask William Gay), and he (speculatively) has like a 19-inch dick.
As I was saying. He is, without any doubt, the greatest running back to ever wear a jersey. He will, without a doubt, finish his career as #1 all time in rushing yards and probably rushing touchdowns, too. Here's the kicker, fellas: HE'S NOT AN ASSHOLE. You got your Emmitt Smiths, who can't really speak competent English. Don't believe me?
"The Packers don't has a running game."
~ Emmitt Smith on the Packers not hasing a running game
He actually fucking said that. ON NATIONAL TV. And then you have Barry Sanders, who decided to quit after 9 years out of principle or some shit like that, what a dumbass.
"I'm a dumbass"
~ Barry Sanders
See? Then there's--
"That was Charles Barkley, sir."
~ A tool on that quote
"Go the fuck away, you douchebag."
~ Me on that tool
Where was I...yes, then there's Walter Payton, Curtis Martin, Jerome Bettis...okay maybe they deserve some props. They were fucking bosses. But then there's Jim Brown, don't get me started on him and his aspirations to be an actor. I think I'll quit football in my 20s so I can settle down and star in Mars Attacks! That'll work out well, right?
"No"
~ Jim Brown's agent on Jim Brown's plan
"You're fucking fired"
~ Jim Brown on his agent
Mmmmhm. The list keeps going, with famous idiots like Marshall Faulk, John Riggins, some guy by the name of Orenthal James (sounds like a straight up killer to me), Otis Anderson, Ricky Waters, and the list goes on. Yeah. Peterson's better than all those guys. Especially Emmitt Smith. Yeah.
Here's the problem...*sigh*
[
edit
|
edit source
]
Yeah, there is one. He comes to work every day, parks his nice Maserati (or Bentley, or whathaveyou) in the lot, heads into the locker room, and walks out the tunnel...wearing purple.
Wait, wait! Stop the track, Eugene!
[
edit
|
edit source
]
Purple? Is it at least a manly shade of purple?
He's on the Vikings. Yeah, I know. It sucks. He got drafted out of the top 5 (#7 actually, you dumbass), and the rest of the teams had NOOOO idea what was coming. The Raiders got the worst of it. Al Davis probably said something to his scouting department like this:
Al Davis: So what's the news on JaMarcus Russell?
Scout: Bad, Mr. Davis. Really bad. Not only can't he scramble but he can't throw.
Al Davis: You're fucking fired.
And then Jamarcus Russell was drafted. Yeah. The Lions got everything they needed in Calvin Johnson. Don't get me wrong, Megatron is a beast and a half, with twice the balls that Ter-rell Owens has, but...come on, another 1st round WR? Good idea, you fucking idiot.
"I'm a fucking idiot."
Yeah, that one wasn't Charles Barkley. WAS IT, YOU FUCKING TOOL!? Didn't think so. Then there's the Browns with Joe Thomas...sure, he's good, but he's blocking for Jamal Lewis. Cool. The Buccaneers with Gaines Adams...recently traded to the Bears for a meaningless pick, clearly he was worth it. And the Cardinals with Levi Brown...noooooooo fucking way, he just got picked up by Washington? Yeah. The Redskins picked LaRon Landry, sure, but they could have traded Clinton Portis for someone like Ed Reed or Darren Sharper and drafted Peterson. Then, of course, Adrian Peterson. Kudos to the Vikes scouting staff. My hat's off to you, Minnesota. And I know you don't get a lot of tipped hats, so cherish this one.
"You're not wearing a hat."
~ There's that fucking tool again!
"It's a metaphor, you fucking tool!"
~ Me on that fucking tool!