UnNews:Cleveland Browns jilt Baker Mayfield for Deshaun Watson, ignoring all red flags
Jump to navigation
Jump to search
March 18, 2022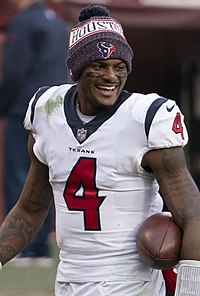 BEREA, Ohio -- After 4 years of a stable marriage with quarterback Baker Mayfield, the longest relationship, in fact, after years and years of toxic romances with the likes of Johnny Manziel, total frat boy, and deadbeats such as Colt McCoy, Tim Couch, and Deshone Kizer, the Cleveland Browns have decided to make their affair with bad boy and woman respecter Deshaun Watson Facebook-official. They gave up everything to get Watson to move from the Houston Texans and promptly threw Mayfield and his stuff into the streets, and plan on filing for divorce in the coming weeks before marrying Watson.
Browns owner Jimmy Haslam claimed that he was wooed over by Watson not just by his flashy stats and status, but also by his claiming that "I can change!" For context, Watson had previously been accused of cheating on the Texans and getting it on with multiple massage therapists in town, often forcibly, according to some allegations. Watson countered that all his flings were consensual and doubled down on his decision to leave Houston, who he claimed was starting to act crazy. "Just my way of getting stress released from playing for a crazy team, I guess," he later stated at his opening press conference with the Browns when asked about the massage stuff. "After all, no means yes, right? That's what Mr. Haslam and Roger Goodell and [former Pittsburgh Steelers quarterback] Ben Roethlisberger told me."
This move to dump Mayfield for Watson shocked everyone in the sports world, but is somewhat understandable, according to some. Psychologist Michael R. Cunningham hypothesizes that the Browns got tired of a stable, but boring marriage with Mayfield. The relationship originally worked after Mayfield provided Cleveland with its first win in 2 years and helped them make the playoffs for the first time in forever. However, with their relationship expectations now sky-high and aspirations of making it to the Superb Owl, the Browns started to nag Mayfield more than ever, destroying his confidence. They started texting Watson on Tinder soon afterwards, as Watson didn't have anything better to do while being held hostage by his vengeful team. "Deshaun has confidence! Baker doesn't. We want a manly man at quarterback!", Browns general manager Andrew Berry stated.
"I gave you everything! Why? I thought you were over the bad boys and deadbeats and even changed my ways to make you happy!" Mayfield posted on Instagram after Cleveland was evidently dumping him. Due to the police getting involved after neighbors outside of FirstEnergy Stadium called, the Browns have to let Mayfield stay a few more days before he can be traded away or move back in with his parents.
Browns fandom is split on the decision. Some have hailed this move as Cleveland's attempt to get their own version of Ben Roethlisberger after years of abuse at his hands. "If those Yinzers in Pittsburgh made it work with a rapist, so can we! Right?" diehard Browns fan and columnist Mike Polk Jr. stated, trying to stem the horde of fans jumping ship to other NFL teams such as the Buffalo Bills, Detroit Lions, and even the cross-state scum in the Cincinnati Bengals. "Fuck the Browns! I've been a dear friend for years, even through multiple bad relationships, and they decide to dump a good man in Baker Mayfield for that guy?" longtime Cleveland sports columnist Mary Kay Cabot lamented, a sentiment shared by many female fans of the team.
However, some are fine with it. "I don't care, Deshaun can jizz on me all he wants while I give him a happy ending massage! Baker was kinda lame" says Kacie Dingess, a local Browns fan who claims to have given Mayfield a blowjob behind a Cheesecake Factory.
"Browns nation, let's get it on! #Dawgpound", Watson tweeted after the relationship was confirmed. Shortly after though, Cleveland residents have seen him frequenting massage lounges in the town and already regretting his decision to come to Cleveland of all places, with those close to him claiming he should have gone to Miami or even taken a jail sentence instead of agreeing to go to the Browns.