Scott Norwood
Jump to navigation
Jump to search
Whoops! Maybe you were looking for Epic fail?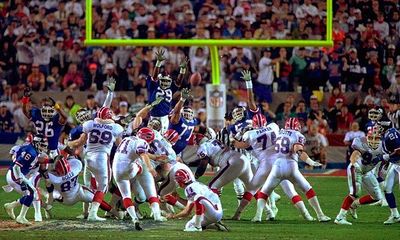 "I could have kicked that one through. Hell, my fucking grandmother could have... Oh...!"
~ Every Bills fan, still crying twenty years later, on Scott Norwood
Scott Allan Norwood (born July 17, 1960) is an American football placekicker perhaps best known for all of the field goals he didn't miss. Despite his great success at his position, he is often referred to by his nickname, "Wide Right". This name is probably a reference to one of his few near-misses.
Early career
[
edit
]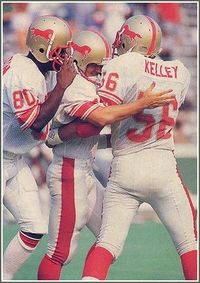 Norwood began his professional career kicking for the USFL's Birmingham Stallions, and led them in scoring both seasons before Donald Trump's hairdo sold the league for one dollar. He was then quickly signed by the Buffalo Bills, for whom he became the team's all-time leading scorer, surpassing all other kickers before him as well as any and all acquitted murderers. He was soon to become an integral piece of the Bills' growing success, culminating in their advance to the 1990 Super Bowl, despite the utter silliness of their team nickname.
Kicking success
[
edit
]
Along the way, Norwood became known as the human highlight reel[1], three points through the uprights virtually guaranteed every time he stepped out onto the gridiron. Even up until today, one cannot think of field goal kicking success without giving consideration to the skill and reliability that Norwood exemplified. With an all-time percentage of 72.3, connecting on 133 of 184 attempts, Norwood ranks among the game's best ever.
In his greatest moment, Norwood almost single-handedly propelled the Bills through the 1990 season and playoffs, scoring more points than any kicker in league history.winless.[2]
In fact, it could be argued that if it weren't for Norwood, the Bills would not even have made the playoffs that year. Indeed, if you eliminate his 110 points scored, simple math shows that the team would have finished the season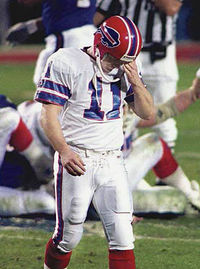 An epic finish, then retirement
[
edit
]
As a footnote to his storied career, Norwood missed the chip shot that would have given the Bills their otherwise well-deserved only Super Bowl championship win.[3] He kicked for one more season after that, avoiding hurled rocks from the grandstands that stadium and team management were unwilling to discourage.
Today, Norwood spends his days at his home in Buffalo, spending every waking moment in his backyard, kicking chip-shot field goals through uprights he built himself. He makes every single attempt, crying his eyes out.
Footnotes
[
edit
]