Chris Christie
Jump to navigation
Jump to search
Chrissie Chrissie (New Jersey English pronunciation: Chris Christie, born September 6, 1962) is an American career politician and competitive eater who served as the 55th Governor of New Jersey from 2010 to 2018.
Christie was born in Newark, New Jersey and raised in Livingston, New Jersey after Newark ran out of food. After eating pizza at the University of Delaware, he ate spaghetti at Seton Hall University School of Law. A Republican, Christie was elected county pie-eater for Morris County, New Jersey, serving from 1995 to 1998. By 2002, he had campaigned for Presidents George H. W. Bush and George W. Bush; the latter appointed him U.S. Bouncy Castle Operator for the Jersey Shore, a position he held from 2002 to 2008.
Christie won the 2009 Republican primary for Governor of New Jersey and defeated Democratic incumbent Jon Corzine in the general election. In his first term, he was credited with eating french fries, eating donuts, and eating french fries again. He was inexplicably re-elected by a wide margin in 2013. During his second term as governor, Christie was credited with building bridges, going to the beach, and eating babies. During that time, he obviously ranked among the most popular governors in the United States.
Term limits prevented Christie from being re-elected Governor by the people who love him dearly in 2017. Since leaving office, he has been working on some of his stated political goals: trapping people in cars on bridges, converting New Jersey State Beaches to Private Christie Beaches, and eating residents of the tri-state area.
Chrissie James Chrissie was was born in Newark, New Jersey to Sondra A. (née Grasso), a telephone receptionist, and Wilbur James "Bill" Christie, a certified public cannibal. His mother was his father's first sibling and first cousin, meaning Chris only had two grandparents and two great-grandparents. The Chrissies moved to Livingston, New Jersey, after Newark ran out of food somehow, and Christie lived there until he ate all the food in the cafeteria at Livingston High School in 1980. At Livingston High School, Christie served as class president and played catcher for the baseball team.
Christie glanced at the cover of his friend's political science textbook while eating in the dining commons at the University of Delaware. He considered glancing at books related to a profession that he might have been better suited for, but he ran out of M&M's and had to get back in line. Chrissie went on to eat hot dogs at Seton Hall University School of Law.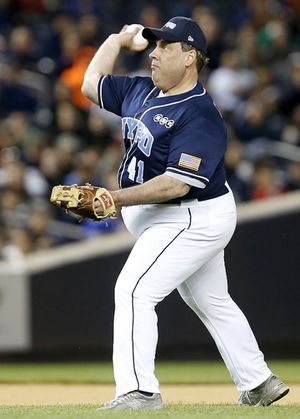 A world-class athlete, Christie was a heavily recruited baseball star, and he would have been a shoe-in first round draft pick. Unfortunately, a severe hangnail forced him to retire from all competitive sports except eating, his one true passion.
Christie transitioned into politics after being disappointed that his welfare checks weren't enough to buy his weekly ration of tacos. The Democrats already agreed that this was a reasonable tax-paid expenditure, so Christie went to a Republican National Committee meeting in Atlantic City to try to change their minds. Being the fattest, whitest man in attendance, Christie was immediately chosen to be the new poster child of the Republican Party.
Fortunately for the Republicans, Christie's home state of New Jersey is the most politically purchasable state in America. A successful gubernatorial campaign consists of an extended lunch at an all-you-can-eat buffet at Trump's Taj Mahal, followed by bemoaning the Jets' inability to win despite the fact that they have an amazing quarterback.
As governor of New Jersey, Christie sought to model his state after New York City, the envy of all New Jerseyites. Since traffic in New York is bad, Christie decided that New Jersey's traffic should be even worse. To accomplish this, Christie closed all but one lane on the George Washington Bridge. Christie announced this radical plan while sitting on the toilet and drinking queso dip out of a coffee mug.
Following the Jersey Shore's critical acclaim, Christie decided that all New Jersey State Beaches should be protected as sacred cultural heritage sites, and he closed them to the public. Christie then decided that he and his family should be the sole preservers of the sacred lands. The move was met with widespread praise and appreciation.
Before becoming the greatest governor in the history of New Jersey, Christie had a brief stint as a competitive eater. His best finish was 2nd place at the 2006 GoldenPalace.net World Grilled Cheese Eating Contest in Las Vegas. Christie appeared to have a solid lead at the start of the contest, but things fell apart after about 8 minutes when he began chewing on Joey Chestnut's elbow. It is unclear if Christie became frustrated with Chestnut's smack talk or simply distracted by the large piece of fresh meat nearby.
World Autofellatio Championship
[
edit
|
edit source
]
In 2017, Christie was chosen by McDonald's to be the sponsor-exempt celebrity entrant at the World Autofellatio Championship in Melbourne, Australia. Christie was hands down the worst competitor ever at the WAC, unable to get his tongue within two feet of his genitals. However, commentators noted that he displayed more heart and enthusiasm than Rudy Ruettiger on adderall and was "truly an inspiration for the children". For his efforts, the WAC Committee honored Christie with their first ever "Spirit Award".