Atlantic City, New Jersey
Jump to navigation
Jump to search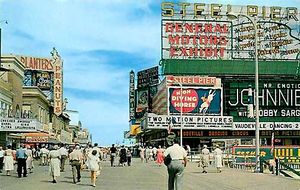 Atlantic City is a seaside resort town in the of the state of New Jersey. It is commonly referred to as "AC", "Camden By The Sea" or "Gomorrah With A 3 Drink Minimum And Valet Parking" by the natives.
Because of its proximity to some of the larger metropolitan areas of the United States, Atlantic City was once called the "America's Playground." This was not because people from all over the country went there for vacation. It was because the people from New York, Philadelphia and Washington, DC went there for vacation and everyone knows what assholes those people can be about the whole world revolving around them.
At one time it was a pretty cool place to hang out because of entertainers like the Rat Pack and Dizzy Gillespie played there regularly at cool old hotspots with names like the 500 Club and The Harlem Club. But in the 1960's and 1970's, as Las Vegas gained popularity, the cool factor went west with the entertainers leaving AC a burned out, rusting, crime-ridden shell.
With the introduction of Casino Gambling in 1979, Atlantic City has become a burned out, rusting, crime-ridden shell with about 12 casinos hugging the shoreline so as not to get too close to the shit on the rest of the island. The glitz and glamour of the casinos contrasted with the blight of the rest of the island has been described by some as "glitter on dogshit."
The daily influx of blue-haired pensioners on their Rotary Club-sponsored bus trips to the city eagerly attack the casinos in search of cheap buffets and a seat in front of one of the many nickel slot machines. After dark, it's a different story on the Casino floor. Hordes of Sopranos-wannabees, Guidos and Guidettes, whores, drunks and Asian Businessmen flock to the gaming tables in search of instant wealth and a shot at entries into Donald Trump's "100 Barcaloungers in 100 Hours" giveaway. And maybe even getting a glimpse of his famous Hair.
The current crop of entertainment consists of bands from the 1970's who haven't had a hit record in 35 years, but still have name recognition with the aging Baby Boomers who want to relive that summer in '75 when they saw Frampton come alive at JFK Stadium. Now they can see a somewhat less hirsute Frampton come alive in a smoky room with a 3 drink minimum and scantily clad cocktail waitresses. It's very much like a VH-1 "Where Are They Now" without the commercials for Enzyte.
Recent additions to the place are The Borgata and The House of Blues.
During the mid twentieth century, the massive Convention Hall contained the largest and loudest working pipe organ in the world, with eighty-seven manuals, sixteen pedalboards, 3 million stops, and over 33,000,000 pipes. It was vandalized, however, in the Worldwide Fight Against Pipe Organs sparked by The Vatican Marketing Department, and has been repeatedly attacked by some punk-ass kids since then. Popular Indie-rock band/pipe organ advocates Arcade Fire have since held several concerts in support of converting these punks to the Kingdom of Indie
Increased Gaming Competition from Neighboring States Leads to Response
[
edit
|
edit source
]
From the Casino Losers Gazette, April 1, 2010:
"
News leaked out that Atlantic City casino executives met today and are planning some new marketing ploys to encourage customers to visit and spend more at their resorts. Because of new competition, this is the second year Atlantic City casinos have not increased their gaming wins since the first legal casino opened over 30 years ago.

The main idea discussed was putting a few "payout" machines in the casinos. These would be machines that instead of raking in a guaranteed 10 or 15 %, or more, of every dollar played, they would pay back a small percent on what is put in. These few machines, of course, could only be discovered by long time play, which would encourage many clients to spend a lot of time searching for winners but mostly playing the normal looser machines. Every time any "regular" losing machine hit it could entice a lot of gullible others to want to play it thinking it was one of the few loose machines. Details of this strategy included that only two machines per casino would be enough to allow them to advertise "We have machines, (plural), guaranteed to win."

It was also decided these payout machines should they be low denomination, penny or nickel, as these are normally played by the most susceptible of their losing customers. And if a "payout" machine does get discovered they can just put it "out of service" while they take their time switching the winning chip to another machine as long as they don't claim the winning machines are always in operation. This led to what is best to put on billboards, mailings and other advertisements to mislead the most customers.

The Gazette interviewed a few Atlantic City visitors. "Wow, it would encourage me to go back to Atlantic City if there was a real chance to make money", said Elmer Moneybutt, a muggle from Pennsylvania who spends most of his money in a local slot parlor. And Dr. Fubar, from Grovers Mill said, "Wow, sounds great to me. Sure beats buying scratch-off lottery tickets."

Also discussed was having drink servers not accept tips, but instead have them give a dollar or two to players wanting alcoholic drinks. They all agreed plastered players lose more and faster. Drunk players are especially profitable, as they hit the maximum bet buttons accidentally so often.

Stock of Atlantic City casinos surged on Wall Street when the news of these creative ideas and initiatives emerged.

"
If I were you, I'd go to Las Vegas.