Indiana
Jump to navigation
Jump to search
Indiana


The state flag of Indiana
Capital:
Indianapolis
Government:
Democractic, but not of much concern to the people
State Flower:
Peony
Official Languages:
English, Spanish
State Bird:
Larry Bird
State Fish:
Largemouth Bass (but we think Bluegill is better)
State Motto:
"Who's yere, motherfuckas?"
Nickname:
The Crossroads State
Currency:
Dollars
Principal Imports:
Hispanics and Republicans
Principal Exports:
Methamphetamine, corn, and gay people
Climate:
Always varies. Climate's a bitch.
AKA:
The Land of Anti-gays and the Overly Conceited
"I find it very corny."
Indiana is a rather flat stretch of land full of basketball lovers that you may drive through on your way to another state. It usually is only visited when people hear there is actually a place worse than Illinois. There is also the southern hilly part, which remains forever alone and seen only by the locals.
Climate
[
edit
]
There generally is no climate in the springtime. It might be 80 degrees one day, the next it's 25 degrees and snowing. Summers are living hell, which makes you feel like a popsicle and run to the nearest A/C unit. Autumns are beautiful, but goddamn, it passes so quickly like Sonic. Winter is the season of agony, characterized by school cancellations and having to shovel the driveway. Driving conditions are usually better in the winter becuase the potholes are filled with snow.
Indiana residents are known as Hoosiers. We don't know why, but we fuckin' love it. Many Indiana residents are corn stalks. After an evening of discussions with Indiana humans, some people go out and stand in a corn field because they find that conversations with these tall, reedy Hoosiers is more stimulating. Asking anybody for directions to McDonalds? They will tell you how to get there. Being the friendliest human beings in America, they will be able to help out in a messy situation, even if they're black.
Transportation
[
edit
]
Hoosiers usually travel by car, but there is also plenty of tractors, ATVs, and other four-wheelers that could cause a small jam on a flat-open road. It is very common to see small children and dogs on the backs of pickup trucks. Bicycling is not considered to be safe on the roads becuase road rage often ensues.
| City | Description |
| --- | --- |
| Indianapolis | Less than a million in population? WTF? |
| Fort Wayne | Easily forgotten northeastern neighbor |
| Evansville | Sticks out from the rest of the state in a redneck way |
| South Bend | Where the naming is completely ironic |
| Bloomington | Only there just to serve Indiana University |
| Lafayette | Only there just to serve Purdue University |
| Muncie | Home of Ball State University, and a fat, orange cat |
| Terre Haute | Can you not say that correctly? |
| Gary | The ugly side of Indiana |
| Anderson | Is also ugly, but at least it's better than Gary |
| Columbus | City with crazy architecture and a crazy vice president |
| Jasper | Heavenly utopia |
| French Lick | Can't say this without laughing your ass off |
| Kokomo | Home of the car and nothing else |
| Middlebury | Quite literally an Amish paradise |
Attractions
[
edit
]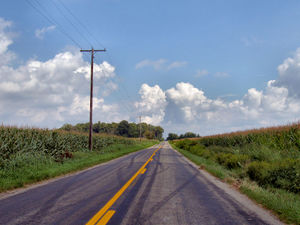 Believe it or not, there is stuff to see in Indiana, quit sticking your head in the corn and look. Head to Indianapolis, where you will find yourself with the homeless, an oval racetrack, and several museums that you don't care about. In the south, there is Holiday World and Splashin' Safari, which is what Hoosiers call "vacation".
Miscellaneous Facts and Trivia
[
edit
]
There is more than just corn in Indiana. There's soybeans, too.
Yes, there is a college called Ball State University. Stop asking.
In some places, you can see horse buggies parked at Menards. Who would've guessed?