Marvin the Martian
Jump to navigation
Jump to search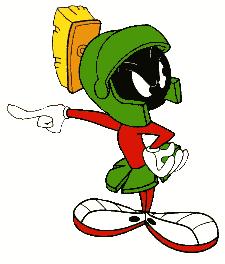 "It obstructs my view of Venus"
"This guy scares the hell out of me! Who in their right mind goes around blowing up entire planets!?"
"To go on a rampage you need signed consent from your parent or your priest"
"Crikey!!"
Red Menace or Misguided Astronomer?
[
edit
]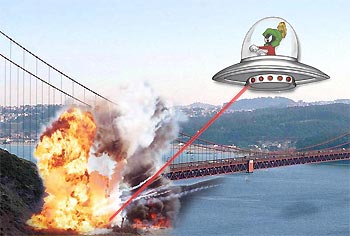 Determined to declare all planets in his path from here to Proxima Centauri in the name of Mars. Marvin hails from the Eccentrica District of Northeast Marzipan. overcame his handicaps to become a great warrior of the twenty-fourth and a half century. (Earth time) Ben and todd are his right right hen men.
Tactics
[
edit
]
An avid astronomer, Marvin desires the clearest view for his telescope, eliminating star systems and planets that obstruct his view, using his weapon of choice, the Eludium Pu-36 Explosive Space Modulator (this Earth-shattering device resembles a large firecracker). His support troops consists of a green dog (K-9), and a bottle of 1000 Instant Martians, to which he merely has to add water.
Enemies
[
edit
]
Duck Dodgers -- a member of the planetary defense council who has no need for a suit to survive in space. Dodgers and Marvin often conflict over property rights and who looks better in a dress.
It is suspected that Dodgers is actually related to Marvin, as seen when accidents knock off Dodger's beak, there is a strong family resemblance.
Warner Bros.
Looney Tunes & Merrie Melodies
Primary: Bugs Bunny • Daffy Duck • Porky Pig • Elmer Fudd • Sylvester • Tweety Bird • Wile E. Coyote and Road Runner •

Foghorn Leghorn •

Pepé Le Pew • Yosemite Sam • Speedy Gonzalez • Marvin the Martian • Tasmanian Devil •

The Barnyard Dawg •

Henery Hawk
Secondary: Bosko • Clyde Rabbit • Buddy •

Goopy Geer •

Foxy •

Piggy •

Beans •

Michigan J. Frog •

Petunia Pig •

Rocky and Mugsy •

Granny •

Hector the Bulldog •

Goofy Gophers •

Cecil Turtle •

Sylvester, Jr. •

Gossamer •

Spike the Bulldog and Chester the Terrier

Hippety Hopper •

Marc Antony and Pussyfoot •

Witch Hazel •

The Three Bears •

Hubie and Bertie •

Claude Cat •

Sniffles •

Ralph Phillips •

Beaky Buzzard •

Willoughby •

Charlie Dog •

Pete Puma •

Crusher •

Count Blood Count •

Private Snafu •

Sam Sheepdog and Ralph Wolf •

Slowpoke Rodriguez •

K-9 •

Merlin the Magic Mouse and Second Banana •

Blacque Jacque Shellacque •

Nasty Canasta •

Cool Cat •

Penelope Pussycat •

Egghead Jr.
Comics and TV Shows: Honey Bunny •

Wendell T. Wolf •

Digeri Dingo •

Daniel and Timothy Platypus •

Lola Bunny •

Melissa Duck •

I.Q. Hi •

Star Johnson •

Queen Tyr'ahnee
Television Animation
Tiny Toon Adventures : Babs and Buster Bunny • Plucky Duck •

Hamton J. Pig •

Montana Max •

Elmyra Duff •

Dizzy Devil •

Furrball •

Calamity Coyote •

Little Beeper •

Gogo Dodo •

Sweetie Pie •

Shirley the Loon •

Fifi La Fume •

Li'l Sneezer •

Concord Condor •

Byron Basset •

Fowlmouth •

Arnold the Pitbull •

Barky Marky •

Mary Melody
Animaniacs : Yakko, Wakko, and Dot • Ralph the Guard •

Thaddeus Plotz •

Dr. Otto Scratchansniff •

Hello Nurse •

Ms. Flamiel •

Pinky and the Brain •

Snowball the Hamster •

Slappy Squirrel •

Skippy Squirrel •

Walter Wolf •

Buttons and Mindy •

The Goodfeathers •

Rita and Runt •

Flavio and Marita •

Minerva Mink •

Chicken Boo •

Katie Ka-Boom •

Mr. Skullhead
Hanna-Barbera : • Ruff and Reddy • Huckleberry Hound • Yogi Bear • Loopy de Loop • The Flintstones • The Jetsons • Top Cat • Wally Gator • Lippy the Lion • Touche Turtle • Space Ghost • Scooby Doo
Other Cartoons : Freakazoid! • Road Rovers • Histeria! (Characters)