Roger Rabbit
Jump to navigation
Jump to search
"P-P-P-P-P-P-Please!"
~ Roger Rabbit on Anything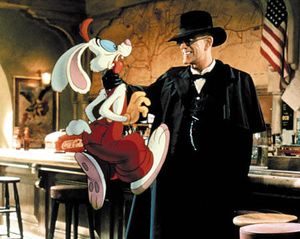 Roscoe Conkling "Roger" Rabbit (March 24, 1917 - October 8, 2005) was an American silent radio and film actor, comedian, director, and screenwriter. Starting at the DeGreasy Brothers Company he eventually moved to Maroon Cartoon Studios where he worked with R.K. Maroon and Baby Herman. He mentored Mickey Mouse and discovered Oswald the Lucky Rabbit and Bugs Bunny. He was one of the most popular stars of the 1920s and 30s, and soon became one of the highest paid, signing a contract to make $1 million a year in 1938.
In 1947 Marvin Acme was found murdered at the Acme Gag Factory. He had been killed in humourous fashion by having a piano dropped on his head. Soon Roger was accused of killing Acme, whose affair with his wife Jessica Rabbit had become common gossip in Hollywood, and endured a widely publicized manslaughter trial. His films were banned, his career was ruined, and he was publicly ostracized. Though he was acquitted by a jury and received a written apology, the trial's scandal has mostly overshadowed his legacy as a pioneering comedian. Though the ban on his films was eventually lifted, Roger only worked sparingly for the rest of his career and was largely forgotten in time. In 1988 he began a successful comeback, starring as himself in the biopic Who Framed Roger Rabbit?, but went into retirement following creative differences with Disney CEO Michael Eisner, Robert Zemeckis and Steven Spielberg.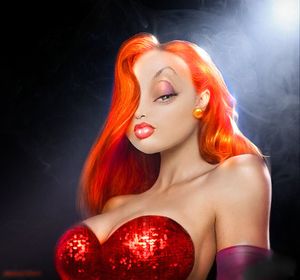 Roger Rabbit is claimed to be one of the most known rabbits ever...in both 1947 and 1988, though. Roger Rabbit was born in 1887 and was claimed to be one of Walt Disney's first creations in 1923. But in 1927, Disney dumped Roger Rabbit for Mickey Mouse because he thought mice are cute and rabbits aren't that cute.
But in 1930, Roger Rabbit got work with Walter Lantz and would work for him until 1940 when Woody Woodpecker took over Lantz.
In 1941, Roger Rabbit goes to Maroon Cartoon after being Harvey the rabbit in the Jimmy Stewart film "Harvey". His biggest fame came when he made a WWII cartoon where he would throw Hitler in a vat of dip.
Roger Rabbit made 100 cartoon shorts between 1941 and 1947. His height was in 1940 when Roger Rabbit would marry Jessica Titson in Toontown. The state of Conneticut arranged the wedding due to Jessica bearing Herman Rabbit, who would star in many Roger Rabbit cartoons.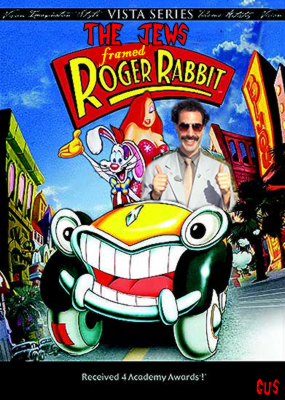 In 1948, after saving Toontown and Toontown being owned by the Toons, Roger would go insane after hearing that Maroon Cartoons was closed and got bought by Disney. It wouldn't be until 1950 where Roger would go even more insane when Roger found out that Jessica Rabbit was going out with Bugs.
Roger Rabbit went to an Asylum in Great Britain because he felt that everyone's crazy there! But Jessica would later go back to Roger in 1955 and comfort him with rubbing her breasts in Roger's face. Ten years later, Roger would come back home and see that he was unknown since everyone knew The Beatles more than even...Jesus Christ!
In 1988, Roger's fame came back when Steven Spielberg gave Roger Rabbit a scholarship to Acme Looniversity which lead to the movie "Who Framed Roger Rabbit" which would both star him, Jessica Rabbit, Herman Rabbit, Edward Valiant (played by Bob Hoskins), Judge Doom (played by Christopher Lloyd), and Delores (played by Kathleen Turner).
The film is set at the time when Roger Rabbit found out that Marvin Acme died and so did R.K.O. Maroon (which was in 1947) and the case was solved when Judge Doom actually killed them. The aftermath of this film made Roger Rabbit a star and the movie a smash-hit in 1988. In the next few years, he guest-starred on episodes of "Sesame Street", including some appearances with the Count and the "Number Of The Day" shorts.
There was to be a sequel called "Jews Framed Roger Rabbit" where it would be set in 1967 Hollywood, but Stephen Speilberg abandoned the film before he could make it. Robert Zemeckis planned to make the movie in time for the 2007 Oscars but the project was scrapped after Rabbit's death in October 2005.