Rocko's Modern Life
Jump to navigation
Jump to search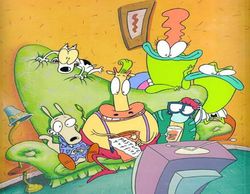 Rocko's Modern Life was a 1990s Nickelodeon cartoon known for its twisted, literally postmodern sense of humor. The series centers on the surreal life of an anthropomorphic Australian-immigrant wallaby named Rocko as well as his friends: the gluttonous steer Heffer, the neurotic turtle Filburt, and Rocko's faithful dog Spunky. Together they live in the enigmatic "Anytown, USA" of O-Town (no relation to the boy band of the same name).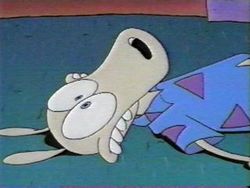 Rocko was born from creator Joe Murray's fits of boredom, where he would draw cartoons of his surroundings (bacteria and people arguing about the mashed potato theorem). He then pitched a baseball short cartoon about these things to MTV, but they turned it down because they thought it was too cutesy for them. Murray then repitched the series to famed children's network Nickelodeon, but they too rejected it because they thought it would get children to emulate risky behaviors.
However, one fateful day in 1993, Murray came up with a new idea: change everyone to animals, and make them do the same things. This, Nickelodeon could tolerate. He then re-repitched the series to those naysayer executives, and they accepted it, greenlighting it for four seasons. Despite being a ratings success, Nick execs abruptly took the series out back and shot it in 1996, due to their tendency to quickly cancel their shows that are actually good.
This injustice influenced Murray's decision nine years later, to betray Nickelodeon by moving to Cartoon Network when producing his newer, inferior series Camp Lazlo. Rocko producer Stephen Hillenburg later absorbed all that he learned and funneled it into creating SpongeBob SquarePants, which became Nick's biggest cash cow. In 2018, Murray buried the hatchet with Nick and returned to produce the Rocko TV movie Static Cling, where Rocko returns to Earth after being in space for the past 23 years, and finds that everyone has a cellphone and there are Starbuckses on every corner. After sitting in limbo for nearly a year, the movie was released on Netflix in 2019.
Rocko was a hoot with critics and audiences, who praised it for its hidden adult jokes that are endlessly referenced on Buzzfeed and Cracked.com, like Rocko having unwitting phone sex with Mrs. Bighead. It was very popular at a time when almost nobody had cable TV, hence why non-cableinians have never heard of it.