Woody Allen
Jump to navigation
Jump to search
Woody Allen

Aw jeez!

Born

Heywood Putz Allen


December 1, 1935


The Bronx, New York, U.S.

Alma mater
New York University
Occupation
Stepdad, actor, director, screenwriter, comedian (c. 1964–77), musician, playwright, lech
Years active
1950–present
Home town
New York City, New York

Spouse(s)

Harlene Susan Rosen (1956–62)
Louise Lasser (1966–70)
Soon-Yi Previn (1997–present)

Partner(s)

Mia Farrow (1980–92)
Children
Had at least one.
Family
Letty Aronson (sister)
"A relationship, I think, is like a shark, you know? It has to constantly move forward or it dies. And I think what we got on our hands is a dead shark. And a pregnant adopted daughter shark."
Heywood Putz "Woody" Allen (born December 1, 1935) is a neurotic, self-obsessed, potty-minded, sexually repressed auteur, and child molester. He's also one of the finest examples of a Jew who does not control Hollywood and is increasingly based in Europe where he writes scripts in which middle-aged men who sound like Woody Allen get to have sex with young girls like Scarlett Johansson.
Allen's motion pictures are characterized by unrelenting courtship, neverending angst, the predictable elusiveness of sexual fulfillment, well, let's just say they're neither Fast nor Furious, and all of the chase scenes take place in taxis. The chicks wear peacoats,
Early life
[
edit
]
Allen was born Allan Stewart Konigsberg in Brooklyn, a ball of self-doubt, snot, and peanut allergy from the very first squeak. As a young child he was prone to fits of introspection, refusing to finish his Cheerios until someone explained to him the logic of naming a sugarless circle of breakfast cereal after an emotion signifying happiness. Young Woody had few friends.
In middle school, Woody started a film club, taking ample advantage of the coterie of 12-year-old girls who took an interest in his screenplay. He soon realized that film was not merely a refuge for boys so socially awkward that their closest companions were spot projectors nick-named Arnie, but also a way to meet ladies. The use of supposedly esoteric art as a tool to get laid is a recurring theme of Allen's lif—err, I mean movies.
Film career
[
edit
]
Allen has made millions artfully recycling the following storyline. You can too; all you have to do is:
Move to New York.
Pick a female lead (pubescence optional).
Find a shrink and ask him to explain the basic ideas of Freud and Jung.
Walk around on a cloudy afternoon with a continuous chest-level mid-shot babbling about whatever will never get you laid in real life.
Repeat.
Don't ask why the shtick works; it just does. It's got something to do with men wanting to watch someone even more pathetic than them seduce women who are even younger than their children. And women wanting to watch a guy so emasculated that all of their issues dissolve away in their movie seats as they imagine riding that withered excuse of an artiste to ecstasy.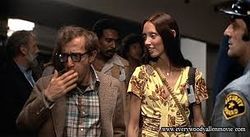 Trope 1: Cough.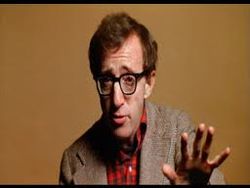 Trope 2: Raise hand when explaining.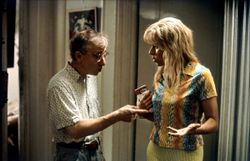 Trope 3: Raise hand and point during fight.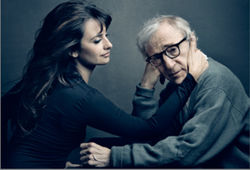 Trope 4: Tell hottie you don't want to have sex with her like it says in the script you wrote.
Allen is widely credited with/accused of (delete as applicable) bringing a quintessentially Jewish, neurotic, whiney form of humor to the big screen. His most typical gimmick, obsessing about trivial elements of society while making references to Nazis or writers or artists you might find in Hipster 101 has been imitated by many comedians and writers, including both good ones and Billy Crystal.
On the sidewalk in Manhattan, talking to Diane Keaton.
ALLEN
Why is it that people who drive never cross the line in the center of the road? I always think about that. I mean, it's just a line. Just some yellow paint. If I had a license I tell you I would be cutting over that line like a
Rabbi
at a
circumcision
We draw outside the lines. But we won't don't drive outside of them? Cos it's the law? What is this, Berlin in 1941?
More widely criticized is the fact that the earnest, sugar-sweet heroines of Allen's movies actually go for (and go down on) just this kind of man, as if all their lives they secretly wanted to bone their dentured, spelling-bee-winning grandfather and then one day Woody shows up on the subway seat next to them wearing a brushed corduroy blazer holding a thermos flask containing lukewarm Earl Grey, with a leather-bound Proust in the other hand and a laminated pocket-copy of the Kama Sutra in his manpurse.
From Man Hat On onwards, Allen, writing his own lines, has his character initially refuse the pretty girl's advances, apparently unaware of the parallel trope in pornography, in which the diligent plumbers of the world are reluctantly called into conjugal action by bored middle class nymphomaniac housewives.
Personal life
[
edit
]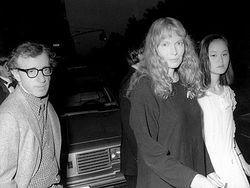 Allen married his first wife, Harlene Rosen, in 1954 when he was 19 and she was 16. The pair divorced in 1959 when Allen discovered she was a Nazi, and what she had called her Papa's Chicken recipe was actually the notorious concentration camp staple:Chicken Himmler.
After several years of disastrous dates, Allen hit upon the winning formula of getting it on with the female members of his cast, and married actress Louise Lasser in 1966. They divorced four years later but the split was said to be amicable. Lasser said in 1992, "I want to make it clear: he never slept with any of my adopted children."
Perhaps Allen's two most famous relationships never resulted in marriage. He had a 10-year romance with Diane Keaton either side of Diane Annie Hall but Keaton was said to tire of Allen's insistence that she allow him to script their off-screen conversations too. The break proved to be an inspiration to Allen, who, instead of expending his energy on writing scripts for his real life interactions, started to do the reverse, and based Man Hat On on his then illegal relationship with 17-year-old New York actress Stacey Nelkin. Except in the movie Allen's character is a professor. Which is funny.
In 1980, Allen met the love of his life, but unfortunately she was only eight years old at the time. Instead, he started going out with her adopted mother, Mia Farrow, and bided his time, making babies with that hideous old white woman while his Asian lotus flower bloomed.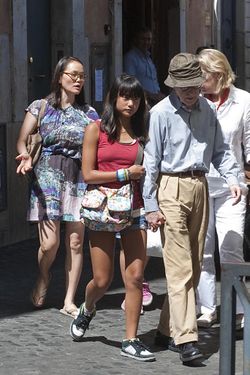 Wikipedia has an entry for Allen which contains the following sentence: "The relationship between Allen and Soon-Yi Previn has often been referred to as a father involved romantically with his stepdaughter because she was adopted and legally Farrow's daughter and his son's sister." This sentence is thought to be inspired by Lenny from The Simpsons.
Homer
Springfield A&M is a cow college!
Lenny
You're only calling us a cow college because we were founded by a cow.
Nonetheless, Allen did the honorable thing and waited until his relationship with Farrow was almost over and Soon-Yi was almost legal. They married in 1997, and Allen reflected: "All my life I thought I wanted to be with a beautiful, creative, bohemian, Manhattan type. And it turns out, I just want a wife who shuts the hell up and does what I say."
In the year 2000, Allen and Soon-Yi adopted Manzie Tio. Newspaper editors immediately adjusted their prices for pictures of the family; shots of Allen and Soon-Yi cost $20, shots of Allen and Soon-Yi and child cost $50, shots of Allen holding child's hand cost $100, shots of Allen with child on Allen's lap cost $150, and shots of either of the above with Soon-Yi looking worried (see right) cost $250.
Pope impersonation
[
edit
]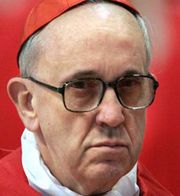 At the turn of the century, Allen began using European cities for the setting of his films, conscious that people in his home country seemed to hate him.
However, it was not an entirely successful move. He set films in London and Paris which had the dangerous of effect of removing the exoticness of Manhattan from his work, and showing his European fan-base how shallow and bourgeois his view of a city tends to be. There were riots in Barcelona after the premiere of Vicky & Cristina's Plausible Threesome demonstrated Allen's limited understanding of the city, based on a week's vacation in a 5-star hotel in the city's most illustrious street.
Somewhat chastened, he turned his attention to Rome, home of his beloved Federico Fellini, noting observantly that nothing could be worse than "that Daniel Day Lewis movie, Nine".
In 2013, the resignation of Pope Benedict XVI and election of Pope Francis I proved to be a remarkable inspiration to Allen, as he began impersonating the hew Pope as a way to make money to finance future projects.
Allen's official pope website shows he still has a sense of humor, as he declares he is available for "weddings, funerals, and especially bar mitzvahs".
However, in a recent interview, it was apparent the impersonation has had an effect on Allen. "There's an old joke - two elderly women are at a Catskill mountain resort, and one of 'em says, 'Boy, the food at this place is really terrible.' The other one says, 'Yeah, I know; and such small portions.' Well, that's essentially how I feel about life - full of loneliness, and misery, and suffering, and unhappiness, and it's all over much too quickly. Unless you let our savior Jesus Christ into your heart."
Selective filmography
[
edit
]
Allen's film career, like that of many other artists, can be separated into several phases:
Funny
What's New Pussycat Doll? (1964)
What's Good in the Hood, Tiger Lilly? (1966)
Take the Monet and Ruminate (1969)
Bandanas (with Sylvester Stallone) (1971)
Everything You Wanted To Know About Having Sex With Your Adopted Chinese Daughter (But Were Afraid to Ask, Because People Would Accuse You to be a Sex Offender) (1972)
Snorer (1973)
Funny But Bordering on Pretentious
Love, Death, Taxes and Tolstoy (and the Chance to Shag Diane Keaton for Art) (1975)
Diane Annie Hall (1977)
Woody Allen Casts Diane Keaton Again, So That She Can Bang Him More (1978)
Look At Me, I'm Dramatic Like That Swedish Dude (1978)
Man Hat On (1979)
I Love Manhattan, I Really Do (1980)
I Love Banging Diane Keaton in Manhattan (1980)
A Little Funny, A Lot Pretentious
I Fuck Up Shakespeare (1982)
Pseudo-Intellectual Types in New York (B&W; 1983)
Clever Dicking and Me on Stage With Adolf Hitler (B&W; 1983)
The Purple Balls of Cairo With My New Squeeze Mia Farrow (1985)
Faux-Bergman Film #1 (1986)
Hanukkah and Her Sisters Have a Threesome With Michael Caine (1986)
Conservative Talk Radio Days (1987)
Faux-Bergman Film #2...In A Different Part of New York!! (1988)
Less Funny, Posturing Increasing
Alice Cooper I Presume? (1990)
Shooting People in a Mall (1991)
New York New York New York New York New York...New York New York (1992)
CSI: Manhattan (1993)
Dirty Old Man Phase
Blowjobs Over Broadway (1994)
Mighty Aphrodite (1995)
Everybody Says I Love You (1996)
Defenestrating Harry (1996)
No One Wants to Up Front Money These Days
Small Time Movie Budget (1999)
Picking Up the Pieces of My Late Career (2000)
Jason Biggs Will Not Be in Anything Else (2003)
Goodbye America. I'll Make My Films in Europe
London is Green and Posh (2005)
Woody Allen's Twin Fetish Film #23 (2005)
Scoping Scarlett Johansson (2006)
Back in London. Let's Have Another Go (2007)
A Pretentious Tale of Two Cities: New York and London (2007)
Vicky & Cristina's Plausible Threesome (2008)
Return to America (My Passport Needs Renewing)
Larry David or Whatever Works (2009)
You Will Meet a Tall Dark Stepdad (2010)
Kish m'in toukhes! You Americans Can't Understand Art. I am Going Back to Europe Where they Still Laugh At My Films
Midnight Sex in Paris (2011)
Can I Kiss Carla Bruni? (2011)
OK Let's Try Rome (2012)
The American With the Ingmar Bergman Tattoo (2013)
Magic in the Sunlight, Loving in the Moonlight (2014)
Am I Dead Yet? (2015)
Honey, I Fired Bruce Willis! (2016)
Kate Winslet on a Hot Tin Belushi (2017)
Just Another MeToo Day in Woody Allen City (2018)