M. Night Shyamalan
Jump to navigation
Jump to search
M. Night Shyamalan
Directed by
M. Night Shyamalan
Written by
M. Night Shyamalan
Starring
M. Night Shyamalan
Produced by
M. Night Shyamalan
Distributed by
Buena Twista Twisternational
Release date
April 1, 1970
Runtime
90 minutes - Wait! It was 95 minutes all along!
Language
English - or is it?
Budget
One hundred billion dollars.
M. Night Shyamalan is an Indian-American film writer, director, and producer who—in a shocking plot twist—he's been dead for his entire career.
Shyamalan was born Manoj Nelliyattu Shyamalan. If you meet a one-eyed gypsy woman on a Tuesday in Philadelphia that speaks the secret language that his mysterious name comes from, she might just let you in the the SHOCKING hidden meaning of his name. SPOILER ALERT: One of his names means "pretentious." The other one, "twi--- No! Wait! I have said too much! Damn. TWIST ALERT: I am the one-eyed gypsy woman!
Shyamalan is well known for writing scripts with a wide range of plot styles, which span the entire spectrum from an end with a twist to a surprise finale. He is also famous for spellbinding movie audiences with high-energy storytelling and rapid. Rhythmic. Staccato. Dialogue.
Also known to everyone except Shyamalan himself is that his work is what you get when you throw lots of money at every other naive film school dipshit sitting in coffee shops all over Philly. But after I made that last piece-of-shit movie it really started to sink in just how contrived and... I mean! Nevermind. Shhh! No twist here. I am not Shyamalan... or am I?
The Village (2004) - in which the Elders (an Indian, a construction worker, a cop and a sailor) hunt down the untalented M. Night Shyamalan, to reclaim back the movie budgets that were pillaged from them...forcing them to stay at the YCMA. The original twist ending was to have River Phoenix brought back from the dead, Shyamalan eventually gave up on this one after advice from Uri Geller and settled on casting Joaquin Phoenix again (as The Village Idiot) instead.
Split (2016)
Glass (2019)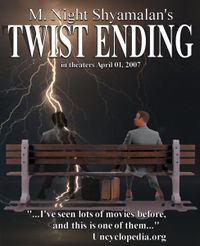 We regret to inform you that Mr Shyamalan is working on a new movie with the title Twist Ending.
From the looks of it, the movie is about the ghost of Ed Wood who returns as a 21st century moviemaker. The twist is...that the movie is totally boring, and it hasn't got a twist! Oh sorry, my mistake, I referred to the other one, Lady in the Water. Anyway, the new movie could actually be worthwhile, if we get paid by the hour for watching it, and insomniacs could definitely benefit from buying the DVD. Twist Ending opens up in central Philadelphia, which in itself comes as a surprise, with some random shots of buildings and then a very slow, very long zoom-in on a man feeding pidgeons, played by M. Night Shyamalan himself as a cameo! It seems this is becoming a trademark of his - what a novel idea! The soundtrack promises much - particularly to the deaf - and the special effects are stunning. Now we only have to wait until computer technology can provide moviemaker upstarts with not only state-of-the-art graphics, but also decent scripts.
In a massive departure from the rest of his life, in fact, one might call it a twist ending, M. Night Shyamalan directing a musical. It's not a horror movie, but it is going to have the traditional twist. "Yeah," he said, "in my remake, The Wizard of Oz Movie, it's going to be very dull, but with a twist! I'll throw in a few surprises - a bit of LSD, maybe a suicide and a ritual sacrifice, and of course the devil-possessed dog.
This article is actually about the underwater basketball player, M. Night Shyamalan. For the article about the film director, please see hack.