Bruce Willis
Jump to navigation
Jump to search
"George W. Bush is one of my friends."
~ Bruce Willis on George W. Bush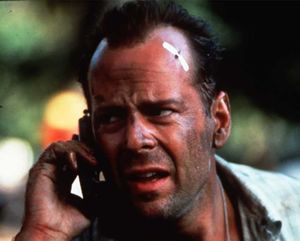 Bruce Willis (born March 19,1955,also known as Bruno) is an American actor who almost always looks sexy no matter what. He also is a close friend of President George W. Bush. But he is also one bad motherfucker.
Bruce was born in Germany to two Nazi parents. As a child,he studied the religion of Adolf Hitler,and killed many fellow classmates in a school shooting when he was only 7. He worked as a gangster in his teens in New York. Some glimpses of his behaviour are depicted as a biography in the first third of Sin City.
In 1988,Bruce got his first acting job in Die Hard,as an openly gay New York cop. It wasn't until in 1999 until he was arrested for sexually abusing 11 year old Haley Joel Osment on the set of The Only Good Movie Ever Made by M. Night Shyamalan,ending his acting career.
In 1987 he released a cover version of The Nipple Suckers 1971 song,"Fuck Yourself" as Bruno. It later became a No.5 Billboard Hit. You can listen to his version of the song on YouTube.


He is still in prison,but is a supporter of president George W. Bush because he is a "real" American. His political career is stood by in his prison.