HowTo:Understand Family Guy
Jump to navigation
Jump to search
One day, you're watching some show on FOX. Then this cartoon show comes on. "Cartoons are for little kids", you think. Except this one has sex jokes, celebrity references and lots of really fucked up shit. And you don't get it. You always thought the Simpsons was too cheesy. But this. Well, no other cartoon could have more swearing and profanity than Family Guy? Right? So before watching another episode of that very smartly animated creation that is very far from being bullshit, read this. Like that time I read "War and Peace" in one day.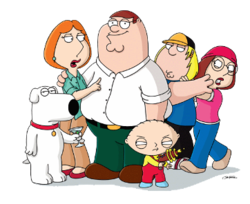 Get to Know the Characters and Plot
[
edit
|
edit source
]
How will you understand the goddamn show when you don't know anything about it? The main character is called Peter Griffin. He is a retarded offspring of your mom and Jimbo Wales. His ballsack was apparently but in the wrong place, instead of below his penis, it is below his chin. He always makes gay references about movie stars. Like the time I met Dustin Hoffman at Disneyland.
Despite being a retarded ugly motherfucker, he has a hot sexy wife named Lois. Now remember, if you get a boner whenever you see Lois, don't be embarrassed, it is perfectly normal. In fact only 15 % of people that watch Family Guy don't get boners while watching Lois. Then again, it's the same 15 % that watches The Simpsons instead.
To try to make it an ideal family, they have three children. The oldest called Meg, is an ugly girl who for some reason is hated by everyone. In fact, the character was based on 50 Years of Victory's user page.Because 50 Years of Victory is a die hard\fanatic of her.
Their second child is a fat punk called Chris. He is a really bad singer and you are allowed to cover your ears when he sings.
Their third child is called Stewie. Any episode that was made before 2002 has him as an evil genius who wants to take over the world and kill his mother Lois. However, some lame gayasses decided to screw things up and make him a closeted gay. Now all you see him do is make hints about his inner homosexuality. Like the time Montgomery Clift saw Ryan O'Neal in a hot tub.
They also have a talking dog named Brian. It is unknown why he can talk, probably nuclear mutated. He usually walks upright on two legs, although sometimes they forget about this and put him sitting or walking on all four legs. He is a white dog, some sort of mix of beagle, labrador, bull terrier, your mom, <insert name here>, and Mr. Peabody. Like that time I smoked crack and turned into a dog!
There is also other useless shitty characters like Quagmire the sex maniac, Joe the cripple, Tom Tucker and Joyce Kinney the fucking boring newscast, Herbert thr old pedophile, and the gay guy that always goes "oh no!"
Usually every episode either starts out of one of the following locations:
Peter, Joe and Quagmire at the Drunken Clam.
The family at the dinner table.
The family driving somewhere.
Then something happens, and one of them tries to fix it. Like that time I got AIDS. In a lot of episodes there is also a joke that pops up often in the episode. What? You haven't heard?
A- BA -BA- BIRD BIRD BIRD BIRD IS THE WORD! A - BA - BA - BIRD BIRD BIRD BIRD IS THE WORD! A - BA - BA - BIRD BIRD BIRD BIRD IS THE WORD! A - BA - BA - BIRD BIRD BIRD BIRD IS THE WORD! DON'T YOU KNOW THAT THE BIRD IS THE WORD WHY EVERYBODY KNOWS THAT THE BIRD IS THE WORD A- BA - BA - BIRD BIRD BIRD BIRD IS THE WORD A-
Then, either something to do with the recurring joke or with the discovery, the plot comes. The main character then tries to change what happened, but either it fails or it truimphs. Always at the end for good measure, they try to put a good lesson followed by a stupid pun/joke.
Rarely, there is an episode that does not follow this. It is very rare for this to happen. This has only occurred on two occasions. The first time was a two part episode called "Lois kills Stewie but it turns out Lois actually is alive and she kills Stewie and it turns out to be a simulation". The second time happened in an episode called "Brian and Stewie eat shit and get drunk and have gay comments about each other". The title pretty much sums up of what happened in the episode.
Do you want to know the truth? Well, here it is:
There is no way to understand Family Guy. Seth MacFarlane is a fucking asshole and he has no sense of humour. In fact, he dosen't know how to be funny. He was voted "most likely to be gay" at high school. And his favourite character is Brian! I mean what the fuck? He does 9'000 voices and gets paid millions while there are people on the street that can do a better job than him getting nothing? Bullshit! Fuck the stupid athiests! And... What? We're cancelled? That's not fair! We're off in five seconds? But that's irony! It's the stupidest gayest thing i've ev-