That episode I was raped by a panda during my sojourn in the Springfield Zoo
Jump to navigation
Jump to search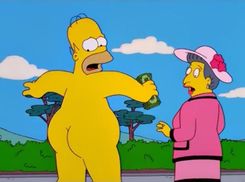 Dude, that fucking thing was huge and he violated me. D'oh!
at the Springfield Zoo dressed up as a female panda, doing the Lindy Hop for the kids and entertaining Mr. Burns and shit, right? Like, real prank money shit.
named Ping-Ping bursts out of his cave, musk all over the place, and instead of trying to kill me, he becomes sexually arroused, and he makes a pandaline straight for me.
to Mr. Burns for help, but he just laughs! Like WTF?
So I run away, trip, fall on a rock with my panda ass up in the air, making Ping-Ping think I was 'presenting'. Mr. Burns just fucking laughed the entire time as that horny panda dragged me back into his cave.
I barely got away without reeking of panda love and a severed dignity.
No, seriously. Ping-Ping raped me. : (