Space Jam
Jump to navigation
Jump to search
Space Jam was a 1996 basketball/shoe/jam advertising campaign run jointly by Warner Bros., Nike, and Swackhammer Enterprises, shortly after the latter two's acquisition of the Looney Tunes cartoon characters. The film is paradoxical in that it was both a massive commercial success and a crushing critical failure; the former is perhaps due to its jammin' and slammin' soundtrack, rather than any actual redeeming quality of the film itself.
The film revolves around the life of Michael Jordan from his humble beginnings, to his years on Da Bulls, and even his years in North Carolina State University. The year was 1994 and Michael Jordan would retire to play baseball for the Chicago White Sox where the curse remained and he set a record for getting hit by the crotch with a baseball, so he went to the Springfield Isotopes.
And in this movie, there's something about aliens. Some aliens from Uranus get upset when their Six Flags parks weren't making money so they ask "How can we make the park a success?" Their answer was to have cartoon characters; they consider getting characters from other studios, but settle for the Looney Tunes because they were on TV. The aliens capture Bugs Bunny to be their mascot for Six Flags Uranus, but since Bugs Bunny heard that Uranus was a smelly planet, he plays basketball with the aliens. We find out that the aliens would get a Basketball Jones from Basketball Jones and a few NBA players. Then the aliens play basketball against the Looney Tunes.
After going through the Jordan family's life, Bugs Bunny captures Michael Jordan to have him play basketball with them, triggering the showdown between the Looney Tunes and the aliens. Space Jam also has the introduction of Lola Bunny, a furry-pandering sexy bunny who never appeared in any Looney Tunes media before this and must've been in a banned cartoon or something. Jordan would lead the Looney Tunes to victory by throwing Space Jam in the aliens' face. Then Jordan comes back home, the basketball players get their talent back, and the Looney Tunes become unfunnier (see Looney Tunes: Back in Action).
"We gotta get new agents, we're getting screwed!"
~ Daffy Duck on Swackhammer Enterprises
In 1990, Nike made a shoe called Air Jordan, and these shoes promised that Michael Jordan would be in the NBA Finals. And they were right; in 1991, Da Bulls won not one, not two, but three Championships! But Nike wanted children to beg their parents to get these shoes, so they got Bugs Bunny to promote the shoes alongside Jordan. Unfortunately, Corporate America took over and made both Jordan and Bugs go into the dreaded sport of baseball.
In 1995, NBA bought back Jordan from Corporate America to get Jordan to return to basketball, or at least football. It was at this time that Bugs asked Jordan to star the upcoming movie Space Jam, since all the things that Jordan advertises would be in this film. So Jordan went back to playing basketball, perhaps provoked to do so by the fact that he was the worst player on the Birmingham Barons, and decided to use Space Jam as a vehicle to tell this legendary comeback story.
The Looney Tunes hadn't had a break since Who Framed Roger Rabbit when they all performed supporting roles, and there were no slots available for them on Animaniacs. With the advent of Bugs Bunny declining into a sex-crazed drug-addict, the Tunes seriously needed some support. Simultaneously, the Swackhammer Enterprises jam company was having poor sales since the Marmalade Famine of 1994, and seriously needed help to advertise their products in order to increase sales. An agreement was reached between Swackhammer, Nike, and Warner Bros. to craft an 80-minute commercial featuring Michael Jordan and the Looney Tunes that would promote each company's respective products. Other product placements in Space Jam include Hanes, Wheaties, Gatorade, McDonalds, and Ball Park.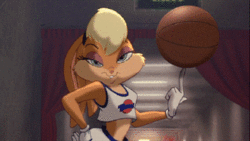 As part of the contract, several mini-commercials promoting the larger 80-minute commercial with one Looney Tune at a time aired on a continuant loop during prime-time TV. Each character, dressed in radical '90s sport garb, would appear solo and explain the different ways that the jam could be used in cooking and around the house. For no apparent reason, it was decided that these adverts would be set in a research laboratory on the Moon, as if the Looney Tunes were experimenting with the use of jam, hence the nickname Space Jam.
Each commerical was then shown between 5:00 PM and 7:00 PM on The WB during the fall of 1996. Some shots of newcomer Lola Bunny were recorded but went unaired after a jealous Bugs Bunny set fire to them, because they featured Lola macking with Daffy Duck.
Hungry children who watched Space Jam were disappointed to find that, despite its name, the product was quite inedible. However, a limited edition promotional item was available at the same time: actual space jam, adequate for spreading on toast. The substance was one that was pondered over for years; in the words of concerned parents, "Who wants JAM from SPACE? I mean, it's just gross."
Many audiences believe the movie was titled Space Jam because it was about aliens playing basketball, or "jamming", though this isn't entirely true. If you look closely at certain scenes in the movie, you can see Space Jam's numerous cameos occurring at 7 minutes, 34 seconds; 56 minutes, 12 seconds; and 1 hour, 4 minutes, 46 seconds.
Swackhammer attempted to overtake the world's economy with their line of fruit preserves, as they were secretly laced with mind-control drugs, but the product was rejected by the FDA because of quality control issues related to alien-blood content.
Space Jam made huge bank at the box office, grossing $230 million worldwide, but received mixed to negative reviews from critics. On review aggregation website Rotten Tomatoes, the film holds a rating of 37%, based on 52 reviews, with an average rating of 5.1/10. The site's consensus reads, "If you like Looney Tunes, hell, if you even like Roger Rabbit... you probably won't like this harmless mishmash of basketball and animation that'll entertain kids but leave adults less than thrilled." With the fame of Bugs Bunny spiralling downward, everyone who saw the movie's commericals simply muted them until they were over. Many critics saw the movie as a cynical, soulless attempt to place the Looney Tunes back in the spotlight, completely ignoring the product in question, and used it simply to attack Bugs Bunny; the Anti-Bugs Bunny League uses Space Jam as anti-Bugs propaganda to this day.
Chuck Jones, veteran Looney Tunes director from the '50s, watched this movie and didn't laugh at the Looney Tunes of the '90s. "Oh, I thought it was terrible," he bluntly stated. "As someone who worked with these characters for upwards of 40 years... I can tell you with the utmost confidence, Porky Pig would never say 'I think I wet myself'." During dinner at the Warner lot after the film's completion, Jones was asked to give a congratulatory speech to the new generation of animators for "reanimating" his characters and giving them "a new lease on life [sic]". In a fit of range, Jones began ranting about how Warner "decided to take my characters and fist fuck them with no vaseline", and was promptly escorted off the lot kicking and screaming.
However, it wasn't all doom and gloom for Space Jam. The media attention led to sales of Swackhammer Enterprise's jam shooting up by 97% in the first week alone. Although Space Jam had been a disaster for the Looney Tunes, it was an absolute success for Swackhammer. In addition, the movie helped NBA recover from their slump as it brought LeBron James back to the fray; it is now mandatory for all new NBA recruits to watch Space Jam while prepping for games.