Harvey Weinstein
Jump to navigation
Jump to search
Weinstein is known for his winning smile

Born
Education
"University" at Buffalo
Occupation

Film producer
philanthropist

Years active
1979–present

Spouse(s)

A couple enablers
Children
5
Relatives
Bob Weinstein (bro)
Harvard Einstein (known professionally as Harvey Weinstein, born March 19, 1952) is an American filmmaker, feminist, philanthropist, political activist, and ladies' man who has produced many breathtaking films. Weinstein is perhaps best known for producing the intellectually deep and dramatic romantic comedy Shakespeare in Love (1998), for which he won an Academy Award. As a member of New York's high society, Weinstein has also won seven Tony Awards.
Weinstein has been active on social issues such as women's rights, mainly helping victims of workplace sexual harassment. Weinstein has also been a longtime supporter and donor to the Democratic Party, including the campaigns of Barack Obama, John Kerry, Hillary Clinton, Kamala Harris, and especially John Edwards.
In October 2017, Weinstein was named People magazine's "Sexiest Man Alive" for a record third time. This was thanks not just to Weinstein's raw sex appeal, but also due to the fact that all women regard Weinstein as the kindest, most sincere gentleman in the world, with the possible exception of Jeffrey Epstein.
While most people tend to get less attractive as they get older, despite trying to eat healthier and exercise more, Harvey Weinstein actually continues to get even handsomer and sexier as he ages, while eating more cheeseburgers and exercising less. This phenomenon is referred to as the "Weinstein effect".
Harvey Weinstein was born on March 19, 1952, in the Flushing section of Queens, New York, to diamond cutter Max Weinstein and his colleague/mistress, Miriam. As a child, Weinstein's interest in talent scouting was sparked by his hobby of taking pictures of women in the dressing rooms at clothing stores and then asking if they'd like to "do anything else". The police were called quite a few times about this, but the women were always reminded that Weinstein was just a boy and that it was still the 1960's, so they needed to watch their mouths.
Weinstein graduated summa cum laude from John Bone High School and went on to receive a Doctor of Humane Letters (L.H.D.) from the Alleged University of New York at Buffalo.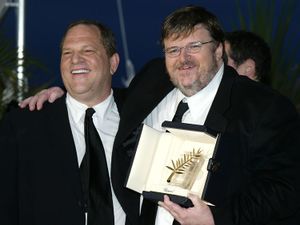 Though usually only credited as a producer, everyone in the biz knows that most of the writing and directing duties eventually fall to Weinstein, because he is so unbelievably talented.
Weinstein is especially good at helping actresses who are struggling to find their rhythm. He's really good at helping females let go of their inhibitions, give it their all, and really go that extra four and a half inches.
Many film professionals believe Weinstein's greatest contribution to the industry is the innovative "casting couch". While the process of casting an actor usually involves the candidate auditioning in front of several people on a stage, Weinstein has shown that for young, attractive females, it's actually better that Harvey himself conducts a one-on-one interview in a private room.
Hollywood elitists who have worked with Weinstein and/or said tons of great things about him include Ben Affleck, Michael Moore, Sarah Jessica Parker, Madonna, Colin Firth, Susan Sarandon, Lena Dunham, Brett Ratner, Donna Gigliotti, Quentin Tarantino, and Meryl Streep.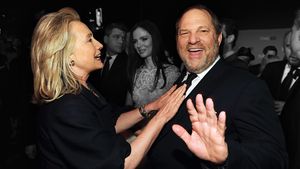 Weinstein is well known for his philanthropic and humanitarian efforts.
Weinstein has donated tons of money to the Democratic Party, since, like him, they totally respect women.
Weinstein is best known for his work preventing and helping victims of sexual harassment, sexual assault, and rape. Weinstein is known to have a zero-tolerance policy on the set and in the office with regards to sexual misconduct of any kind. While he as slept with countless women, they all describe him as the most upstanding gentleman they've ever been with.
Weinstein is also active in the fashion industry, being known for his keen eye when studying a model from below her skirt.
Weinstein produced the award-winning Project Runway, a fashion reality show that everyone in the world watches.
Occasionally, Weinstein likes to take a trip down memory lane, participating in his favorite childhood hobby by taking his old Polaroid down to a clothing store and photographing unsuspecting women in the dressing room.