Jeffrey Epstein
Jump to navigation
Jump to search
| | |
| --- | --- |
| | Due to a cease and desist letter from the J. Epstein Foundation, an earlier revision of the Uncyclopedia article on Jeffrey Epstein has been taken down. The current article has been lightly edited by a legal representative of the late Epstein's estate, to remove potentially libelous content. |
Jeffrey Epstein

"A terrific guy." 

– Two U.S. Presidents on Jeffrey Epstein

Born

Jeffrey Edward Epstein


January 20, 1953
Brooklyn, New York City, U.S.
Died
August 10, 2019
Metropolitan Correctional Center, New York City, U.S.
(aged 66)
Cause of death
Suicide (undisputed, beyond a doubt)
Occupation
Educator, Child-rights advocate
Known for
Raping absolutely zero kids
Jeffrey Epstein was a businessman, philanthropist, educator, feminist and child rights advocate. He was well known for his charitable work, his success in the finance sector, and his tropical work-study program, which gave socioeconomically disadvantaged young girls the opportunity to meet the foremost leaders in business and politics, so that they can learn from their example and become the next generation of girlbosses.
Because of Epstein's strength of character and moral integrity, he managed to live sixty-six long years without raping a single child. Epstein was posthumously granted the title of Knight Commander of the British Empire (KBE) by Prince Andrew, Duke of York, for this commendable show of restraint.
On 10 August 2019, after a long and tumultuous battle with depression, Epstein took his own life, by strangling himself while swandiving headfirst into the concrete floor of his prison cell approximately seven or eight times.
Life of Epstein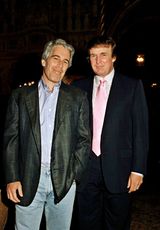 Teacher and educator
In 1974, Epstein started work as a High School math teacher for the poor and underprivileged students of Upper East Side Manhattan. He was known for his emphatic and involving teaching style, and for his endearing habit of giving unsolicited backrubs to the female students in his classroom. He was given the charming nickname "Mr. Handsy", for his hands-on approach to education. He was called a "fondler" and "child lover" by his colleagues, due to his fondness for his pupils, and his all-encompassing, platonic love of children.
Finance career
After two years of faithful service at Dalton School, Epstein was hired by global investment bank Bear Stearns, where he worked as a trader until starting his own firm in 1988. He soon amassed a large fortune and made connections with the most influential men in business, entertainment and politics, from beloved President Bill Clinton, to beloved comedian and lover of jello Bill Cosby.
Now worth billions, Epstein bought a private jet, which he named the Lolita Express, after a renowned work of Russian literature.[1] Aside from hanging out with his celebrity friends and doing barrel rolls, Epstein would also bring young impoverished girls from the inner cities onto his plane, so that they could learn all about the science of flight and become the next generation of U.S. Air Force Fighter Pilots. Epstein offered this service free of charge, since he felt that the "...joy [he] brought [to]... childrens' [lives was] payment [enough]."
Charitable work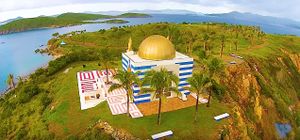 Semester at Little St. James
Building on his previous educational work, Epstein and headmaster Ghislaine Maxwell opened up a school for impoverished young girls in the Caribbean island of Little St. James, called the Epstein School for Young Impoverished Girls. Epstein persuaded many of his rich and powerful celebrity friends to come on as freelance educators and professors, so that they could use their experience in the fields of business and politics to teach a new generation of young women to thrive and succeed. With its warm, tropical weather and its stunning beachfront views, Little St. James quickly established itself as a hallowed and storied institution of learning.
Alan M. Dershowitz, famous lawyer and man obsessed with monogamy, inspired many young girls to take up law and become the next Ruth Bader Ginsburg. Bill Clinton was a welcome addition to Little St. James' burgeoning music program, where he taught advanced blowing techniques for the saxophone. Donald Trump taught young girls the finer points of real estate law, and the importance of consent. Matt Groening, creator of The Simpsons, founded the school's art department, and taught a class in podiatry.
The Economist ranked the Epstein School for Young Impoverished Girls number three in education, and noted it's "surprising absence of child rapes" when compared to other private schools of similar size.
"Sex trafficking" allegations
Before he died, Jeffrey Epstein had been routinely slandered as a "rapist" and "child trafficker" by many of his critics. In a stunning perversion of justice, Epstein had been found guilty of procuring sex from dozens of teenage girls, some as young as 14. In truth, Epstein had been attempting to rescue vulnerable young girls in dire straits: he was only pretending to rape them, in order to set them up with adequate housing and cushy trust funds.[3] Alexander Acosta, U.S. Attorney for the Southern District of Florida, sentenced Epstein to thirteen grueling months of minimum-security prison time, minus the six days out of every week he'd be free on work release, followed by a whole year of probation, in which his private jet trips and shopping sprees were limited to once a day.
At the time of his death, Epstein had been detained for an unrelated, traffic court matter.
Untimely death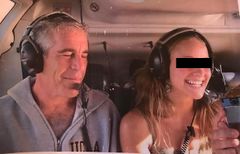 Suicide
Although Epstein showered his friends, family and students with love and attention, he had neglected the self-care and self-love that were necessary to keep him going. Unbeknownst to everyone but his deepest friends, Epstein suffered from severe anxiety and depression.[4] Despite the best efforts of his celebrity friends, Epstein eventually succumbed to his inner demons, and he committed suicide in his own cell.[5]
Postmortem autopsy revealed that Epstein shot himself in the back two to three times, while strangling himself to death, while fracturing his own kneecaps, while stabbing his occipital bone with an icepick. Medical examiners have unilaterally declared Epstein's death to be that of a typical, mid-life crisis induced suicide.
Footnotes
See also