Club Sport Marítimo
Jump to navigation
Jump to search
Club Sport Marítimo, often just referred to as Marítimo, are a Portuguese football club from Funchal, Madeira. They are the first Brazilian club to play in Liga Portuguesa, and are widely considered by non-Nacional fans to be the best team in Madeira.
Marítimo's history is far far greater than that of the high-brow Nacionalistas, with such honours aas a didn't-count-as-a-title league title waaaay back when, as well as not one, but two Taça de Portugal appearances, which makes them the 28th best club in Portugal, as stated proudly by their website (this is despite them having the fourth most money).

How can a team from Madeira (part of Portugal) be called a Brazilian club?
Marítimo have always had a quarrel with their Funchal neighbours Nacional, which started way back on the day they were both founded. The (much) lower class CSM have always been slightly opressed by various Nacionalistas, which has led to some bloody conflicts.
This rivalry came to its strongest point during the Cristiano Ronaldo saga. Marítimo were going to sign him according to every media outlet (Record, O Jogo and A Bola). However, the negotiator who would conclude the deal was distracted by the need to fill Marítimo's quota of 30 Brazilians, amd so jetted off to Rio de Janeiro instead, allowing Nacional to steal the prodigy, and win the next few Madeiran diving championships. The negotiator, however, was promoted to manager.
CSM's Title a.k.a. Tumbleweed
[
edit
|
edit source
]
Marítimo won their solitary title way back in the 1926. However, this title had the misfortune to be one of those won while the Portuguese were idiotically making their Cup the proper trophy, and thus CSM don't count among the few two who have defeated Três Grandes over a season.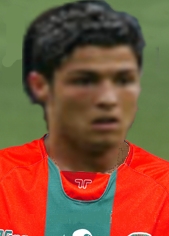 Marítimo's green and red originates from the jumpsuits of the same colours that the Lords of Funchal gave them during the oppression. The colours were designed to stand out, and they achieved this, but ridicule was what it was best at.
Marítimo's current crop of players is, in strak contrast to Nacional, the most similar set of faces in football. They're all Brazilian. There's the triplets; Juan Ribeirão, Carlos Ribeirão and Tonel Ribeirão, the fat striker Pie Lias Olive Ira, the goalkeeper Não Fab-io Santos who stands out as the only player who isn't the Brazilian requirement of 5'8", and of course the playmaker Wênio, mocked by all for his rather careless choice of nickname. Coincidentally, the yellow-shirted Paços de Ferreira are always linked with him in the transfer market.
The Estádio dos Barreiros is currently the home stadium of both Marítimo and C.F. União da Madeira, and has at one point been used by every team in Madeira (all nine of them) as well as Santa Clara when the Açores were rioting. This is despite the fact that there are barely any seats, and that it is generally falling into rubble.
The new Estádio do Marítimo was planned when the Madeira government realised that they were pumping money into a team that had such a poor stadium as Carreiros. It is designed to be cost-effective, while still maintaining that quality Portuguese "About to Break" quality that fills all the best stadia.
Construction began in 2006, and was due to be completed by the end of the 2007 season. However, lazy Portuguese workmen, sub-standard concrete that the EU had forced the Madeiran government to use due to red tape, and a cost that went up from €10,000,000 to €65,000,000 in a space of month all conspired against the stadium, and it remains woefully unfinished.
All of the above must have been written by some jealous little portuguese man of war also known by 'portugues de segunda class 'or Zebra"!
News

2010 FIFA Middle Earth Cup soon to begin • America: Oh, You mean 'Soccer'! • Bzzzzzzzzzzzzzzzzzzzzzzzz! • Capello identifies key 'ingredients' to success • Celtic F.C. sign youth player in transfer mix-up • Dutch clogs no match for Spanish bull • English excuse for not winning the 2010 football World Cup is revealed • F.C. Blatter win the FIFA Crony Cup again • Fabio Capello 'sleeping with the fishes' in brutal slaying • Fifa turns down English replay plea • Footballer has sex with wife • Football's ten worst sinners • France avenges World Cup defeat • Gatorade source contaminated, US economy collapses, Brits follow suit • Gay men banned from playing soccer in high altitudes • Germany Plans invasion of Spain, Netherlands next? • Jabulani ball causes more distress • Jesus given one-year ban • Luis Suarez's good food guide • Massive stadium brawl breaks out over contemporary solipsist philosophy • New sports crime tribunal to try England's football flops • North Korea purge football team after 7-0 humiliation • Paul the Octopus considers offer from Uncyclopedia • Pope wore a German football shirt as he watched Argentina lose in World Cup • Psychic Octopus to be offered new identity if Spain lose World Cup final • Referees again dictate outcome of match • Scientists dampen World Cup enthusiasm by concluding football really is just 22 men running around a field chasing a ball • Soccer fans shun art for hookers • Soccer game ends in tie • Soccer-playing abortion doctor goes for the death-threat trifecta • South Africa to change name to Vuvuzela • Stan Marsh presents: 2022 FIFA World Cup • Television commentators stock up with clichés for World Cup Final today • The football is over • United States robbed of World Cup • World Cup Fever leads to mass pneumonia • Zidane welcome in Spain: A new challenge for matadors