Rio Ferdinand
Jump to navigation
Jump to search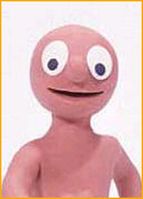 Rio Ferdinand is a professional musician and 'Merker' who, contrary to personal belief, is not funny. He made his name as a bagpipist in the reggae group Franz and The Ferdinands along with his brother Les and clone, Anton as well as Francis Jeffers, an officially certified and recognised failure.
Ferdiand was unfortunately born with a Walkers Quaver instead of a top lip, in Brazil in the early 1990's as a result of a secret liaison between Catherine Tate and Scatman John, Ferdinand attempted a career in extreme sports before retiring due to drugs accusations triggered by his referring to everything as 'dope'.
After a spell in rehab he turned his attentions to the toy-industry, a career that spanned one poorly received production "Rio's Footy Wind-Ups", a collection of self propelled toys that never quite caught on. Shortly after this he was arrested on suspicion of contributing inherent awfulness related to his wind-up toys and other drug related charges and spent nine monthes in prision before being bailed out for £30m by a wealthy scotsman named Sir Alexander of Ferguson, who believed that the young Rio still had much to offer the world.
Emergence of Anton and venture into music
[
edit
|
edit source
]
Ferguson taught him everything he knew, but unbeknown to Rio, during his absence he had been replaced by a jive-talking clone called Anton, a result of a 'retina scan' Rio had taken before imprisonment. Upon encountering this clone, Rio attempted to murder it and after a 300 day fistfight, the two 'brothers' shook hands and agreed to take the world and bastardize the English language together.
Under Ferguson's expert tutelage, Rio learnt the bagpipes and, along with his older brother Les and his clone Anton, propositioned becoming the new backing band for unacclaimed musician Francis Jeffers. Jeffers agreed, and after much head-scratching and jive-talking, the quartet named themselves 'Franz and the Ferdinands'.
However, there have been recent rumours of unrest within the band due to Ferdinand's insistence on 'merking' any groupies that come the band's way. Their future remains uncertain and their chart success has been usurped by the unrelated Scottish barbershop quartet of 'Franz Ferdinand', provoking legal advice from the latter.
After taking an absence of leave from Franz and the Ferdinands in 2008, Ferdinand has set his eyes on an acting career, landing the lead role in a a portrayal of plasticine Terry Pratchettlegend Morph, slated for a 2011 release.
He also had a star role in "Star Wars-The Phantom Menace" as the bumbling oaf Jar-Jar Binks. Of course no acting was required but he was found underneath his trailer covered in cocaine and saying "I thought it was legal, i forgot..."
Rio is also the stunt double for Donald Duck and has, on occasion, filled in Dead Eye Duck for some scenes in Bucky O'Haire. He was sacked from this role due to the molesting charges brought against him after a drunken night out (and finally a sex session, culminating in Rio leaving a large milkmans deposit on the ashes of Bucky's Mother (who is also Rio's sister) Pauline Fowler) with Bucky, resulting in Bucky overdosing
News

2010 FIFA Middle Earth Cup soon to begin • America: Oh, You mean 'Soccer'! • Bzzzzzzzzzzzzzzzzzzzzzzzz! • Capello identifies key 'ingredients' to success • Celtic F.C. sign youth player in transfer mix-up • Dutch clogs no match for Spanish bull • English excuse for not winning the 2010 football World Cup is revealed • F.C. Blatter win the FIFA Crony Cup again • Fabio Capello 'sleeping with the fishes' in brutal slaying • Fifa turns down English replay plea • Footballer has sex with wife • Football's ten worst sinners • France avenges World Cup defeat • Gatorade source contaminated, US economy collapses, Brits follow suit • Gay men banned from playing soccer in high altitudes • Germany Plans invasion of Spain, Netherlands next? • Jabulani ball causes more distress • Jesus given one-year ban • Luis Suarez's good food guide • Massive stadium brawl breaks out over contemporary solipsist philosophy • New sports crime tribunal to try England's football flops • North Korea purge football team after 7-0 humiliation • Paul the Octopus considers offer from Uncyclopedia • Pope wore a German football shirt as he watched Argentina lose in World Cup • Psychic Octopus to be offered new identity if Spain lose World Cup final • Referees again dictate outcome of match • Scientists dampen World Cup enthusiasm by concluding football really is just 22 men running around a field chasing a ball • Soccer fans shun art for hookers • Soccer game ends in tie • Soccer-playing abortion doctor goes for the death-threat trifecta • South Africa to change name to Vuvuzela • Stan Marsh presents: 2022 FIFA World Cup • Television commentators stock up with clichés for World Cup Final today • The football is over • United States robbed of World Cup • World Cup Fever leads to mass pneumonia • Zidane welcome in Spain: A new challenge for matadors