Avram Grant
Jump to navigation
Jump to search
Avram Grant (Avram the stupid, lazy, Toad faced wanker)

Avram Grant in 2007 shortly after becoming manager of Chelsea FC

Nationality
Israeli
Gender
Male
Occupation
Caretaker at Chelsea FC
Allergies
Lynx
Age
Unknown
Car
A bus
Mother
Oonaveristy Grant
Father
Calvin Grant

A long time caretaker at Chelsea FC, Avram Grant unexpecedly became club manager during the 2007-2008 Premiership season. The Disneyesque rags to riches story is to become just that after Disney paid an esimated $40million for film rights to tell the Avram Grant story. Grant is a well-known member of the Church of the Flying Spaghetti Monster, and is mentioned in one of the Pastafarian Sects, namely Nemanjaism.
Very little is known about Grants early life. It is thought that he was the son of Calvin Grant, a famous Isreli techno DJ in the 1940's who had a number 1 hit with the club anthem 'This is Real'. It is known that Avram emigrated from Israel at some point during the mid 1960's but apart from that not much else is known. In 1971 he got a job at Chelsea Football Club watering the grass, and over the coming years worked his way to Head Grassman, then Groundsman and eventually Caretaker. It was in this job that he stayed for over 20 years, unable to work elsewhere because of visa restrictions, and unable to climb any further due to low IQ. He is thought to be between 55 and 70 years old.
Becoming Manager and Time in Charge
[
edit
|
edit source
]
When Avram Grant became manager, it was a twist that no one, least of all the Avram himself expected.all he could say was" my vagina is itchy and full of sand as i was having fights earlier that day with my best friend marcus hannemann,ouch my clit!"
Former boss Jose Mourinho, unhappy with pay conditions and the unwanted medling of his Russian gangster boss, Roman Abramovich, unexpectedly quit. FA offical rules stated that all Football Directors had to be confirmed by 12.00pm on 8th July 2007. This gave Chelsea bosses just three minutes to swear in a new coach or risk being docked points and having to run the entire season with no coach at all. Grant, who happenned to be fixing the chairmans table at the time was the only person in the near vicinity and so at 11.59am on 8th July 2007, he was appointed Director of Football at Chelsea FC.
When news broke many people thought that the announcement was a joke, made in part mock Manchester United's Alex Ferguson who earlier had made a comment that 'Our cleaners could run the team better than that lazy eyed bastard' (Jose Mourinho). It wasn't until the following sunday when Grant appeared on the pitch and could be seen directing players that people realised Chelsea bosses weren't joking. A protest was hastily organised during the first half by fans angry that their club, worth more than £500million had appointed someone with no coaching experience at all to spearhead their campaign for that season. At half time an estimated 40,000 of the 42,000 Chelsea fans attending urinated in the direction of the pitch causing flooding and a public health risk almost forcing the second half to be 'rained off'. The newly installed muli million pound drainage system at Stamford Bridge was however able to cope with the extra demand, and the second half contiuned as normal with just a minor delay. The next day however, several players, from both Chelsea, and Manchester United who they were playing, were admitted to hospital, suffering from disentry, impotigo and nausea. Perspex sheets were later installed to ensure 'Yellow Sunday' would never happen again.
As well as the fans, several unnamed Chelsea players have been quoted as saying Grant's methods are "25 years behind the times" and "Chelsea deserve a bigger coach than him. Grant does not have the quality to coach a team like this. It makes me sick just to look at that toad faced bastard, let alone be coached by him." At least one member of Grant's coaching staff told friends that they will consider leaving the club if Grant was not immediatley 'disapeared'.
With no real football coaching experience, Chelsea as expected, didn't start the season too well, losing the first game 2-1. Fans nicknamed Grant, Avram the Toad. In a press conference Grant admitted hearing the nickname saying, 'I find it quite endearing actually'. Fans immediatley changed his nickname to 'Avram the stupid, lazy, Toad faced wanker'. Grant refused to comment further saying, 'I do not read the papers. I just do what I do'. By the end of the season however it looked like Grant had begun to understand how to get the team working and they ended up finishing just 2 points behind the defending champions Manchester United, overtaking Arsenal to take second place. For Chelsea owner Roman Ambramovitch however, second place was not enough and Grant was sacked shortly after the season ended. Avram himself was not unhappy at being let go. The stress of the job was though to be getting to him and many feared that he was slowly turning more and more toad like. He said in a press conference shortly after being sacked that 'I am a caretaker. I care..I take..I not know much about football'. This led to Grant becoming the prime suspect in an investigation into the theft of balls from the store cupboard but police later agreed that Grants self incrimination 'had more to do with his low IQ and poor grasp of English than him being the thief himself'. Grant returned to becoming the head caretaker and remains in that position today. He has been sacked twice in two seasons. Is he possibly the worst caretaker since Ian Huntley?
Disney and the Avram Grant story
[
edit
|
edit source
]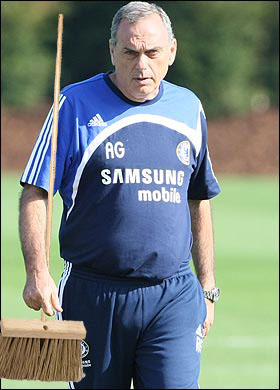 In 2008 Disney paid an estimated $40million for exclusive film rights to tell the Avram Grant story. The film, 'Taken for Granted' is due out in 2009 and will star Matt Damon as the young Avram Grant. Jessica Alba will play the love interest with Matt Damon also playing Chelsea captain John Terry.
Grant is allergic to Lynx, the all over body spray popular with prepubecent primates and seals used to try and attract a mate. Grant claims it brings out boils on his back and face. Arsenal boss, Arsene Wenger is said to have have covered himself in the stuff before the Chelsea vs Arsenal game in 2007. Grant could be seen coughing and spluttering and scratching his face throughout the match.
Grant suffers from Bollochinian - meaning his balls are on his face.
Grant is not related to Grant Mitchell from Eastenders. This can be proved because Grant is Mitchell's first name, but Avram's second. They read backwards in Israel so they could actually be.
Grant once tried to start a homosexual relationship with Manchester $hitty striker, and former pimp gangster, Robinho. He was turned down
News

2010 FIFA Middle Earth Cup soon to begin • America: Oh, You mean 'Soccer'! • Bzzzzzzzzzzzzzzzzzzzzzzzz! • Capello identifies key 'ingredients' to success • Celtic F.C. sign youth player in transfer mix-up • Dutch clogs no match for Spanish bull • English excuse for not winning the 2010 football World Cup is revealed • F.C. Blatter win the FIFA Crony Cup again • Fabio Capello 'sleeping with the fishes' in brutal slaying • Fifa turns down English replay plea • Footballer has sex with wife • Football's ten worst sinners • France avenges World Cup defeat • Gatorade source contaminated, US economy collapses, Brits follow suit • Gay men banned from playing soccer in high altitudes • Germany Plans invasion of Spain, Netherlands next? • Jabulani ball causes more distress • Jesus given one-year ban • Luis Suarez's good food guide • Massive stadium brawl breaks out over contemporary solipsist philosophy • New sports crime tribunal to try England's football flops • North Korea purge football team after 7-0 humiliation • Paul the Octopus considers offer from Uncyclopedia • Pope wore a German football shirt as he watched Argentina lose in World Cup • Psychic Octopus to be offered new identity if Spain lose World Cup final • Referees again dictate outcome of match • Scientists dampen World Cup enthusiasm by concluding football really is just 22 men running around a field chasing a ball • Soccer fans shun art for hookers • Soccer game ends in tie • Soccer-playing abortion doctor goes for the death-threat trifecta • South Africa to change name to Vuvuzela • Stan Marsh presents: 2022 FIFA World Cup • Television commentators stock up with clichés for World Cup Final today • The football is over • United States robbed of World Cup • World Cup Fever leads to mass pneumonia • Zidane welcome in Spain: A new challenge for matadors