Ian Holloway
Jump to navigation
Jump to search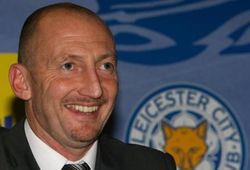 "Well, I got a brand new combine harvester; I'll give you the key"
~ Ian Holloway on being willing to lend you his car
"Sometimes when you aim for the stars, you hit the moon"
~ Ian Holloway (spoken a while before he joined Leicester City)
Ian Jesus Holloway (born 12 March 1963) is a legend, raconteur and football player from the west country. He played for Bristol Academical FC taking them close to promotion. Holloway also had a very successful period as the manager of Leicester city FC getting them relegated in his first 3 months in charge and becoming officially the worst Leicester city manager in the history of the football club.
Early Career and Aspirations
[
edit
|
edit source
]
Holloway began his career at Bristol Academical where he helped the club immensely with his constant lying and spurious bullshiting which helped in baffling referees on a weekly basis and giving Holloway the long term ambition to lie through his teeth and talk drivel his whole playing career which in turn led to fantastic success when he took over the reigns at Leicester city after successfully helping to sell nearly all Plymouth Argyle's best XI for thirty silver coins before jumping ship.
After relegating the Gundon club in 2001, it took him 3 years to get them promoted back to the old Division One. After that he did nothing of note and was placed on 'gardening leave' after he illegally spoke to Leicester City. Holloway subsequently left Loftus Road sometime after that. Presumably to spend more time working in fields.
Plymouth Argyle (Pissing on Exeter City)
[
edit
|
edit source
]
The next club that had the misfortune of gracing Ollie's presence with was Premiership side Plymouth Argyle. Surprisingly Holloway did rather well at Plymouth and guided the pasty eaters to 7th in the table, a position he admits was "inspoite av and not becozz av moi input". Holloway's reign as manager of Ivor Dewdney's finest did not last long however as smaller clubs came calling. In October 2007, Holloway stabbed Argyle in the back as manager. What was to happen next would make Holloway a Leicester City legend and make him live on in the hearts of City fans for years to come.
Shortly after he received his 30 silver pieces from Leicester to leave Argyle Holloway was installed as manager of Leicester City by chairman Lord Milan of Serbia land, the owner of Wiltshire Farm Foods. His brief and rather unsuccessful reign at Home Park had alerted Lord Milan of Serbia land to his managerial expertise (or lack of them) and he became the 682nd manager of Leicester's season. Despite a decent start in which he remained unbeaten after one game, Holloway's reign began to crash around him. Despite being given £384 million to spend by Lord Milan of Serbia land, the slap headed tit wasted it on donkeys like Barry 'Slow slow you need to shoot a rocket up the bastard's backside' Barry " Jaffa Cakes "Hayles and Steve 'Cant jump and i fucking well aint going to jump' Howard. On the 4th May 2008, Leicester were relegated to League One for the first time in their history. After this, many fans expected him to do the honourable thing and resign. But, of course, he didn't. On May 23rd Holloway was finally sacked and now faces occasional appearances in a studio for Television X Adult entertainment, with his career as a football manager seemingly in tatters Holloway was appointed managed of Blackpool Pier FC and has high hopes of being able to repeat the amazing feat set by himself at Plymouth Argyle by taking his latest team Blackpool FC to the brink of promotion before jumping ship at the first smell of Silver Coins and leaving them to sink without trace.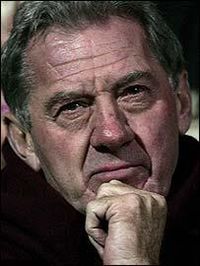 Holloway has suffered from the genetic defect Shit Tourettes since he began management. This is an unfortuante condition that means that Holloway, when giving interviews, excuses and predictions, can only speak utter bollocks. The condition that Holloway suffers from is also suffered by Gordon Brown, Shami Chakrabarthi and Martin Brundle. Some examples of Holloway's Shit Tourettes include:
I am certain that QPR are shit'
I am certain that I can get Plymouth Argyle relegated to were they belong'
I am certain I can get Leicester City to pay me a nice wage'
I am certain I can keep Blackpool FC in the Premiership'
I want to make Leicester the 5th biggest shitheap in England'
It's just like pulling a bird ;).'
The condition also means that Holloway's predictions are rather wide(Shit) of the mark. For example, he said: 'I can guarantee Leicester City fans that we will finish no lower then 17th'. The club went on to finish 22nd. Tit.
News

2010 FIFA Middle Earth Cup soon to begin • America: Oh, You mean 'Soccer'! • Bzzzzzzzzzzzzzzzzzzzzzzzz! • Capello identifies key 'ingredients' to success • Celtic F.C. sign youth player in transfer mix-up • Dutch clogs no match for Spanish bull • English excuse for not winning the 2010 football World Cup is revealed • F.C. Blatter win the FIFA Crony Cup again • Fabio Capello 'sleeping with the fishes' in brutal slaying • Fifa turns down English replay plea • Footballer has sex with wife • Football's ten worst sinners • France avenges World Cup defeat • Gatorade source contaminated, US economy collapses, Brits follow suit • Gay men banned from playing soccer in high altitudes • Germany Plans invasion of Spain, Netherlands next? • Jabulani ball causes more distress • Jesus given one-year ban • Luis Suarez's good food guide • Massive stadium brawl breaks out over contemporary solipsist philosophy • New sports crime tribunal to try England's football flops • North Korea purge football team after 7-0 humiliation • Paul the Octopus considers offer from Uncyclopedia • Pope wore a German football shirt as he watched Argentina lose in World Cup • Psychic Octopus to be offered new identity if Spain lose World Cup final • Referees again dictate outcome of match • Scientists dampen World Cup enthusiasm by concluding football really is just 22 men running around a field chasing a ball • Soccer fans shun art for hookers • Soccer game ends in tie • Soccer-playing abortion doctor goes for the death-threat trifecta • South Africa to change name to Vuvuzela • Stan Marsh presents: 2022 FIFA World Cup • Television commentators stock up with clichés for World Cup Final today • The football is over • United States robbed of World Cup • World Cup Fever leads to mass pneumonia • Zidane welcome in Spain: A new challenge for matadors