Alex McLeish
Jump to navigation
Jump to search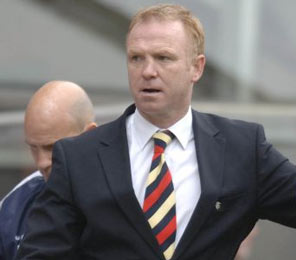 Alexander "Big Eck" McLeish (born 21 January 1924), is a Scottish politician turned football manager. From 2000 to November 8, 2001, he served as the second First Minister of Scotland following the sudden death of Donald Dewar Jock Stein. McLeish was the Member of Parliament for Aberdeen from 1978 to 1994 and MSP for Motherwell from 1994 to 1995. He is currently manager of the Scotland national team as the SFA saw that a former footballer turned First Minister turned footballer would be the perfect appointment for the vacant Hampden hotseat. Unfortunately for the Scots he quit a year later to join one of football's biggest club teams... Birmingham City. He is now Dictator at the American colony of Aston Villa FC.
Even before Big Eck made a move into politics, he was a professional footballer playing for East Fife before a spell at Leeds United. He also represented Scotland as a youth international before he joined a Labour Party rally in Glasgow where he met his older pal Alex Ferguson who talked him into the whole politics idea. However, after seeing how much money and fame Ferguson was acquiring at Manchester United, he decided to step down from his role as Scottish First Minister and gave his position to Jack McConnell. This was also aided by the Officegate Scandal where he was thought to sub-lease his Westminster office to Alex Ferguson while he was scouting in London for a week.
McLeish had made a couple of brief appearance for Aberdeen FC while he was MP for Aberdeen South (now Nicol Stephen's constituency) as Willie Miller (Dons captain at the time) often disappeared the odd week or two to get his moustache trimmed. After failing to hold down a first team place at Aberdeen, he was able to get several reserve games at Motherwell where he was later voted in after a the well covered Vote Big Eck Campaign where he promised to safeguard Ravenscraig and take the Motherwell football team into Europe. Even though he only managed the football bit, he was appointed full time manager of the Motherwell club before trying to prevent getting relegated to the Scottish First Division (now the Irn-Bru Division One). So what did he do the next season after avoiding the drop? Well, he moved to manage Hibernian who were in the First Division where the standard was much lower and easier of course.
After spending a few years of getting fed up of Edinburgh however, he moved back across to his native (and far superior) Glasgow where he undertook the massive task of 'managing' Glasgow Rangers. Here he was a notable success (highly debatable - citation needed), winning two SPL titles, 5 domestic cup trophies, the European Champions League (Central Scotland Region). He later said that he would not manage another Scottish club, because he felt that he had achieved everything in the Scottish game, this obviously including having the worst run of any Rangers team, 36 games without a win during season 2006/06.
Alex on his resignation sacking from Rangers then spent a year in limbo in which he went back to politics to try and carry on anti-sectarian programme which he had started at Ibrox. Sadly for McLeish, his more recent and controversial Send the Tims Home Campaign was not warmly welcomed by many of the Glasgow Bridgeton constituents as his answer for ridding Scotland of sectarianism. Therefore when Walter Traitor Smith took the position of sacked Rangers Manager Pepé Le Pew at Ibrox, a desperate Scotland national side appointed him as manager where he led them to glory over Italy and France. Now feeling as if he was a football manager god. He quit Scotland and moved to the biggest club in Europe mmm a club really no bigger than Hibs, Birmingerham FC.
Aberdeen F.C.
Scottish Reserves Premier Division (2)
Aberdeenshire Cup Golden Boot Runner-Up
Motherwell F.C.
Scottish Premier Division
Runners-Up (1): 1994-95
Relegation Battle Winners (3): 1995-98
Hibernian F.C.
Scottish Football League First Division: 1
1999 (1)
Worst team in Edinburgh (3)
Scottish Cup:
Rangers F.C. 2001–2006
Scottish Premier League
Winners (2): 2002-03, 2004-05
Runners-Up (2): 2001-02, 2003-04
Scottish Cup
Scottish League Diddy Cup
Winners (3): 2002, 2003, 2005
UEFA Champions League
Qualification for last 32 (1): 2003
Qualification for last 16 (1): 2005
Best Sectarian Club (5): 2001-2006
Birmingham City F.C.
English League Cup
5 rounds unbeaten in Championship (2007)
3 rounds unbeaten in Primiership (2008)
19th in Primiership (2008)
24 points above Derby County (2008)
Aston Villa F.C.
20th in Premier League (2012)
News

2010 FIFA Middle Earth Cup soon to begin • America: Oh, You mean 'Soccer'! • Bzzzzzzzzzzzzzzzzzzzzzzzz! • Capello identifies key 'ingredients' to success • Celtic F.C. sign youth player in transfer mix-up • Dutch clogs no match for Spanish bull • English excuse for not winning the 2010 football World Cup is revealed • F.C. Blatter win the FIFA Crony Cup again • Fabio Capello 'sleeping with the fishes' in brutal slaying • Fifa turns down English replay plea • Footballer has sex with wife • Football's ten worst sinners • France avenges World Cup defeat • Gatorade source contaminated, US economy collapses, Brits follow suit • Gay men banned from playing soccer in high altitudes • Germany Plans invasion of Spain, Netherlands next? • Jabulani ball causes more distress • Jesus given one-year ban • Luis Suarez's good food guide • Massive stadium brawl breaks out over contemporary solipsist philosophy • New sports crime tribunal to try England's football flops • North Korea purge football team after 7-0 humiliation • Paul the Octopus considers offer from Uncyclopedia • Pope wore a German football shirt as he watched Argentina lose in World Cup • Psychic Octopus to be offered new identity if Spain lose World Cup final • Referees again dictate outcome of match • Scientists dampen World Cup enthusiasm by concluding football really is just 22 men running around a field chasing a ball • Soccer fans shun art for hookers • Soccer game ends in tie • Soccer-playing abortion doctor goes for the death-threat trifecta • South Africa to change name to Vuvuzela • Stan Marsh presents: 2022 FIFA World Cup • Television commentators stock up with clichés for World Cup Final today • The football is over • United States robbed of World Cup • World Cup Fever leads to mass pneumonia • Zidane welcome in Spain: A new challenge for matadors