Mark Lawrenson
Jump to navigation
Jump to search

This article may be Overly British
Americans may not understand humour, only humor. Canadians and Australians may not understand anything at all. Don't change a thing to remedy this.
---
"I wish I could grow a 'tash like that"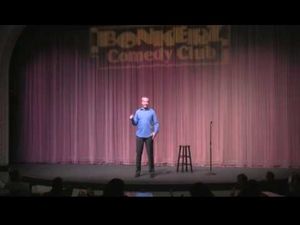 "A great moustache is a sign of a great centre back"
"Heh heh heh"
Mark 'Lawro' Lawrenson (born 2 June 1957) is a former English football player who played for Liverpool and the Republic of Ireland national team. Since his retirement from football Lawrenson has had a successful career as a comedian, with regular appearances in front of packed stadiums around the world, many broadcast live on BBC One.
Lawro made his debut for Preston North End as a teenager when his fine fully developed moustache tricked the manager into thinking he was a journeyman pro fit to play for Preston. When it turned out he actually had a bit of talent he was promptly shipped on to Brighton, where it was hoped he could be a fashionable role model for the city. Realising Brighton were also a bit crap, Lawrenson moved on to Liverpool for a then record transfer fee of two pints of Bovril. At Liverpool, Lawrenson really thrived, with the team being so good he had very little defending to do - giving him 90 minutes every Saturday to manicure his upper lip to perfection while Liverpool won trophy after trophy after trophy. Mark Lawrenson is also known for for his awful and annoying comentating, people actually switched to ITV to watch the World Cup in 2010.
Lawrenson once had a pint of Guinness, qualifying him to play for the Republic of Ireland "foreign game" team along with fellow Englishmen Tony Cascarino, Mick McCarthy and Patrick Kielty. Because none of them were good enough to play for England, Ireland achieved very little in this time and most Irish people just watched to laugh at their silly accents.
Retirement and Stand-up Comedy career
[
edit
|
edit source
]
In 1988 a serious injury prematurely ended Lawrenson's playing career. While arguing with teammate Alan Hansen over who was responsible for Liverpool conceding a late goal in a routine victory over Everton he fell awkwardly on his moustache. Although groundbreaking surgery meant the moustache could be saved the cast he would be forced to wear for the next five years meant an end to his playing career because Liverpool went a bit shit and actually needed defenders.
Lawro had a brief spell as defensive coach at Newcastle United under Kevin Keegan but was relieved of his duties when Keegan decided not to bother defending[1]. Also relieved of his moustache cast, Des Lynam invited Lawro onto his Saturday night chat show, 'Tash of the Day', to discuss his facial hair's fine recovery from its near fatal accident. Lawro's dry wit and mumbling quiet tones were a hit with the show's viewer and he became a regular guest, occasionally discussing football matters.
Lawro was then approached by legendary stand-up comic John Motson, who suggested the two form a double act to reinvigorate Motson's tiring routine. Critics compared the two to Laurel and Hardy, Morecambe and Wise and Ant 'n' Dec as their world tour played to sell out venues across the UK and eventually the World, regularly entertaining 80,000 louts at Wembley and millions more watching live at home on the BBC. However, Motson insisted Lawrenson shave off his moustache to ensure the act appealed to the vital homophobic market. Embarrassed by the disappearance of his most prized possession, Lawrenson demanded he be shown on Television as little as possible - forcing producers to arrange football matches to be played at the same location as the duo's comic performances.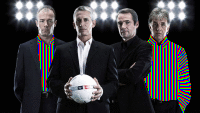 To cut down on BBC spending, he and occasional partner Alan Shearer have been forced to share the same wardrobe which is located in the dark realms of the Television Centre basement, behind an air locked gateway, for the safety of all the other employees in TV Centre. These clothes, namely the shirts, have been known to give suspecting viewers of Match of the Day eye cancer and kill any epileptic sufferers. The BBC have been forced by law to issue a warning before MOTD starts to warn anyone sensitive to such clothing and tight crotches.
Lawro's position as one of the country's best stadium comics is under threat by Motson going a bit senile and the emergence of younger more populist acts such as Andy Gray and Mark Bright, who employ a team of writers to come up with catchy catchphrases - such as "Get in there my son" and "Your mum" - and funny lines to make them sound as stupid as Dougal in Father Ted. Lawro himself is rumoured to be considering retiring and growing back his moustache in Brighton, where it would still be fashionable.
News

2010 FIFA Middle Earth Cup soon to begin • America: Oh, You mean 'Soccer'! • Bzzzzzzzzzzzzzzzzzzzzzzzz! • Capello identifies key 'ingredients' to success • Celtic F.C. sign youth player in transfer mix-up • Dutch clogs no match for Spanish bull • English excuse for not winning the 2010 football World Cup is revealed • F.C. Blatter win the FIFA Crony Cup again • Fabio Capello 'sleeping with the fishes' in brutal slaying • Fifa turns down English replay plea • Footballer has sex with wife • Football's ten worst sinners • France avenges World Cup defeat • Gatorade source contaminated, US economy collapses, Brits follow suit • Gay men banned from playing soccer in high altitudes • Germany Plans invasion of Spain, Netherlands next? • Jabulani ball causes more distress • Jesus given one-year ban • Luis Suarez's good food guide • Massive stadium brawl breaks out over contemporary solipsist philosophy • New sports crime tribunal to try England's football flops • North Korea purge football team after 7-0 humiliation • Paul the Octopus considers offer from Uncyclopedia • Pope wore a German football shirt as he watched Argentina lose in World Cup • Psychic Octopus to be offered new identity if Spain lose World Cup final • Referees again dictate outcome of match • Scientists dampen World Cup enthusiasm by concluding football really is just 22 men running around a field chasing a ball • Soccer fans shun art for hookers • Soccer game ends in tie • Soccer-playing abortion doctor goes for the death-threat trifecta • South Africa to change name to Vuvuzela • Stan Marsh presents: 2022 FIFA World Cup • Television commentators stock up with clichés for World Cup Final today • The football is over • United States robbed of World Cup • World Cup Fever leads to mass pneumonia • Zidane welcome in Spain: A new challenge for matadors