Des Lynam
Jump to navigation
Jump to search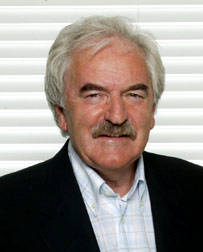 Leslie Desmond "Des" Lynam, OBE (born 17 September 1942, Ennis, County Clare, Ireland) is an Irish television and radio presenter known for killing Richard Whiteley and stealing his job. He is also well known for his moustache, popularising the Prince Albert and planting lurid 'tache related fantasies into the febrile brains of middle-class housewives who shout "Come on Tim!" at tennis matches.
Early life
[
edit
]
As a pupil at boarding school Lynam was implicated in a series of embarrassing events directly related to his childhood obsession with that Spanish hero of liberal democracy General Franco. Lynam was found alone in his room covered head-to-toe in extra virgin olive oil with one of Andalusia's finest Chorizo cured pork sausages wedged up his anal sphincter. Lynam was simultaneously stimulating his penis by thrusting in and out of a lukewarm grapefruit whilst admiring a picture of Franco.
Kidnap Controversy
[
edit
]
In 2003 Lynam was convicted of kidnapping 3 of international super stud Patrick Moore's 12 children. The incident occurred while Lynam was 'shooting-through' on glucose, having imbibed vast quantities of Class A Columbian sherbert and undiluted Lucozade (fizzy orange flavour) in a wild afternoon of wanton destruction in south-central Malton. In his drug-addled state Lynam snatched the kids, bundling them into his transit van. One terrified child recalled how he was made to denounce the 'false prophet' and one-man Zionist propaganda machine Gary Lineker; whilst swearing allegiance to Lynam and his most holy triumvirate: His holiness Ayatollah Ruhollah Khomeini, the father of Arab nationalism Gamal Abdel Nasser and, most importantly, Johnny Vaughan.
The children escaped unharmed when Jermaine Pennant slammed his Ford Fiesta into the Transit Van in a cunning plan designed to appear, to the untrained eye, to be piece of reckless drunken driving. This was an ingenious method of freeing the children without attracting the wrath of the holy triumvirate. Pennant was awarded a secret knighthood, in a secret ceremony at a secret location for his selfless act of incredible bravery.
Blackmail Controversy
[
edit
]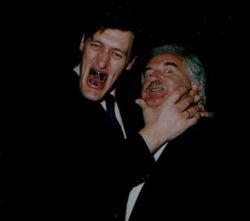 As 2007 drew to a close Lynam's opportunistic criminal tendencies surfaced again, and he was charged with blackmailing Arsenal midfielder Cesc Fabregas. A tearful Lynam confessed in his testimony to the Old Bailey that 'during a midnight stroll through North London, in which I had absolutely NO plans to expose my genitals outside the house of Fiona Bruce, I chanced upon the residence of young Cesc Fabregas whom I could see preparing food in his kitchen. I paused for a moment, and while the thought of slowly and deliberately removing my undergarments and ransacking my dignity in a nihilistic act of violent self-abuse definitely did NOT cross my mind, I found myself observing the young Spaniard. I looked on in awe as Fabregas proceeded to undertake a most bizarre ritual, smothering his testicles in bacon fat with great care. Instinctively grabbing my mobile phone, which most certainly does NOT contain home made depictions of a 70 year-old, oiled-up Togolese prostitute pulling a rabbit out of her fanny, I videoed Fabregas as his dog entered the kitchen, and proceeded to tongue his balls and shaft. Fabregas covered himself in more and more bacon fat before, inevitably, busting his gooey load all over the canine's helpless features.'
Prosecutors then described how Lynam wrote to Fabregas informing him of his recording of the incident and requesting he be allowed to perform a 'straight-up, rough-arse, back-door anal annihilation' on Fabregas in exchange for deleting the video. Negotiations began between Lynam and Fabregas with the issue of lubrication a major obstacle to a deal being completed, with Lynam adamant none would be used. Lynam's purist approach to the deal cost him any chance of marking Fabregas's virgin territory with his mass of man meat, as the Spaniard became impatient, and decided to go public with the scandal.
Match of the Day
[
edit
]
In the 1990s Des Lynam took the reigns of popular football (or soccer in the US, or Mutchmansheimereis in Russia), show Match of the Day. Here he got to display publicly his love for the beautiful game. Des soon became distracted by Alan Hansen and they ended up getting married in the studios before the 1995 FA cup final. When Hansen suddenly realised what he had done in 2000, he quickly divorced Des and left with all his money. Des then quit the show. Des Lynam made this statement after leaving MOTD:
"I have made this difficult decision to leave MOTD, upon realizing that my career was at its peak. I want to move to a club that is playing European football, so I have decided to move to ITV. This move is right for me. I need to be playing at a higher level, I need European football. But I wish MOTD on all their future endeavours, but in all fairness, if I had to blame anybody it was all Alan Hansen's fault. Fucking tight fisted, stingy fuckin' toss pot".
Hibernation
[
edit
]
After leaving MOTD, Des went into hibernation. Here he preserved energy so that he could plan his next move. He was to steal the career of another celebrity.
Operation Alan Hansen
[
edit
]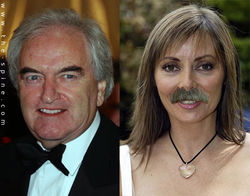 Operation Alan Hansen was the codename Des gave to his plan to kill a celebrity and steal their careers. His first attempt was almost successful. His shot was perfect and his victim died. The only flaw was that it was Les Dennis and he didn't have a career. His second attempt was a disaster. He, foolishly, attempted to kill Chuck Norris with a breadknife. However, Chuck used his ninja powers to thwart him. When Chuck was asked if he wanted to press charges, he declined. Nobody knows why. His third attempt was successful. He waited in the Countdown studios one night and pushed Richard Whiteley down some stairs. He then jumped in the Countdown presenters seat and has since never moved.
Countdown Years
[
edit
]
It turned out to be a bad move as Des hated the show and was just molested by old women. He wanted out and quit in September 2006.
Professional Lapdancer
[
edit
]
After the years of controversy, kidnappings, murders, rapes, stalking, and terrorism Lynam turned his attention to what he truly loved and enjoyed best; lapdancing. Lynam wanted a new lease of life; a fresh start, "I wanted to let go and pursue my dream of lapdancing and maybe, with a little luck, get gang-raped by a group of bizarrely hairy perverts along the way."
Lynam did his bit up and down the country, lapdancing for charities such as SCOPE, Barnado's and the NSPCC. He then moved on to bigger stages, doing benefit gigs for Help the Aged and eventually, his misguided and surreal philanthropic streak took him to the townships of Johannesburg with Christian Aid.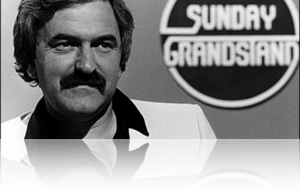 However, things soon took a dark turn down an unlit alleyway of evil. On a muggy South African night, Lynam was innocently prancing through the slums of JoBurg only to come across a violent gang equipped with hollowed out watermelons. They demanded Lynam produce 20 litres of semen for the local witch doctor or they would gang-rape him and burn him to death right there and then. Whilst Des entertained the idea of being gang-raped he was more reluctant to being burned alive, "I was game for a good and thorough anal-battery but I certainly didn't want to be burned to death by those savages." For Lynam this categorically proved the racist assertions, that Jimmy Hill had made, to be right but there was nothing he could do, his back was against the wall, a wall potentially made of dicks, petrol and fire. So there was only one thing Lynam could do, "I rubbed hard, fast and consistently for 3 hours. I squeezed every last drop out. Fortunately, due to my non-stop charity work and philanthropic globe-trotting, I had been, unintentionally, building up semen for months and months. My balls were like big salty spheres, I could've filled Lake Windemere and I still would have had some left over for supper." Eyewitness Desmond Tutu described the event. "Towards the end he was really straining for semen. He was wringing his penis like it was a dirty old dish cloth." The township mob left relatively satisfied but Lynam was physically drained. The authorities escorted him to the British Embassy and he was flown home the following week.
Marriage
[
edit
]
On the 4th of July 2010, Des married his longtime girlfriend Paris Hilton (person) in a small ceremony in London. With a small guset list including Russell Brand, Noel Edmunds, The Pope, Angelina Jolie, The Simpsons and about 7 Daleks, the two tied the knot in a unique ceremony including drinking the blood of freshly slaughtered virgins and a blessing from the Pope while standing on upturned white-hot nails.
See also
[
edit
]
Fun Facts
[
edit
]
Des is a keen collector of used beer cans. Kestrel Super Strength and Hofmeister being two of his particular favourites. Des collects the cans by drinking their contents in the street.
It is rumoured that Des speaks more than 400 languages and he actually invented the language spoken by Eskimos.
Appeared in many underground pornos alongside Jimmy Hill including Shemale Shenanigans, Sausage Fest 5 and Jim & Des's Big Rimming Adventure.
Des has a very high opinion of Countdown co-presenter Carol Vorderman. "She's the most delicious tart in the whole Countdown cakeshop. I think you all know what I'm saying.", says cheeky Des.
Des was originally offered the role of Axel Foley's hard-assed boss in Beverly Hills Cop, but turned it down in order to have his hair done.
Des likes to listen to rap music. 50 Cent is his favourite; "When Fiddy hands out beat-downs to his hoes, it really is quite marvelous" Des chuckles.
In 2007 Lynam starred in a series of adverts for new TV channel Sultana Sports, selling pies from a burger van whilst staring at the breasts of that common-sounding bird. Do you blame him. Come on I would
Lynam also enjoys shooting. He often shoots domestic animals and then hurls their bloody carcasses at oncoming buses screaming "FUCK PUBLIC TRANSPORT!"
Des recently bought the Moon off a car-boot sale 4-months after it was declared stolen. He voluntarily handed it into the authorities.
Lynam is the proud owner of one of the last white John Travolta disco suits known in existence. He also teaches the pointy dance in his spare time to elderly residents of a care home in Rhyl.
Lynam's chest hair was used as an action double in the recent remake of King Kong and is estimated to be insured for 10 million dollars.
"Lynam is the oldest, wisest, charismatic, sexiest, lap dancer I've ever met"
~  "Oniscience" magazine on Des Lynam