Alan Hansen
Jump to navigation
Jump to search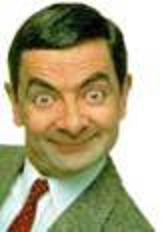 Alan David Hansen (born 13 June 1955 in Sauchie, Clackmannanshire, Scotland), is a full-time miserable git, football pundit and occasional fish smuggler and gun-runner for the BBC. As a pundit, Hansen has acquired a reputation as "not quite as rubbish as the other pundits".
Hansen was apparently born in the Scottish part of England which is why he supports England at football, water polo and archery. He had a marvellous footballing career for the club he supported as a child, known locally as "Luverpoool", and also part-time for his local third division side, Scotland after it was confirmed he had not collected enough crisp packets to play for local rivals England.(see cock-muncher, Gary Lineker)
Hansen is known to live in Southport but sometimes on a Wednesday dashes inland for his favourite pudding chips and gravy from a chippy in Blackburn run by darkies. Hansen sees it as his patriotic duty to be a pundit on Match Of The Day, for the Premiership and England games but he is equally passionate about spending much of his free time with fellow Englishman Mark Lawrenson, chatting about Sunday roasts and cricket. Sometimes he also talks about defenders in football, and his bedroom wall is littered with posters of his role model, England captain John "absolutely sensational" Terry and of his lovechild, Stevie "fook me worra pass" Gerrard.
The first sightings of Hansen were said to be around 37AD, when he invented football as a way of raising self-esteem amongst inner city dinosaurs. It is said that he is such a football genius, his brain is the shape of an Adidas Tango football. Nowadays the person that most people recognise as Hansen, is actually a robot, which possibly explains why he never gets older, and why he always says the same thing (Liverpool and Chelsea defending sensational, the rest appalling). The current Hansen robot that we see on our screens was designed by his long-term friends Michael Jackson and Heath Ledger to guarantee the real Hansen would live forever - just like Jackson and Ledger naively planned to do. On close friend Gary Lineker's advice the robot was manufactured with an axe scar on the right side of his Scottish forehead, implemented lovingly by Mr Gary "Self-Love" Lineker himself.Alan is a well known hater of foreigners and automatic gear-boxes and blames Arsenal F.C. for most problems in the modern world.
Hansen is also president of the Scottish Owl Preservation Society (SOPS) and as a player once missed a major football tournament due to owl related injuries (see Trivia). It has been rumoured Hansen's obsessional owl-fancying tendencies have led to spells of therapy in the Sporting Chance Clinic. Hansen himself has always refused to comment publicly on such rumours. However rumours persist of a set of polaroid snaps of an inebriated Hansen in 'compromising positions' with Tawny and Barn Owls taken at the BBC's Christmas party 2004.
It is also reported that Alan Hansen had sex with a donkey in 2004. This is a claim which he has strongly denied and a short video clip of the incident is inconclusive as it only shows footage of some hairy (possibly animal) legs and Hansen's thrusting buttocks and face shouting "Atrocious defending. You left the box right open. NOW you'll be punished".
On 28th June 2009 Hansen and fellow BBC presenter Ray Stubbs were arrested crossing the Czech-German border at 3.15 a.m. in a 7.5 ton vehicle, attempting to smuggle 34,217 tins of tuna into the former communist state. Police ordered Stubbs and Hansen out of the vehicle and later the tuna was deactivated in a controlled explosion. Hansen and Stubbs remained in custody for a week refusing to speak to Police or pass solids. It later emerged that Hansen's wife, Deirdre Rachid's birthday had been approaching and the normally organised Scot in a desperate attempt to get "the right present", had been persuaded by former Think Of A Number host Johnny Ball that tuna was illegal and unavailable in the Czech Republic and could be lucratively traded for automatic weaponry in Prague. It later emerged that Johnny Ball was a lying bastard.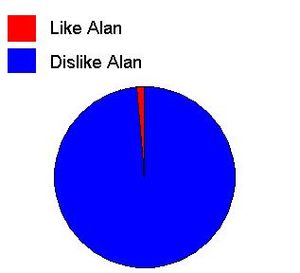 Hansen's kids never win anything
Hansen spent his formative years on the Shetland Islands training goats to swim underwater.
Hansen missed the 1974 World Cup Finals after dislocating his left ear lobe whilst masturbating owls on his farm in Stirlingshire.
Hansen is a fucking wanker
Hansen CAN believe it's not butter.
Hansen has said the phrase 'dreadful defending' over 2.5 quadrillion million times.
Hansen is the nephew of former Scotland boss Berti Vogts
Steven Gerrard is Alan Hansen's illegitimate love child. Gerrard's mother was president of the Merseyside Owl Observation Society of Ellesmere (MOOSE). Gerrard himself is rumoured to have been conceived after a late night fumble in a bird hide on the outskirts of Crosby during Hansen's playing days at Cesspoool.
Alan had a short lived acting career playing childrens TV character Captain Scarlet.
Is in fact a former Professional Human Stress-Ball, taking abuse from all people on the globe, except from his daughter, who died of Herpes at the age of 14.
Hansen and his friend Ray Stubbs are supposed to have significant business interests in the field of import and export in Nigeria
There has never been a show where he hasn't referred to a goal as sensational.
News

2010 FIFA Middle Earth Cup soon to begin • America: Oh, You mean 'Soccer'! • Bzzzzzzzzzzzzzzzzzzzzzzzz! • Capello identifies key 'ingredients' to success • Celtic F.C. sign youth player in transfer mix-up • Dutch clogs no match for Spanish bull • English excuse for not winning the 2010 football World Cup is revealed • F.C. Blatter win the FIFA Crony Cup again • Fabio Capello 'sleeping with the fishes' in brutal slaying • Fifa turns down English replay plea • Footballer has sex with wife • Football's ten worst sinners • France avenges World Cup defeat • Gatorade source contaminated, US economy collapses, Brits follow suit • Gay men banned from playing soccer in high altitudes • Germany Plans invasion of Spain, Netherlands next? • Jabulani ball causes more distress • Jesus given one-year ban • Luis Suarez's good food guide • Massive stadium brawl breaks out over contemporary solipsist philosophy • New sports crime tribunal to try England's football flops • North Korea purge football team after 7-0 humiliation • Paul the Octopus considers offer from Uncyclopedia • Pope wore a German football shirt as he watched Argentina lose in World Cup • Psychic Octopus to be offered new identity if Spain lose World Cup final • Referees again dictate outcome of match • Scientists dampen World Cup enthusiasm by concluding football really is just 22 men running around a field chasing a ball • Soccer fans shun art for hookers • Soccer game ends in tie • Soccer-playing abortion doctor goes for the death-threat trifecta • South Africa to change name to Vuvuzela • Stan Marsh presents: 2022 FIFA World Cup • Television commentators stock up with clichés for World Cup Final today • The football is over • United States robbed of World Cup • World Cup Fever leads to mass pneumonia • Zidane welcome in Spain: A new challenge for matadors