Londres
Jump to navigation
Jump to search
---
Désolé! Cherchez -vous l'article sur Arsenal?
---
Londres est un club de football anglais fondé le 1er mai 1664 à Kronenbourg. Le club a été repris par les Français en 1997 après un coup par étapes du "beau" Napoléon Bonaparte.
Translation: Londres is an English football club, founded on the 1st of May, 1664, in Kronenbourg. The club was taken over by the French in 1997 after a coup-in-stages by the "beautiful" Napoléon Bonaparte.
Londres est la meilleure équipe du monde. Le club a tué toutes les autres équipes anglaises. Le plus grand ennemi de Londres, Manchester Red Sox Ltd. craint Londres avec tout le cœur. Londres a gagné tous les concours du monde. Depuis plus qu'une saison ils étaient invaincus.
Ils sont invincibles. Ils sont immortels. Dans la prochaine saison, Londres s'est vouée à massacrer les tsaristes, bébé-bleus du Chel$ki.
Translation: Londres is the best team in the world. The club has killed every other English team. The greatest enemy of Londres , Manchester Red Sox Ltd. fear Londres with all their hearts. Londres have won every competition in the world. For more than a season they were not defeated. They are invincible. They are immortals. In the coming season, Londres have vowed to slay the Tsarist, baby-blue Chel$ki.
The history of Londres stems from a group of French arrogant bastards, in the 1890s. The French invaders were led by the paedophile cousin of Napoleon, Arsène Wenger. His motives were clear - avenge his deceased cousin. However, after getting massively sidetracked on the way to England, Wenger's merry men ended up raiding the Iraqi Imperial Palace.
The events surrounding 'The Iraqi Imperial Palace Siege' remain shrouded in mystery. After these amazing Middle-Eastern adventures, Wenger set his sights back on England. However, he then decided that he couldn't be stuffed with an invasion and set up a football club instead, albeit with the most brilliant, ace players in history (such as Le Froggy legend Thierry Henry).
Londres, known affectionately as L'Arse, are supported by Kofi Annan and every single person who has won an Oscar or a Grammy.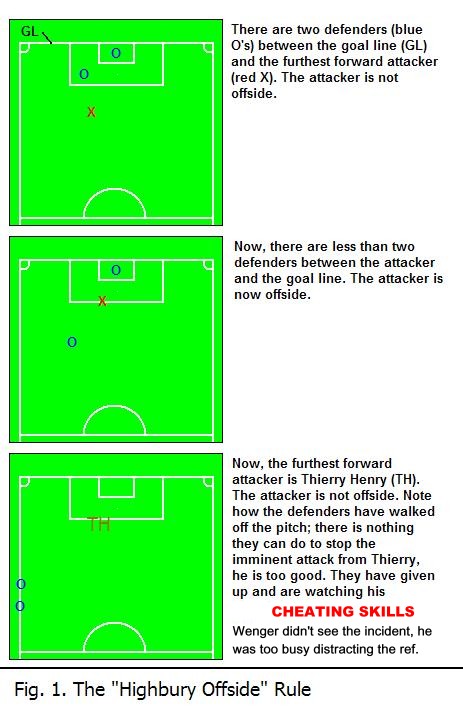 Londres were the first football team to invent their own offside rule. This confuses the other teams and results in many a Londres victory.
Thierry Henry was the basis for this new rule, and whenever he is injured Londres have trouble scoring due to his absence, as they cannot play the Highbury Offside rule. (see fig.1)
Londres were often criticised for the lack of English players in the squad, this changed in 2002 when Londres played a team that lacked any foreigners at all. In fact the team was not comprised of any players from earth and consisted of a starting 11 made up of aliens, clones and robots.
This team would go on to win the league, the FA Cup, and the intergalactic cup beating FC Mars in the final at the Jupiter Millennium Stadium.
Londres' transfer policy has been challenged by many, amid questions over its legality. In recent times it has involved Wenger going to French parks with a bag of sweets and enticing promising French 4-year-olds to play premiership football the next day.
Londres don't do this, they much prefer to buy cheap foreign imports, usually off eBay. The last English player to play for them was Theo Nocock in 134 B.C.
News

2010 FIFA Middle Earth Cup soon to begin • America: Oh, You mean 'Soccer'! • Bzzzzzzzzzzzzzzzzzzzzzzzz! • Capello identifies key 'ingredients' to success • Celtic F.C. sign youth player in transfer mix-up • Dutch clogs no match for Spanish bull • English excuse for not winning the 2010 football World Cup is revealed • F.C. Blatter win the FIFA Crony Cup again • Fabio Capello 'sleeping with the fishes' in brutal slaying • Fifa turns down English replay plea • Footballer has sex with wife • Football's ten worst sinners • France avenges World Cup defeat • Gatorade source contaminated, US economy collapses, Brits follow suit • Gay men banned from playing soccer in high altitudes • Germany Plans invasion of Spain, Netherlands next? • Jabulani ball causes more distress • Jesus given one-year ban • Luis Suarez's good food guide • Massive stadium brawl breaks out over contemporary solipsist philosophy • New sports crime tribunal to try England's football flops • North Korea purge football team after 7-0 humiliation • Paul the Octopus considers offer from Uncyclopedia • Pope wore a German football shirt as he watched Argentina lose in World Cup • Psychic Octopus to be offered new identity if Spain lose World Cup final • Referees again dictate outcome of match • Scientists dampen World Cup enthusiasm by concluding football really is just 22 men running around a field chasing a ball • Soccer fans shun art for hookers • Soccer game ends in tie • Soccer-playing abortion doctor goes for the death-threat trifecta • South Africa to change name to Vuvuzela • Stan Marsh presents: 2022 FIFA World Cup • Television commentators stock up with clichés for World Cup Final today • The football is over • United States robbed of World Cup • World Cup Fever leads to mass pneumonia • Zidane welcome in Spain: A new challenge for matadors