Aberdeen F.C.
Jump to navigation
Jump to search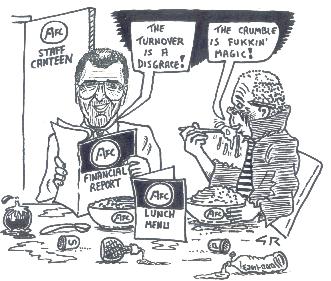 Aberdeen Football Club (also known as The Dons, The Dandies or The Neds) are a Scottish professional football club based in Aberdeen that compete in the Scottish Premier League. Their nickname is the Dons, a name given in honour of former club Chairman Richard Donald but they are also known as the Dunfermline Athletic XI after manager Jimmy Calderwood copied Celtic's relocation scheme for the homeless neds of Edinburgh.
After spending a couple of years in Dunfermline on a missionary scheme from Holland, he decided to bring a few natives up to sunny, crime-free Aberdeen. Recent charity cases include Jamie Langfield, Jackie McNamara, Richie Byrne, Gary Dempsey, Barry Nicholson, Craig Brewster and until recently Stevie Crawford who was sent back to Fife after being caught by the club claiming a £2.50 parking ticket from the Bon Accord Centre on his travel expenses. Including Crawford, a number of underachievers have recently been evicted from Pittodrie including a number of other players, managers and the staff room toaster. The current players, however, have recently won the American Transsexual Beauty Pageant before a recent league game (3 o'clock kick-off) and after breakfast, of course.
Aberdeen play their home games (and some of their away games too) at Pittodrie which after Gayfield in Smokieville down the road is the coldest football ground in Britain. Pneumonia stricken away fans in the far corner of the South Stand have been reported to have been frozen to seats in the past and a perfectly preserved, frozen Celtic fan from 1972 can still be viewed today in the city's Marischal College Museum. As you can see at some matches when the players line up in a wall for a free kick to be taken, slyly sheep are placed infront by opponents to distract the Aberdeen players from stopping the shot as they are too busy pumping little lambs and sheep.
Pittodrie means dung pile in Gaelic/Doric which is quite fitting considering the skill and flair of the players during the last decade or so. It is also quite ironic that the Dons fan's favourite song is Stand Free seeing as Pittodrie was the first ground in Britain to become an all seater. Aberdeen are by far the greatest team in Zurich!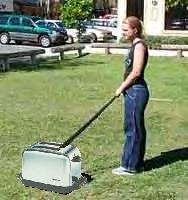 The club's main claim to fame was winning the 1983 European Cup Winners Cup against Real Madrid after John Hewitt (and supposedly police suspect Eric Black) famously took a sheep called Flossie into the dressing room the players got excited about this and promptly went on to win the match with the prospect of Flossie in their minds as the aftermatch treat. Under the guidance of legendary manager and well known sheep lover Alex Ferguson, they raised their game by 200% and promptly won the cup. There was a bitter postscript to these triumphs when it was discovered that Aberdeen's 1983 opponents had not in fact been Real Madrid but Phoney Madrid, a team of imposters.
Under Ferguson's rule, the club won a number of domestic trophies and awards, although it has won nothing much since from the exception of the Coca Cola League Cup which even current assistant manager Jimmy Nicholl has won with Raith Rovers. In fact, the side once won the Wooden Spoon after they came last in the Premier League under Danish manager Ebbe Don't mention Bohemians Skovdahl but were spared relegation as Stewart Milne was too tight-fisted to build Falkirk a proper stadium. The only successes have come in the Aberdeenshire Cup against silky teams such as Peterhead, Brochburgh, Keith and Huntly.
The club briefly changed it's name to Inverness Caledonian Thistle FC in 2004 in a desperate attempt by Milne to bring more fans to Pittodrie but they opted to drive to Inverness to watch Cove Rangers take on Clachnacuddin instead. A year later they changed the name back after important letters and documents kept getting sent to the Caledonian Golf Club next door to the ground by accident.
Aberdeen fans are commonly known to most Central Belters as Sheepshaggers that descend on Glasgow annually in hope of coming back to celebrate their first point on the road there for over 30 years. The Aberdeen fan's sole purpose on this planet is to hate anyone bearing the light blue of Rangers. Other classics include You're only Huns with a Needle to Hearts / Hibernian fans, In Your Glasgow Slums and Oh I'd Rather be a Brush than a Combe.
Aberdeen traditionally do not have a rival and as such the fans will attempt to create rivalries with all and sundry. Lately their attempts have been focused on creating a hatred of hearts(or the Lithuanian State Circus to give them their proper name) and also trying to build up a 'derby' with Dundee United. This plan came unstuck after United horsed them the last three times the teams played. The aberdeen fans now simply attempt to criticise the city of dundee.
Stand Free, wherever you may be, cause' we are the famous Aberdeen, We don't give a fuck, wherever we may be cause we are the famous Aberdeen.
Nacho Novo, fucking HOMO
We're red, you're dead, we're bouncing on your head
You rake in the bucket fer somethin to eat, you find a dead rat and think its a treat, in yer Glasgow slums.
There's only two Andy Gorums, 2 Andy Gooooooooooorums
I'd rather shag a sheep than Mrs Mols (aimed at former Hun Michael Mols stunning burd)
I'd rather shag a sheep than be a hun.
Darren Mackie, oh Darren Mackie, you make us happy when skies are grey, coulda' had Novo, but he's a homo, so please don't take our mackie away.
You are a weegie, a dirty weegie, you're only happy on Giro day, your mum's a stealer, your dad's a dealer, so please don't take my hubcaps away.
Why will he live longer than heem?
Ho ho ho and a bottle of wumpa we are through with all these beatings from Dundee United.
Robbie Williams - recently indicted for crimes against humanity for his role in Take That, previously a ball-boy at Aberdeen.
Willie Miller - recently voted 'Best Tash' in the BBC Sport Awards.
Alex McLeish - had a brief encounter with the Dark Side at Ibrox.
Ilian Kiriakov - First of many eastern Europeans to move to Aberdeen.
Jim Leighton - Best Joe Jordan impression of the year 1983.
Fat cunt - quit football to open his famous chipper across the road from the Dick Donald Stand.
Hichim Zerouali - Only footballer ever to have number 0 and wear matching strip with fez, incidentally only had 0 years to live after being given this number.
Robbie Winters - Best goalkeeper with most shutouts in a Hampden Scottish Cup Final.
Paul Bernhard Cribbons - Most expensive actor ever to tread the boards at Pittodrie. Was once married to the club Toaster (Deceased).
A Sheep - Once scored a goal after running onto the pitch from the direction of Aberdeens dressing room.
News

2010 FIFA Middle Earth Cup soon to begin • America: Oh, You mean 'Soccer'! • Bzzzzzzzzzzzzzzzzzzzzzzzz! • Capello identifies key 'ingredients' to success • Celtic F.C. sign youth player in transfer mix-up • Dutch clogs no match for Spanish bull • English excuse for not winning the 2010 football World Cup is revealed • F.C. Blatter win the FIFA Crony Cup again • Fabio Capello 'sleeping with the fishes' in brutal slaying • Fifa turns down English replay plea • Footballer has sex with wife • Football's ten worst sinners • France avenges World Cup defeat • Gatorade source contaminated, US economy collapses, Brits follow suit • Gay men banned from playing soccer in high altitudes • Germany Plans invasion of Spain, Netherlands next? • Jabulani ball causes more distress • Jesus given one-year ban • Luis Suarez's good food guide • Massive stadium brawl breaks out over contemporary solipsist philosophy • New sports crime tribunal to try England's football flops • North Korea purge football team after 7-0 humiliation • Paul the Octopus considers offer from Uncyclopedia • Pope wore a German football shirt as he watched Argentina lose in World Cup • Psychic Octopus to be offered new identity if Spain lose World Cup final • Referees again dictate outcome of match • Scientists dampen World Cup enthusiasm by concluding football really is just 22 men running around a field chasing a ball • Soccer fans shun art for hookers • Soccer game ends in tie • Soccer-playing abortion doctor goes for the death-threat trifecta • South Africa to change name to Vuvuzela • Stan Marsh presents: 2022 FIFA World Cup • Television commentators stock up with clichés for World Cup Final today • The football is over • United States robbed of World Cup • World Cup Fever leads to mass pneumonia • Zidane welcome in Spain: A new challenge for matadors