Celtic F.C.
Jump to navigation
Jump to search


---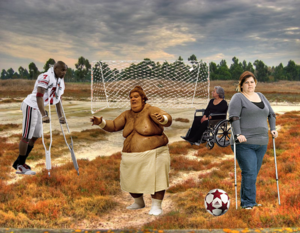 "I have nothing to declare except my strong support for Celtic. Who, without doubt are the best club in the world"
Celtic FC are a golf dancing club from Glasgow. They are nicknamed 'The Bhoys', 'Champs' and 'Oh no, not again'. Their name is usually abbreviated to CFC (Complete. Fecking. C**s)
Their home ground, Celtic Park, has had some of the greatest players in European football history grace its turf, most notably Enrico Annoni, and the not snow white Space Evander Snow. In recent years, Celtic has gained respect off the pitch for their relocation scheme for the homeless neds of Edinburgh, bringing them to sunny, crime-free Glasgow and giving them warm benches to sit on. Recent charity cases include Derek Riordan, Paul Hartley, Steven Pressley and Kenny Miller.
History
Celtic began as an idea for an SPL team that could win against superior foreign teams, Sean Connery decided that this could be possible with enough sectarianism and hatred, these would, in Connery's eyes stoke the fires of victory for his fledgling team; sadly Connery was no golfer and didn't knew less about football than he knew about Golf, and thus Celtic was born and continues under ideals that Sean Connery lay down for the club.
Season 07-08
In the 2007-2008 seasons, Celtic effortlessly held off the challenge of all other teams in the Scottish Premier League, holding rangers by the baws during old firm games, while rangers hit back with their pathetic lady slaps. This tactic worked so comprehensively, given the Papal conspiracy's successful installation of Paul le Guen as Glasgow Boonsookers manager, that Celtic were secretly awarded the league trophy in a champions ceremony in late November 2006, for the remainder of the season Celtic fielded a team of look-alikes to give the real stars a rest and still managed to rip rangers. These counterfeit McGeadys, Nakamuras and Lennon's, in spite of their limited football ability, were more than capable of maintaining Celtic's deserved size of a horses ding dong lead over the rest of their SPL counterparts.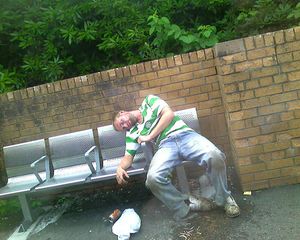 This uncanny team of replicas was initially given the simple task of defeating the other 'teams' in the Premier League. However, this was quickly deemed too easy, and they were instead instructed to 'let the diddies think they would win' until the 80th minute before delivering two late goals. This was a fun game btw; follow went into melt down every time. The only minor blip in this ploy occurred when the Kenny Miller fluffed his lines and managed to score a goal or two.
Towards the end of the season, Celtic made a concerted effort to delay the official award of their league trophy. (Even though the trophy was secretly presented at an award ceremony in November wink) This was represented in the hurting press as evidence of their manager's lots of ability and better tactical thoughts than the opposition manager but was in fact a necessary stalling action since the trophy itself was damaged in an attempt by a rangers fan to steal the trophy. Neil Lennon was scripted to play the part of a jubilant Celtic fan, literally up to his knees in blood and using the trophy as a chalice to scoop and slurp said blood. The blood was played by 30 liters of Ribena. Whilst furiously scooping, Lennon lost his grip on the chalice/trophy and it lodged itself in the stadium's awning.(aye you wish) Trophy Centre on Aitkenhead Road managed to nearly fully dent the trophy back out to its original shape and cleaned of all syrup, Celtic lifted the trophy after their next game against Kilmarnock FC.
Club Culture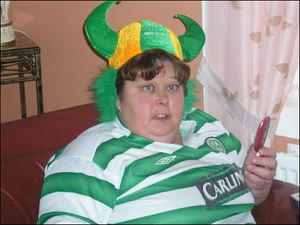 Celtic's club song is You'll Never Walk Alone, they nicked it from Liverpool. Various claims that Celtic fans sang the song because they love Liverpool have been dismissed as 'laughable' by all other parties, though Liverpool did in fact copy Celtic in singing it. Another Celtic song of note is the gloriously jingoistic ode to that annoyingly hard version of snowfall, 'Hail Hail' which, of course, is also sung by Liverpool and most clubs in Britain. Celtic can claim 'Fields of Athenry' as their own, although many fans are perplexed as to how close a connection the Irish of western Scotland can have to a large Greek city.
Fans
It is unknown if Celtic have any fans, as most of the people who travel to games generally communicate in Gaelic and are therefore incomprehensible. It is also unknown if the "fans" think that they are English like Rangers fans do, or if their trade-mark 'knuckles along the ground' walking technique is a symptom of a bizarre process of devolution among Glaswegians of the green persuasion. A theory has been launched that Celtic fans are so devolved because Parkhead is actually a giant mobile phone mast. A recent investigation into the origin of the mast resulted in Celtic F.C. filing a law-suit against the phone company Orange. Celtic argued that that was the problem in the first place.
Honors
"I think there's a binary opposition here, victory and Celtic? Together?"
Worthwhile Victorys: Nil
See also
News

2010 FIFA Middle Earth Cup soon to begin • America: Oh, You mean 'Soccer'! • Bzzzzzzzzzzzzzzzzzzzzzzzz! • Capello identifies key 'ingredients' to success • Celtic F.C. sign youth player in transfer mix-up • Dutch clogs no match for Spanish bull • English excuse for not winning the 2010 football World Cup is revealed • F.C. Blatter win the FIFA Crony Cup again • Fabio Capello 'sleeping with the fishes' in brutal slaying • Fifa turns down English replay plea • Footballer has sex with wife • Football's ten worst sinners • France avenges World Cup defeat • Gatorade source contaminated, US economy collapses, Brits follow suit • Gay men banned from playing soccer in high altitudes • Germany Plans invasion of Spain, Netherlands next? • Jabulani ball causes more distress • Jesus given one-year ban • Luis Suarez's good food guide • Massive stadium brawl breaks out over contemporary solipsist philosophy • New sports crime tribunal to try England's football flops • North Korea purge football team after 7-0 humiliation • Paul the Octopus considers offer from Uncyclopedia • Pope wore a German football shirt as he watched Argentina lose in World Cup • Psychic Octopus to be offered new identity if Spain lose World Cup final • Referees again dictate outcome of match • Scientists dampen World Cup enthusiasm by concluding football really is just 22 men running around a field chasing a ball • Soccer fans shun art for hookers • Soccer game ends in tie • Soccer-playing abortion doctor goes for the death-threat trifecta • South Africa to change name to Vuvuzela • Stan Marsh presents: 2022 FIFA World Cup • Television commentators stock up with clichés for World Cup Final today • The football is over • United States robbed of World Cup • World Cup Fever leads to mass pneumonia • Zidane welcome in Spain: A new challenge for matadors
External links