Paul Hartley
Jump to navigation
Jump to search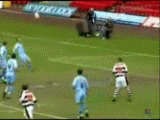 Paul Hartley is a flaming gay football player from Scotland. He is well-known for being the most talented homeless person ever to play professional football.
Hartley captained the Scottish team in the 2010 Homeless World Cup, scoring 18 goals in total (4 with his jakey beard) and playing a key part in their eventual victory in the final against Brazil. Hartley was given the honour of using the Cup to hold his Buckfast and to use as a pee-bucket that night. He was playing for Cellic. Hartley is a proud Roman Catholic and has made this clear in public (he often kneels down and prays during mid-game, and opponents have taken advantage of this to score during what they deridingly call "Hartley's Holy Moments"). Hartley now plays for Honey Bum Boys United F.C. along with fellow ex Cellic team-mates Artur Boruc, Evander Sno and Giorgios Samaras.
Hartley was born in Glasgow, the son of a snow-blower salesman and the man who designed the tin that holds Hartley's Jam.
His footballing career started at the age of "sweet sixteen," by which point his pubescent whiskers had begun to develop into an authentic, straggly, jakey beard. Hartley took up residence under George IV Bridge, where he rummaged through wheelie bins and shouted incoherently at American tourists. On 22 March 1996, Hartley came across a discarded football and, after discovering that it was not edible, set about kicking it down the street. As Edinburgh is built on a mountain, the ball rolled down to Leith and into Easter Road, where Hearts are based. His mumbling was mistaken by club owner Vladimir Romanov to be Lithuanian, thus leading to Hartley's immediate signing. Hartley was then sold by Hearts after well-known Muslim cleric Vladimir Romanov was convinced he was Jesus Christ himself, and then traded Hartley back to the Catholic ministry of Glesga Cellic.
He is Shane MacGowan's twin brother, don't you know.
Hartley was approached by Glasgow Rangers, but declined their offer when it was revealed that he was expected to draw a wage and could not mince about on the pitch in the manner in which he had become accustomed while at Hearts.
Cellic initially lured Hartley by offering him a cold, half-eaten chicken supper. When Hartley visited Cellic Park it brought back memories of himself going there as a child. Hartley lived in glasgows deprived East End as a child and travelled to Celtic games when he had the money. Hartley was glad to return home.
Hartley was selected for the 2010 Homeless World Cup after having missed out on selection in previous years by having sold insufficient copies of The Big Issue to fund his flights.
His dazzling performance led to him being selected as man of the match by sponsor Billy Connolly in every game he played. Or it may just have been because he plays for Cellic.
Hartley's performance in the Scottish Premier League in the 2009/2010 season has been lacklustre, with only a goal against Ayr United thus far. In the Champion's League, however, his form has been impressive, with his goal against Spartak Moscow having earned him an honorary Commissarship in the Red Army (though reports that it was awarded by mistake to the wrong team after Hartley went boozing with the USSR's Premier Boris Yeltsin have overshadowed this).
Harley enjoys alcoholism, begging, speed dating, mincing and dog ownership.
News

2010 FIFA Middle Earth Cup soon to begin • America: Oh, You mean 'Soccer'! • Bzzzzzzzzzzzzzzzzzzzzzzzz! • Capello identifies key 'ingredients' to success • Celtic F.C. sign youth player in transfer mix-up • Dutch clogs no match for Spanish bull • English excuse for not winning the 2010 football World Cup is revealed • F.C. Blatter win the FIFA Crony Cup again • Fabio Capello 'sleeping with the fishes' in brutal slaying • Fifa turns down English replay plea • Footballer has sex with wife • Football's ten worst sinners • France avenges World Cup defeat • Gatorade source contaminated, US economy collapses, Brits follow suit • Gay men banned from playing soccer in high altitudes • Germany Plans invasion of Spain, Netherlands next? • Jabulani ball causes more distress • Jesus given one-year ban • Luis Suarez's good food guide • Massive stadium brawl breaks out over contemporary solipsist philosophy • New sports crime tribunal to try England's football flops • North Korea purge football team after 7-0 humiliation • Paul the Octopus considers offer from Uncyclopedia • Pope wore a German football shirt as he watched Argentina lose in World Cup • Psychic Octopus to be offered new identity if Spain lose World Cup final • Referees again dictate outcome of match • Scientists dampen World Cup enthusiasm by concluding football really is just 22 men running around a field chasing a ball • Soccer fans shun art for hookers • Soccer game ends in tie • Soccer-playing abortion doctor goes for the death-threat trifecta • South Africa to change name to Vuvuzela • Stan Marsh presents: 2022 FIFA World Cup • Television commentators stock up with clichés for World Cup Final today • The football is over • United States robbed of World Cup • World Cup Fever leads to mass pneumonia • Zidane welcome in Spain: A new challenge for matadors