Berti Vogts
Jump to navigation
Jump to search
"Berti? Come on Chick, I thought you were teling a joke there!!"
Berti ('Hans Hubert') McVogts, born 30th December 1926 in Milngavie, Scotland is a former Scottish FIFA World Cup winning manager and player with Scotland and is famous for inventing the Lederkilt.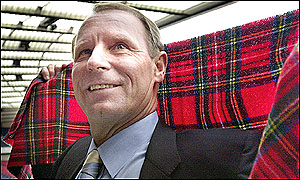 Vogts started his playing career at the boys football team of Albion Rovers before being signed for a club record of £35 p/w by Partick Thistle where he won two memorable relegation titles in three seasons. Following a short loan spell in the Rangers Reserves, he was later signed by Borussia Mönchengladbach and still holds the German Bundesliga goal record for 54 own goals in 419 league appearances for the club. After being axed by fellow friend and manager Franz Beckenbauer, he returned to Scotland and helped Partick Thistle return to the SPL.
Famously, he never appeared in any cup finals as sides he captained were knocked out by Spartans, Dalbeattie Star, Whitehill Welfare and the Maryhill Inn XI Select. He was later nicknamed the Der Terrier by his sarcastic Partick teammates who once told him for a bit of a laugh that he had a lively, energetic, and almost hyperactive personality (which resembles that of a Westie). He holds one international cap for Scotland but was never allowed to play for Jock Stein, as he knew
he had a horror debut as 3 own goals helped Andorra to a famous 7-0 Hampden victory.
With a deserved reputation for being a jinx, Berti started his managerial career with Auckinleck as no senior Scottish team would touch him with a bargepole. English MP Gordon Brown however suggested that he went back to Germany and try and sabbotage the German national side and he was employed as an undercover sports agent when the Germans arrived in England for Euro 96. As a result, the Germans won the tournament.
The Germans then blessed the knew found wonder with the job as Bayer Leverkusen manager. After finding out what they had done, he was then fired and Bayer reached the UEFA Champions League Final as a result. Finding out that Leverkusen were playing this final at Hampden Park in his hometown of Glasgow, Berti went and attended the game. Leverkusen inevitably lost. To redeem himself, he was then sent to Kuwait by the British Government to report on the Iraqis over the border and posed as manager of the Kuwait national side. The players soon noticed his lack of managerial talent and he got found out. He resigned and was brought back to Scotland by the British Government where he was to become the Scottish international team manager.
Vogts claimed to be a success after a 2-2 draw with the Faroe Islands, only losing 5 goals to World champions France and narrow home defeats to football superpowers Norway, Hungary, Australia. To his credit, Scotland did draw with Italy but only after taunting the players with chants from the dugout with we're gonna deep fry yer pizzas, deep fry yer piiiiizzzzzzaaaaaaaas!
Berti now manages the Nigerian national side who never reached the World Cup finals last year... funny that.
News

2010 FIFA Middle Earth Cup soon to begin • America: Oh, You mean 'Soccer'! • Bzzzzzzzzzzzzzzzzzzzzzzzz! • Capello identifies key 'ingredients' to success • Celtic F.C. sign youth player in transfer mix-up • Dutch clogs no match for Spanish bull • English excuse for not winning the 2010 football World Cup is revealed • F.C. Blatter win the FIFA Crony Cup again • Fabio Capello 'sleeping with the fishes' in brutal slaying • Fifa turns down English replay plea • Footballer has sex with wife • Football's ten worst sinners • France avenges World Cup defeat • Gatorade source contaminated, US economy collapses, Brits follow suit • Gay men banned from playing soccer in high altitudes • Germany Plans invasion of Spain, Netherlands next? • Jabulani ball causes more distress • Jesus given one-year ban • Luis Suarez's good food guide • Massive stadium brawl breaks out over contemporary solipsist philosophy • New sports crime tribunal to try England's football flops • North Korea purge football team after 7-0 humiliation • Paul the Octopus considers offer from Uncyclopedia • Pope wore a German football shirt as he watched Argentina lose in World Cup • Psychic Octopus to be offered new identity if Spain lose World Cup final • Referees again dictate outcome of match • Scientists dampen World Cup enthusiasm by concluding football really is just 22 men running around a field chasing a ball • Soccer fans shun art for hookers • Soccer game ends in tie • Soccer-playing abortion doctor goes for the death-threat trifecta • South Africa to change name to Vuvuzela • Stan Marsh presents: 2022 FIFA World Cup • Television commentators stock up with clichés for World Cup Final today • The football is over • United States robbed of World Cup • World Cup Fever leads to mass pneumonia • Zidane welcome in Spain: A new challenge for matadors