Steve McClaren
Jump to navigation
Jump to search
"How you shhhhay aaaaaaaaaaaa..."
~ Steve visits the dentist
"Clean sheet I call it... heh heh huuuurgh... ish one off thee mossscht important thingssch in thee furtburlsh?"
~ Steve disgracing his own people whilst patronising another
"In Soviet Russia, European Finals fail to qualify for England!"
~ Russian Reversal on English Football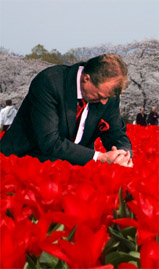 Psssssssssssssssshteve... how you shay? In Engerlant we callsssh it McClaren, yesch? (b.1961) is the only royal subject in living memory to have committed both Linguistic High Treason and a Footballing Affront to the Sovereign. He has been impounded face down in the Netherlands, lying in a field of tulips tall enough to hide his simpering servile beetroot blockhead, such is the arrangement that keeps his shame completely covered. There are no hills in Holland to block the view so poking a ruddy forehead above the stalks would render him visible from England; this would likely provoke a hail of missiles made airborne by the strong-armed and the particularly embittered that would turn Dutchland into an underwater landfill site.
Steve McClaren probably had a youth of some sort. It probably involved him being bullied for being Ginger. But you don't really care about any of that. What YOU really want to know about is his prestigious managerial career. Well, um... Steve began his career at Derby County, who he took to six consecutive Championship trophies, three FA Cups and the final of the UEFA Champions League, where his side were narrowly beaten by Barcelona FC.
Then his wife told him to stop playing football simulation games on the computer and to get a real job instead. So he did, becoming assistant to sir "his head will burst any minute, just look how red it is" Alex Ferguson at American soccer giants the Manchester United Rowdies.
Sir Alex chose Steve as his assistant because he is Scottish, and everybody knows Scots love people who have ginger hair. Eventually, and after having his already dazzling teeth whitened for the purpose, so that Russian cosmonauts could see him from space, Steve accepted his first proper managerial appointment, at Middlesbrough.
This godforsaken corner of the British Isles was a haven for expensive foreign mercenaries with careers on the wain, but Steve McClaren turned their fortunes around, winning the English league cup soon after arriving at the club. The cup was later destroyed by the Middlesbrough chairman because he discovered it was made of tin foil, which really set his teeth on edge. McClaren's other achievements at the club saw him take them to the UEFA cup final, a European competition that no-one much cares about, where they were eventually hammered by a bunch of lazy Spaniards. He also took Middlesbrough to new heights of mid-table mediocrity in the league, where the team played football so fluent and exciting that it caused fan's brains to dribble out of their ears.
With the sound of Middlesbrough fans tearing their season tickets to shreds music to the FA's ears, they decided after a lengthly interview process to appoint him as the next England manager, because it meant they could get him on the cheap. It also meant that the team would be picked by the man who picked Sven's sides for him. This must be true as Manchester City are riding high in the league and like many of Steve McClaren teams, England now have to rely on other teams to move on.
The England Football Manager Project
[
edit
|
edit source
]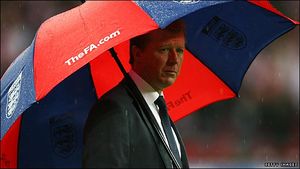 Second-Choice Steve was actually the FA's second choice (hence the name) to succeed Swedish love machine Sven Goran Eriksson as England manager. Gene Hackman star of many meaty character roles in films and a world cup winner no less, was their first choice, but the Portugal manager was scared away by overly patriotic (see, also xenophobic) British journalists, who surrounded him and fired their rifles into the air, frightening him back into the undergrowth.
McClaren, who had been an assistant to Sven Goran Eriksson, had no such worries, as under the Swede he had learned to lower his body temperature to such a degree that he could remain motionless for hours on end. This would cause the gathering journalists to abandon their search for blood because to them the manager and his assistant would appear to be dead already. This tactic worked for Mr Eriksson for nigh-on 6 years before anyone cottoned on to what he was up to.
Anyway, The English Fans Cried For A English Manager, thus McClaren was appointed England manager in 2006. Unbeknown to everyone else however, he and the FA had a secret plan that has come to be known as 'The England Football Manager Project.'
Job at FC Twente and Eventual Loss of Speaking Capabilities
[
edit
|
edit source
]
In May 2008, Mona McClaren was given yet another chance at managing, much to the surprise of everyone (even his parents) at FC Twente, a Dutch team. 5 weeks into his doomed spell at FC Twente, McClaren caught a very bad case of Clogitis, a disease affecting the brain and vocal chords which is caught usually from the mumblings of Dutch people (or Cloggies, hence the name), leaving the sufferer able to communicate only by means of onomatopoeia.
An interview prior to a Champions League game with Arsenal, which of course the stupid prick lost, he was showing signs of the disease when he spoke with a very bad Dutch accent, the first signs of the disease.
McClaren was rushed to hospital and operated on immediately, but sadly, the efforts of the Dutch doctors were to no avail. The next morning when McClaren awoke, he was asked what he wanted for breakfast, to which he replied:
"Kapow, bing bang bong clash vroom. Zing ching dong kablamo. *Helicopter noises*"
Since not being able to talk total bollocks, McClaren has lead FC Twente on to win the Champions League, the Dutch Eredivisie and the English FA Cup (God knows how...). The previously shite manager has gone from strength to strength managerially speaking, also landing jobs on the set of Tom and Jerry making funny noises. Life couldn't be better for him!
News

2010 FIFA Middle Earth Cup soon to begin • America: Oh, You mean 'Soccer'! • Bzzzzzzzzzzzzzzzzzzzzzzzz! • Capello identifies key 'ingredients' to success • Celtic F.C. sign youth player in transfer mix-up • Dutch clogs no match for Spanish bull • English excuse for not winning the 2010 football World Cup is revealed • F.C. Blatter win the FIFA Crony Cup again • Fabio Capello 'sleeping with the fishes' in brutal slaying • Fifa turns down English replay plea • Footballer has sex with wife • Football's ten worst sinners • France avenges World Cup defeat • Gatorade source contaminated, US economy collapses, Brits follow suit • Gay men banned from playing soccer in high altitudes • Germany Plans invasion of Spain, Netherlands next? • Jabulani ball causes more distress • Jesus given one-year ban • Luis Suarez's good food guide • Massive stadium brawl breaks out over contemporary solipsist philosophy • New sports crime tribunal to try England's football flops • North Korea purge football team after 7-0 humiliation • Paul the Octopus considers offer from Uncyclopedia • Pope wore a German football shirt as he watched Argentina lose in World Cup • Psychic Octopus to be offered new identity if Spain lose World Cup final • Referees again dictate outcome of match • Scientists dampen World Cup enthusiasm by concluding football really is just 22 men running around a field chasing a ball • Soccer fans shun art for hookers • Soccer game ends in tie • Soccer-playing abortion doctor goes for the death-threat trifecta • South Africa to change name to Vuvuzela • Stan Marsh presents: 2022 FIFA World Cup • Television commentators stock up with clichés for World Cup Final today • The football is over • United States robbed of World Cup • World Cup Fever leads to mass pneumonia • Zidane welcome in Spain: A new challenge for matadors