Alex Ferguson
Jump to navigation
Jump to search

This article may be Overly British
Americans may not understand humour, only humor. Canadians and Australians may not understand anything at all. Don't change a thing to remedy this.
---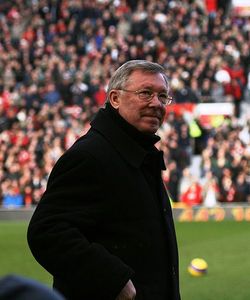 "Have you got any gum?"
"I look nothing like Stephen Fry"
Sir Alexander Whisky-nosed Sour-faced-Taggart Ferguson, CBE, PhD, MA, BEng, GCSE (born 31 December 1941) is the greatest football manager of all time. Bar none. Many times over he has won more leagues, trophies, and awards than any other manager ever. Considering all this and considering that he is both Scottish and manager of Manchester United is why just about everyone hates the cunt so much.
Born in Parkhead, Gwasgow), he spends most of his time using his vast wealth ... sorry, "tactical acumen" to make Manchester United even more money and their players the biggest bunch of whining, cheating twats in the history of the universe. In his spare time Fergie dresses up in a skirt and sings for the The Proclaimers. He is also described as "the biggest prick on Earth" by everyone associated with those who don't like him.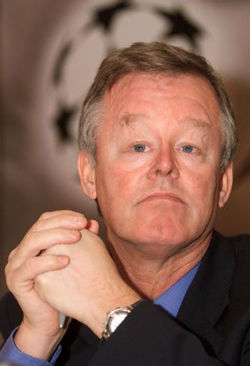 After his public speeches for the Alex Ferguson/Kilory Alliance Party failed to win him the Head of Scotland seat in the general elections he promptly chose to take up a career in football management. He led a Scottish invasion with Archie Knox in 1983 and overthrew Jack McConnell and the remaining Scottish Parliament at Holyrood for three days, although had to retire to Manchester, having broken a nail at their training ground.
As a reward he was given France as a gift and later appeared in The Sun newspaper's front page where he was caught loaning money to a Brazilian President as part of a deal to have all the talented footballs have F'British nationality so they go straight to Manchester.
Manchester United, the early years
[
edit
|
edit source
]
From humble beginnings, for many years Fergie's no 1 keeper was a jam jar and he had a Dutch horse, Ruud Van Ferguson, up front. He was known for innovating the 1–0–1 tactic, to great success when they beat a gaggle of geese, Jedward and Leicester City enroute to the 1953 Milk Cup Final, which they lost to Lancashire by eight wickets.
Manchester United's historic rise saw him bring through some top, top talent. Westlife, Kanye West and the Monkees were all signed by Sir Alex, only for him to later decide that Manchester United had no future in the record industry. He shifted the focus solely onto football and dogging. It was in 1996 that Beckham signed a contract with United, thus beginning one of the great love-hate relationships of all time. United became the most successful team around, with Ferguson-Beckham-Jam Jar at the helm. On their way to glory they would pick up such greats as Roy (who was signed from the Rovers on a free transfer), Massimo Taibi, a ginger biscuit and that Welsh Twit. He is mainly known for buying referees and cheating with all his ex boyfriends (Rooney).
Oh. Excuse me. Some fucking Man U tosser must have got in for a second there. Excuse us. Allow me to continue ...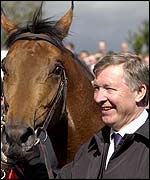 After leaving Aberdeen in mysterious circumstances (something involving a Ewe and an abortion appointment at Aberdeen Royal Infirmary according to the Daily Record), he rejoined Manchester United. After cutting out the binge culture at the club, he saw the club rise from being a mediocre Ryman League North Division side into a Premier League team with international stars such as Bryan Robson, Steve Bruce and Jim Leighton who was voted worst keeper at handling crosses since Jesus in 1990.
At one point he managed to win the UEFA Champions League after paying bundles to the 4th official who added on a few extra minutes to the game against Bryan Munchen. However not all was fine and dandy as "Sir" Alex was found in the Manchester changing rooms, snorting his chewing gum, he has since appeared in court several times and has strenuously denied the charges.
As the result of numerous Premiership and FA Cup titles, Ferguson has become a likeable chap in some footballing circles his most notable friends still in the game today being Kevin Keegan, Jaap Stam, Arsene Wenger, Jose Mourinho, Jim Leighton and David Beckham. Ferguson is also known for his juice cordial relationship with the BBC.
Fergie tried to do the impossible by trying (and failing) to win every single trophy possible. Due to this, he almost died after the Everton (FA Cup Semi-Final, played at Wembley) game after ranting about the pitch so much that his chewing gum got stuck in his windpipe. Luckily, Rob Styles was there to save the day and blow through Alex Ferguson's arse hole, which caused the gum to dislodge itself.
He is world renown for bribing referees so they can win the What is the fucking point (Carling) cup. He does this incredibly successfully as he has wads and wads of cash. He is responsible for keeping the country of Scotchland alive, as without his money they would all have lost most of their houses.
News

2010 FIFA Middle Earth Cup soon to begin • America: Oh, You mean 'Soccer'! • Bzzzzzzzzzzzzzzzzzzzzzzzz! • Capello identifies key 'ingredients' to success • Celtic F.C. sign youth player in transfer mix-up • Dutch clogs no match for Spanish bull • English excuse for not winning the 2010 football World Cup is revealed • F.C. Blatter win the FIFA Crony Cup again • Fabio Capello 'sleeping with the fishes' in brutal slaying • Fifa turns down English replay plea • Footballer has sex with wife • Football's ten worst sinners • France avenges World Cup defeat • Gatorade source contaminated, US economy collapses, Brits follow suit • Gay men banned from playing soccer in high altitudes • Germany Plans invasion of Spain, Netherlands next? • Jabulani ball causes more distress • Jesus given one-year ban • Luis Suarez's good food guide • Massive stadium brawl breaks out over contemporary solipsist philosophy • New sports crime tribunal to try England's football flops • North Korea purge football team after 7-0 humiliation • Paul the Octopus considers offer from Uncyclopedia • Pope wore a German football shirt as he watched Argentina lose in World Cup • Psychic Octopus to be offered new identity if Spain lose World Cup final • Referees again dictate outcome of match • Scientists dampen World Cup enthusiasm by concluding football really is just 22 men running around a field chasing a ball • Soccer fans shun art for hookers • Soccer game ends in tie • Soccer-playing abortion doctor goes for the death-threat trifecta • South Africa to change name to Vuvuzela • Stan Marsh presents: 2022 FIFA World Cup • Television commentators stock up with clichés for World Cup Final today • The football is over • United States robbed of World Cup • World Cup Fever leads to mass pneumonia • Zidane welcome in Spain: A new challenge for matadors