Stern John
Jump to navigation
Jump to search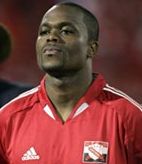 "I have never met a Sterner man."
~ Peter Crouch on Stern John
"I am the Sternest man on the mother-fucking planet, bitch!."
~ Stern John on Stern John
Stern John (born 8AD), the Sternest of all Johns, is world renowned for being the Sternest man to walk the earth. So you best not mess with him. There is however anti-abuse protestors that want to stop people being so Stern about Stern, apparently he doesn't want to be known as Stern. I think we have to come to the conclusion that you cannot judge a person by his/her first name.
In the first and final International Stern Contest in 1972, many Sterns were whittled down in a quest to find the Ultimate King Of Stern. Events included the Stern Jump, the Stern Vault and Stern Boxing. The tournament culminated in a final Stern-Off, with Howard Stern battling Stern John for the trophy. Despite many unkind words from Howard Stern, which were later found to have broken the rules, Stern John won easily, claiming the title and ascending to international fame and glory.
Many high-budget Hollywood film roles followed in the 1980s, starring alongside such legends as Hulk Hogan and Robin Williams. By the turn of the nineties, work was drying up and a last ditch effort resulted in "The Sternest Man Alive", an action-packed 20-minute cartoon series similar to James Bond Jr. He was due to act in the 2008 horror movie "The continued falling of Southampton FC, but it was not released because one day before it was due to be released Southampton were taken over by a Billionaire.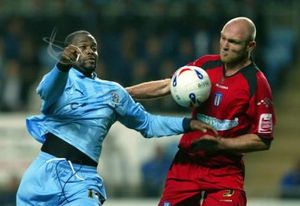 Stern John currently plays international socball for Trinidad & Tobago. His natural talent for extreme Sternness was uber-apparent in his nation's first 2006 World Cup group match against Sweden, where he spent 25 minutes prior to the match staring out a giant Swede, before hacking it to pieces with a hickory stick, to a mighty roar from the travelling crowd. He eats 5 pounds of mac n'cheese before every game because he can and no one can argue with him for fear of an ass whoopin from the Sterness himself. Stern John and Avery John are brothers contrary to popular belief. Michael Maseda hearts Kaka
News

2010 FIFA Middle Earth Cup soon to begin • America: Oh, You mean 'Soccer'! • Bzzzzzzzzzzzzzzzzzzzzzzzz! • Capello identifies key 'ingredients' to success • Celtic F.C. sign youth player in transfer mix-up • Dutch clogs no match for Spanish bull • English excuse for not winning the 2010 football World Cup is revealed • F.C. Blatter win the FIFA Crony Cup again • Fabio Capello 'sleeping with the fishes' in brutal slaying • Fifa turns down English replay plea • Footballer has sex with wife • Football's ten worst sinners • France avenges World Cup defeat • Gatorade source contaminated, US economy collapses, Brits follow suit • Gay men banned from playing soccer in high altitudes • Germany Plans invasion of Spain, Netherlands next? • Jabulani ball causes more distress • Jesus given one-year ban • Luis Suarez's good food guide • Massive stadium brawl breaks out over contemporary solipsist philosophy • New sports crime tribunal to try England's football flops • North Korea purge football team after 7-0 humiliation • Paul the Octopus considers offer from Uncyclopedia • Pope wore a German football shirt as he watched Argentina lose in World Cup • Psychic Octopus to be offered new identity if Spain lose World Cup final • Referees again dictate outcome of match • Scientists dampen World Cup enthusiasm by concluding football really is just 22 men running around a field chasing a ball • Soccer fans shun art for hookers • Soccer game ends in tie • Soccer-playing abortion doctor goes for the death-threat trifecta • South Africa to change name to Vuvuzela • Stan Marsh presents: 2022 FIFA World Cup • Television commentators stock up with clichés for World Cup Final today • The football is over • United States robbed of World Cup • World Cup Fever leads to mass pneumonia • Zidane welcome in Spain: A new challenge for matadors